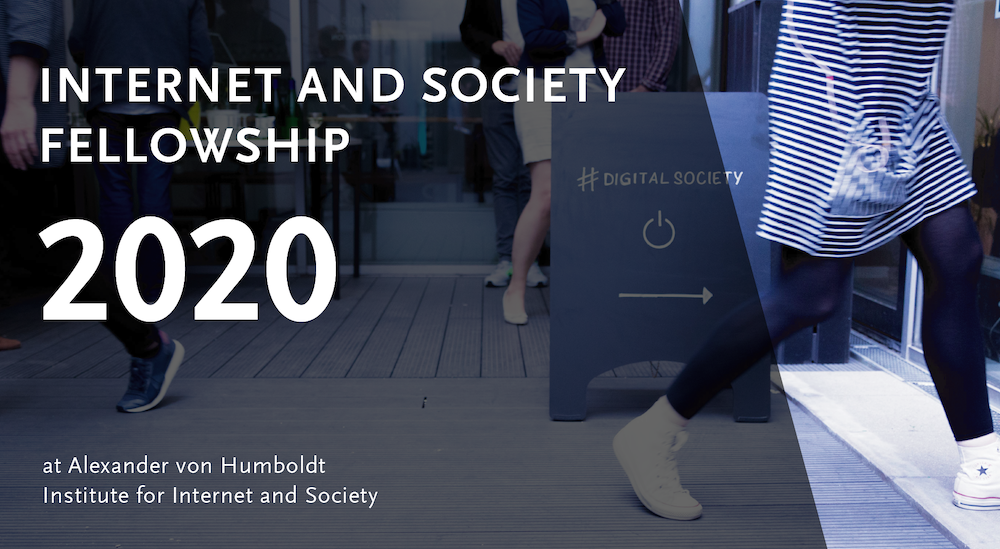 Internet and Society Fellowship-Programm 2020
Aufgrund der aktuellen Pandemie verzögert sich die Ausschreibung des nächsten Fellowships bis auf Weiteres. Da unser Fellowship internationale Forscher*innen zusammenbringt, rechnen wir damit, dass unser reguläres Fellowship erst Mitte 2021 wieder stattfinden kann. Wir arbeiten daran, zuvor ein virtuelles Fellowship zu ermöglichen. Genauere Informationen werden wir auf dieser Seite veröffentlichen.
Die Bewerbungsphase für das Internet and Society Fellowship-Programm am HIIG ist bereits abgeschlossen. Deadline war der 2. September 2019. Sie finden alle relevanten Informationen in englischer Sprache auf dieser Seite.
THE INTERNET AND SOCIETY FELLOWSHIP IS INTERNATIONALLY FOCUSED AND OFFERS A UNIQUE OPPORTUNITY FOR INNOVATIVE THINKERS WHO WISH TO ENGAGE IN THE EXCHANGE OF RESEARCH EXPERIENCES AND TO SET UP NEW INITIATIVES.
We now invite applications from early and advanced researchers with diverse backgrounds and professional experiences, who want to contribute to the range of the institute's transdisciplinary internet research.
Based in the heart of Berlin, the HIIG provides a dynamic intellectual environment for fellows to pursue their own research interests and actively shape their stay. We invite fellows to collaborate with an international team of researchers and to participate in the activities at our institute. We offer a number of opportunities to share and discuss ideas. This includes:
writing and publishing papers in one of our

open access publications

commenting on current developments in your field in form of

HIIG blog

posts

holding presentations in one of our

lunch talks

organising

expert workshops

with your peers

engaging in joint activities and projects with other fellows
Key Areas
For our 2020 class of fellows, we consider applicants who want to pursue topics that fall within one of our research programmes. Please read the information on each of the linked websites closely, and position yourself and/or your project within the programme that best suits you.
In case you are interested in any other research group or project at HIIG, we kindly ask you to send an email to helene.schwichow@hiig.de.
Things to consider
Time Frame: Fellowships may range from a minimum of 3 months to a maximum of 12 months within the year 2020.
Costs and Allowances: Fellows may use our facilities free of charge during their stay. However, they are expected to bring their own funding from their home institution or outside grants. Fellows must take care of accommodation, insurance, childcare, and travel arrangements, still the HIIG team will energetically support them with finding accommodation and making their stay in Berlin as pleasant as possible. In special cases, fellows can apply for a travel grant of up to 700 Euros and a visa subsidy of up to 200 Euros. 
Qualifications
Master's degree, PhD in process/planned (Junior Fellow) OR

Advanced PhD, post-doctoral researcher (Senior Fellow)

Fluency in English; command of German is appreciated

Research experience and a research project of your own that you want to pursue
Application documents
Up-to-date curriculum vitae

Motivation letter explaining your interest in the HIIG Fellowship, research background, and your expectations (1 page)

Research outline including A) your project, and how it responds to one of research programmes, B) the specific work you propose to conduct during the fellowship, C) deliverables, products or outcomes you aim to produce (max. 3 pages)

Optional: one writing or work sample covering internet research (in English or German)
Please read our FAQ and review the information carefully before applying. If you have any questions, email application@hiig.de.
Über das HIIG
Das HIIG erforscht die Entwicklung des Internets aus einer gesellschaftlichen Perspektive mit dem Ziel, die damit einhergehende Digitalisierung aller Lebensbereiche besser zu verstehen.
Newsletter
Sie möchten aktuelle Nachrichten zu Internet- und Gesellschaftsforschung erhalten?
Dann melden Sie sich jetzt für den Newsletter an.