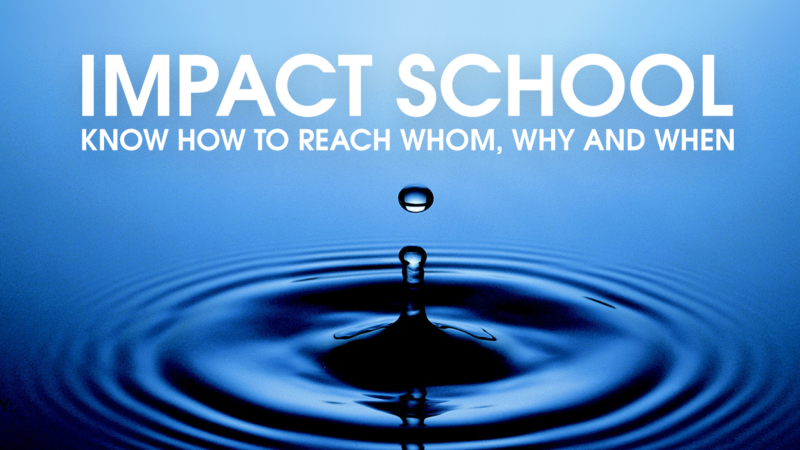 Vom 30. September – 2. Oktober 2019 findet am Alexander von Humboldt Institut für Internet und Gesellschaft (HIIG) die Impact School 2019 statt. Informationen zum Programm und zum Bewerbungsverfahren finden Sie untenstehend. Die Impact School findet auf Englisch statt.
IMPACT SCHOOL 2019
Know how to reach whom, why and when.
30 September – 2 October 2019
HIIG | Französische Straße 9 | 10117 Berlin
#impactschool2019
In modern knowledge societies, researchers are not only expected to produce high quality, peer-reviewed, and replicable knowledge, but also to make it applicable for stakeholders in society. However, knowledge transfer and science communication are rarely the subject of disciplinary curricula and scientific education. The Impact School addresses this issue by providing young researchers with the principles and tools they need in order to turn their research into practical insights and have a lasting impact on society.
The Impact School is an international and interdisciplinary 3-day training, targeting young and upcoming researchers (PhDs and PostDocs). During the Impact School, participants will develop an impact strategy for their own research project and work collaboratively on principles for good scientific transfer. We combine hands-on sessions (based on the Impact Canvas) with input from renowned experts.
Preliminary timetable
Monday (Day 1, Sep. 30)
Morning
(9:30-12:30h)
Welcome reception + introduction
Expert input on science communication
Afternoon
(14:00-18:00h)
Expert input on political consulting and business relations
Introduction to the Impact Canvas
Evening
Pizza talks
Tuesday (Day 2, Oct. 1)
Morning
(9:30-12:30h)
Workshop: Creating an impact strategy for your research project (1/2)
Afternoon
(14:00-18:00h)
Workshop: Creating an impact strategy for your research project (2/2)
Evening
Social Event
Wednesday (Day 3, Oct. 2)
Morning
(9:30-12:30h)
Pitches: Impact strategies
Afternoon
(14:00-18:00h)
Workshop: Defining principles for good scientific transfer
Feedback round
Participation & Application
PhDs and PostDocs from all disciplines are eligible to apply. Participants must be associated with an academic institution.
| | |
| --- | --- |
| Deadline for applications | 31 July 2019 |
| Notification of acceptance / rejection | 26 August 2019 |
Applications must be submitted via this online form.
Travel allowance
Participation at the Impact School is free of charge. Participants can claim a travel allowance of 200€. Please indicate in your application (see online form above) if you are also applying for a travel allowance.
Organisers
The Impact School is organised by the Alexander von Humboldt Institute for Internet and Society (HIIG) and the Impact Distillery (mStats DS GmbH) in collaboration with the Leibniz Research Alliance Open Science.
People behind the Impact School
Dr. Marcel Hebing, Impact Distillery (mStats DS GmbH), Berlin
Dr. Benedikt Fecher, Alexander von Humboldt Institut für Internet und Gesellschaft, Berlin
Nataliia Sokolovska, Alexander von Humboldt Institut für Internet und Gesellschaft, Berlin
Dr. Guido Scherp, ZBW Leibniz Information Centre for Economics –  German National Library of Economics, Kiel



Zukünftige Veranstaltungen