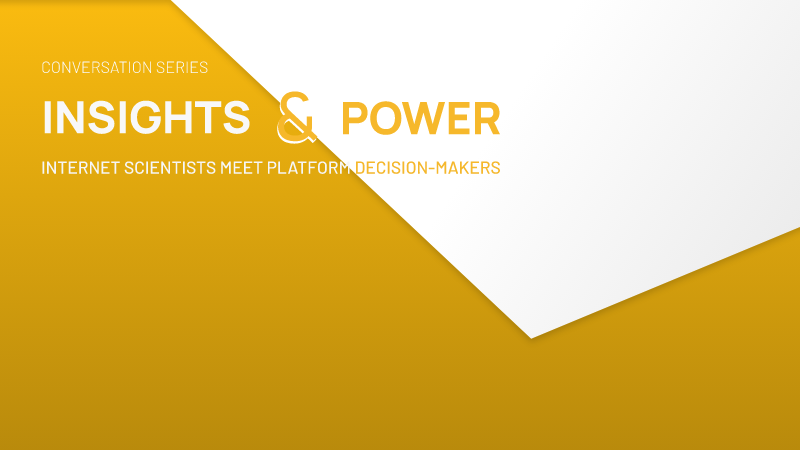 Die Zukunft der Plattformaufsicht: Zur Umsetzung des DSA in Deutschland (Teil 1)
Die Veranstaltung ist Teil der hochkarätigen Gesprächsreihe "Insights and Power" in Kooperation mit dem Leibniz-Institute for Media Research | Hans-Bredow-Institut. Das Gespräch findet auf Englisch statt und wird ab 18:00 Uhr live gestreamt. Das aufgezeichnete Video wird nach der Veranstaltung auf dieser Website hochgeladen.
The Digital Services Act (DSA) is making great strides towards coming into force. The EU Parliament has just given its approval. Although it will still take until 2024 for the Digital Services Act to come into force, national implementation has already begun. The key question is: Who should take on the central role of digital services coordinator in Germany? This new role requires competence in media law, data protection law, consumer law and network law. Do we need a new authority? Should the tasks be distributed? Do we need completely new supervisory structures? Prof. Dr. Wolfgang Schulz will discuss these and other questions concerning the national implementation of the DSA with Dr. Tobias Schmid, Director of the State Media Authority NRW, on 22 September and with Klaus Müller, President of the Federal Network Agency, on 29 September.
The Future of Platform Supervision: On the implementation of the DSA in Germany
Tobias Schmid in conversation with Wolfgang Schulz
Thursday, September 22 2022 | 6.00 pm
Livestream | hiig.de
The event will be held in English and moderated by Prof. Dr. Matthias C. Kettemann.
Forschungsgruppenleiter und Assoziierter Forscher: Globaler Konstitutionalismus und das Internet
Diese exklusive Vorlesungsreihe entwickelt eine europäische Perspektive zu den aktuellen Transformationsprozessen innerhalb unserer Gesellschaft.
Einmal im Monat laden wir ausgewählte Gäste ein, um gemeinsam mit dem Publikum über die Auswirkungen der Digitalisierung auf die Gesellschaft zu sprechen.