The Internet and Human Rights – Reviews
The top-level international conference "The Internet and Human Rights: Building a free, open and secure Internet" attracted approximately 120 experts from international or regional organisations, governments, the private sector, civil society, the technical and academic community on September 13 and 14, 2012 to Berlin. They discussed opportunities and hurdles in keeping the internet free, open and secure. The conference was jointly organised and chaired by the German Federal Foreign Office, Human Rights Watch, Aarhus University and the Alexander von Humboldt Institute for Internet and Society. The outcome of the conference is summarised in the "Messages from Berlin", policy recommendations expressed by speakers and participants on how to enhance international cooperation among all the players and how to strengthen Human Rights in cyberspace…
Reviews
The Conference on The Internet and Human Rights took place 2 weeks ago – time to have a look at some interesting online-reviews in the german press. For english readers we included a short abstract to every article:
Since companies like Siemens sold hard- and software to regimes worldwide, German Minister for Foreign Affairs Guido Westerwelle announced his will for a EU-focused program of export regulations for surveillance technology at the Internet and Human Rights Conference. However, he did not specify on what constitutes "surveillance technology". (For more on the speech by Guido Westerwelle: heise.de-article and the script in English.)
The Conference was host for some controversial topics, such as German Lawful Interception Software as well as intelligence cooperations, definitions of unjust states and marketing strategies of the German Ministry of Foreign Affairs. Using Chatham House Roules did allow some heated discussions but had disadvantages as well and thus the rules were violated in some instances.
Arvind Ganesan of Human Rights Watch appealed to the Internet industry to start protecting Human Rights and not to develop tools capable of bypassing them. Jan Kleijssen of the Council of Europe added, that access to the Internet is a prior condition for Human Rights. Dunja Mijatovic of OSZE did remind, that no government likes to be in the pillory and thus the Internet Human Rights need publicity. Further demands expressed on the conference were to make Human Rights part of everyday politics, the demand for technologies that don't need to rely on just rules and laws to be conform with Human Rights and to see net anonymity as part of the Human Right of free expression.
Dieser Beitrag spiegelt die Meinung des Autors und weder notwendigerweise noch ausschließlich die Meinung des Institutes wider. Für mehr Informationen zu den Inhalten dieser Beiträge und den assoziierten Forschungsprojekten kontaktieren Sie bitte info@hiig.de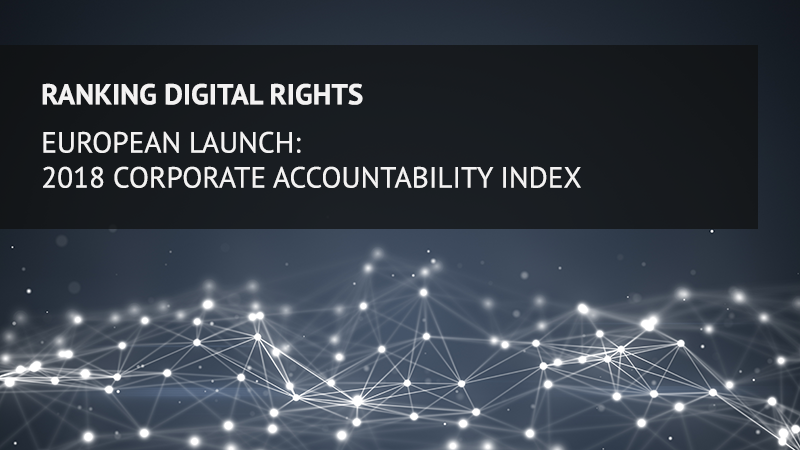 Scaling research and impacting change
How do the world's most powerful internet, mobile, and telecommunications companies treat their users' freedom of expression and privacy? On 2 May 2018, the Ranking Digital Rights 2018 Corporate Accountability...