Before the institute was established in 2012 the investigation of the Internet had  been promoted and supported by several institutions. However,  only a limited number of (academic) institutions existed  in Germany which were exclusively focusing on this topic in order to enrich the international debate from a European, and first and foremost , from a German perspective. For this reason the Humboldt Universität zu Berlin (HU), the University of Arts Berlin(UdK) and the Social Science Research Center Berlin (WZB), in alliance with the Hans-Bredow Institute for Media Research in Hamburg as an integrated co-operation partner, founded the Alexander von Humboldt Institute for Internet and Society (HIIG) supported by an initial funding from Google of  € 4.5 million until  2016. This grant agreement with the HIIG gGmbH has since been extended until 2019.
Governing body
The governing body of the institute is an independent research company, the Alexander von Humboldt Institute for Internet and Society gGmbH (HIIG gGmbH), comprised of representatives from each of the founding academic institutions. Over time, the institute has been  further supported and funded  by additional sponsors and partners, e.g. the Federal Ministry for Education and Research, KPMG, Vodafone Institute for Society and Communications, RWE Foundation for Energy, CISCO and Society or the VolkswagenStiftung.
Foundation Internet and Society
In 2015 the founding associates of the institute established the Foundation Internet and Society to develop the organisation and to gain additional, especially institutional sponsors for the institute. Now the Foundation is the sole shareholder of the HIIG gGmbH.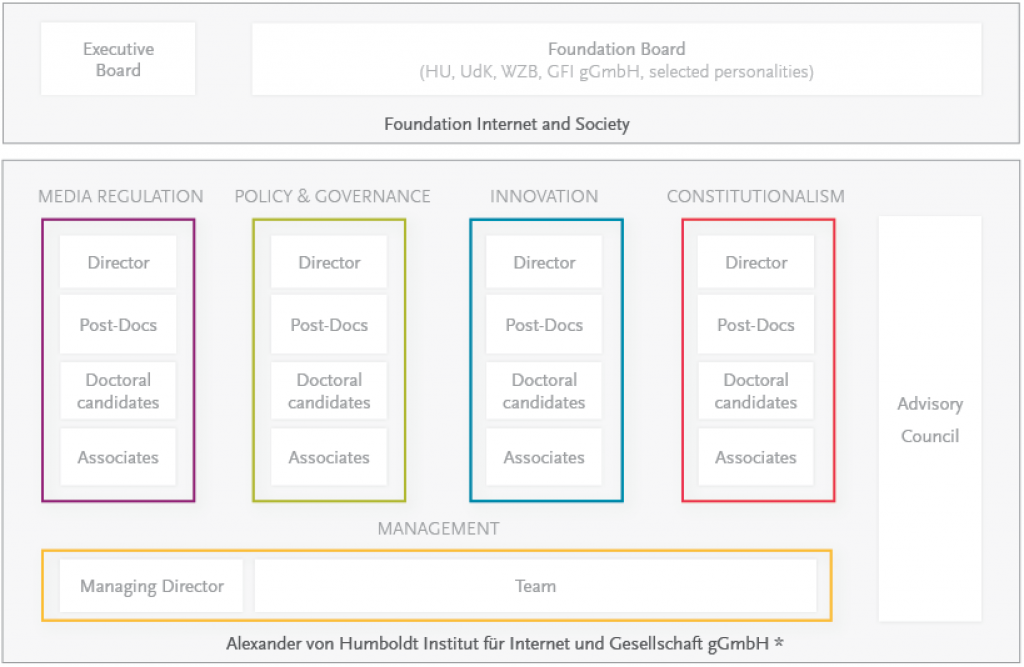 Foundation Board
The Foundation Board, comprising founding partners and well-known personalities from science and society, supervises the structural and strategic development of the Foundation Internet and Society. The Executive Board officially represents the Foundation Internet and Society. Two academic directors of the HIIG gGmbH form  the current Executive Board. Prof. Dr. Dr. Thomas Schildhauer was appointed as chairman.
Advisory Council
An Advisory Council advises the research agenda and critically evaluates the thematic focus of the institute and thereby helps to ensure the independence of the research. The scientific lead of the institute is determined by the academic directors, who represent the various disciplines. Each academic director is responsible for a thematic research area. They design the research agenda of the institute, arrange joint research projects and scientific events and lead the Doctoral Programme for young scientists. The academic directors elect a speaker, who represents the institute on scientific matters to the wider public. They are supported by an administrative management team. Prof. Dr. Jeanette Hofmann was elected Speaker of the HIIG. Managing director is Dr. Karina Preiß.
Download
Memorandum of Association (pdf German)