Thomas Christian Bächle, Dr.
Thomas Christian Bächle is Co-Head of the Digital Society Research Programme at the Alexander von Humboldt Institute for Internet and Society (HIIG) in Berlin. At the HIIG he also heads the research project "The Futures of Telemedicine: Knowledge, Policy, Regulation", which focuses on regulatory challenges, norms and the acceptance of practices and applications in the field of telemedicine. In his Habilitation thesis, he analyses the intermediary processes between social 'realities' and simulation technologies by focusing on paradigms such as social robotics and affective computing.
His areas of research include cultural representations of identities, bodies and (media) technologies; human/machine interaction; technological materialities, interfaces and agency; mobile media, surveillance, robotics, affective computing and simulation technologies. In 2016 he published "Digitales Wissen, Daten und Überwachung zur Einführung" (Hamburg: Junius), an introduction to digital knowledge, data and surveillance.
Thomas studied Media Studies, American Language and Literature and Political Science (Magister Artium) at the University of Bonn and the University of Aberdeen in Scotland. He also earned an MA in Digital Media – Technology and Cultural Form from the University of London, Goldsmiths College. He received his PhD in Media Studies (summa cum laude) from the University of Bonn. His PhD thesis entitled "Mythos Algorithmus – Die Fabrikation des computerisierbaren Menschen" [The myth of the algorithm. Fabricating computable humans] was published in 2014 (Wiesbaden: Springer VS).
For many years, he taught Media Studies at the University of Bonn and is a regular visiting professor at international institutions, such as the Universitat Abat Oliba CEU, Barcelona (2012-2017), Bilgi Üniversitesi, Istanbul (2015-2016) or the University of Helsinki (2018).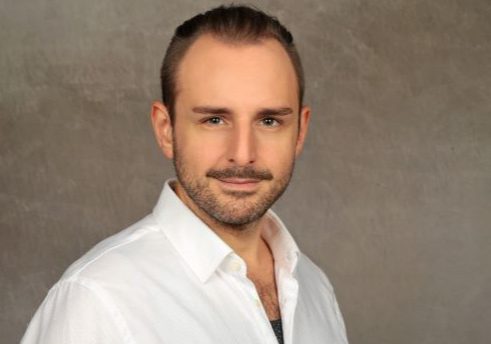 Position
Co-Head of research programme: The evolving digital society
Books
Bächle, T. C. (2016). Digitales Wissen, Daten und Überwachung zur Einführung. Hamburg: Junius. Publication details
Bächle, T. C. (2014). Mythos Algorithmus. Die Fabrikation des computerisierbaren Menschen. Wiesbaden: Springer VS. Publication details
Journal articles and conference proceedings
Bächle, T. C. (2013). Governing Our Sick Souls, Mutilating Our Bodies. The Appropriation of Social Media as a Means of Corporeal Annihilation, Resisting the Neoliberal Logic of Self-Optimization. Selected Papers of Internet Research. The Association of Internet Researchers – Resistance and Appropriation, IR14. Publication details
Edited works
Thimm, C., & Bächle, T. C. (Eds.) (i.E.) (2018). Die Maschine: Freund oder Feind? Mensch und Technologie im digitalen Zeitalter. Wiesbaden: Springer VS. Publication details
Bächle, T. C., & Thimm, C. (Eds.) (2014). Mobile Medien – Mobiles Leben. Neue Technologien, Mobilität und die mediatisierte Gesellschaft. In Dies., Bonner Beiträge zur Onlineforschung, Bd. 3. Berlin: LIT Verlag. Publication details
Book contributions and chapters
Bächle, T. C. (i.E.) (2019). Appropriating God – zur sich wandelnden Medialität religiöser Erfahrung. In S. Maasen & D. Atwood (Eds.), Immanente Religion - Transzendente Technologie. Opladen: Verlag Barbara Budrich. Publication details
Bächle, T. C. (i.E.) (2019). The Simulation of Emotions – Ethical and Social Considerations. In O. Korn (Ed.), Social Robots. An Interdisciplinary Compendium on Technological, Societal and Ethical Aspects. Cham: Springer. Publication details
Bächle, T. C. (i.E.) (2019). Die Spur des simulierten Anderen – Humanoide soziale Roboter und die Imitation des Emotionalen. In P. Klimczak, S. Schilling & C. Petersen (Eds.), Maschinen (in) der Kommunikation - Forschung im digitalen Zeitalter. Wiesbaden: Springer VS. Publication details
Bächle, T. C. (i.E.) (2019). Das digitale Selbst. In M. Heßler & K. Liggieri (Eds.), Handbuch Historische Technikanthropologie. Baden-Baden: Nomos. Publication details
Bächle, T. C., Regier, P., & Bennewitz, M. (i.E.) (2019). Sensoren. In M. Heßler & K. Liggieri (Eds.), Handbuch Historische Technikanthropologie. Baden-Baden: Nomos. Publication details
Ernst, C., & Bächle, T. C. (i.E.) (2019). Interface. In M. Heßler & K. Liggieri (Eds.), Handbuch Historische Technikanthropologie. Baden-Baden: Nomos. Publication details
Bächle, T. C. (i.E.) (2018). "Hochinvasive Überwachung" und der Verlust der Autonomie (die es nie gab?). In C. Thimm & T. C. Bächle (Eds.), Die Maschine: Freund oder Feind? Mensch und Technologie im digitalen Zeitalter. Wiesbaden: Springer VS. Publication details
Bächle, T. C., Ernst, C., Schröter, J., & Thimm, C. (2018). Selbstlernende autonome Systeme? – Medientechnologische und medientheoretische Bedingungen am Beispiel von Alphabets "Differentiable Neural Computer" (DNC)'. In C. Engemann & A. Sudmann (Eds.), Machine Learning – Medien, Infrastrukturen und Technologien der Künstlichen Intelligenz (pp. 169-194). Bielefeld: transcript. Publication details
Thimm, C., & Bächle, T. C. (2018). Autonomie der Technologie und autonome Systeme als ethische Herausforderung. In M. Karmasin, F. Krotz, & M. Rath (Eds.), Maschinenethik. Normative Grenzen autonomer Systeme (pp. 73-87). Wiesbaden: Springer VS. Publication details
Bächle, T. C., Regier, P., & Bennewitz, M. (2017). Sensor und Sinnlichkeit. Humanoide Roboter als selbstlernende soziale Interfaces und die Obsoleszenz des Impliziten. In C. Ernst & J. Schröter (Eds.), Medien und implizites Wissen. Themenheft der Zeitschrift "Navigationen", 2/2017 (pp. 66-85). Siegen: Universitätsverlag. Publication details
Bächle, T. C. (2017). Exklusion durch legitimierende Geste. Zum sprachlichen Paradoxon des positiven Journalismus am Beispiel HIV/AIDS. In Deutscher Fachjournalisten-Verband (Ed.), Positiver Journalismus (pp. 19-36). Konstanz/München: UVK. Publication details
Bächle, T. C. (2016). Das Smartphone, ein Wächter. Selfies, neue panoptische Ordnungen und eine veränderte sozialräumliche Konstruktion von Privatheit. In E. Beyvers, P. Helm, M. Hennig, C. Keckeis, I. Kreknin & F. Püschel (Eds.), Räume und Kulturen des Privaten (pp. 137-164). Wiesbaden: Springer VS. Publication details
Bächle, T. C., & Rath-Wiggins, L. (2016). Robot Journalism (Roboterjournalismus). In Deutscher Fachjournalisten-Verband (Ed.), Journalistische Genres (pp. 359-372). Konstanz/München: UVK. Publication details
Bächle, T. C. (2015). Meme as Virus – Infektiöse Massenkultur, vollendetes Spektakel/Meme as virus – infectious mass culture and the completion of the spectacle. In K. Röder, C. May & P. Kaiser (Eds.), Außer Kontrolle! Farbige Grafik und Mail Art in der DDR/Out of Control! Color Prints and Mail Art in the GDR, Katalogbeitrag für die Ausstellung "Land der Grafik" (Staatliches Museum Schwerin/Ludwigslust/Güstrow) (pp. 161-167). Köln: Walther König. Publication details
Bächle, T. C., & Thimm, C. (2014). Mobile Technologien im Alltag und die Erfahrbarkeit sozialer Räume. Ein Entwurf zum Augmented Living. In C. Thimm (Ed.), Mobile Medien – Mobiles Leben. Neue Technologien, Mobilität und die mediatisierte Gesellschaft, Bonner Beiträge zur Onlineforschung, Bd. 3 (pp. 41-68). Berlin: LIT Verlag. Publication details
Bächle, T. C. (2014). "Angst davor, nicht im eigenen Bild sterben zu dürfen" – Zu den Technologien des sterbenden Selbst und der Objektivierung des Todes am Beispiel von Christoph Schlingensief. In C. Hoffstadt, F. Peschke, M. Nagenborg, S. Müller & M. Möller (Eds.), Der Tod in Kultur und Medizin (pp. 373-402). Bochum/Freiburg: Projekt Verlag. Publication details
Bächle, T. C. (2014). Die Illusion des kollektiven Lustkörpers. Pornographische Partizipation und die Uniformisierung sexueller Skripte. In J. Einspänner-Pflock, M. Dang-Anh & C. Thimm, Digitale Gesellschaft. Partizipationskulturen im Netz. Bonner Beiträge zur Onlineforschung, Bd. 4 (pp. 62-82). Berlin: LIT Verlag. Publication details
Bächle, T. C. (2011). Von der digitalen Visitenkarte zum Ort der Subjektivation. Ein Ordnungsvorschlag zur Theorienbildung um das Online-Selbst. In M. Anastasiadis & C. Thimm (Eds.), Social Media. Theorie und Praxis digitaler Sozialität (pp. 41-60). Frankfurt a. M.: Peter Lang. Publication details
Lectures and presentations
Enter the Algorithmic Artist – von der Autonomie des Kunstwerks zum 'autonomen Kunstwerk'
Literature Error: Restart or Cancel?. Institut für Medien- und Kommunikationsmanagement. Universität St. Gallen, St. Gallen, Switzerland: 09.11.2018
Thomas Christian Bächle
Smart Health? Zur Ästhetik medizinischer Arbeitsmedien und der "Gig Economy" digitaler Gesundheitsindustrie
Jahrestagung der Gesellschaft für Medienwissenschaft zum Thema "Industrie". Universität Siegen, Siegen, Germany: 28.09.2018
Thomas Christian Bächle
Die Spur des simulierten Anderen. Humanoide soziale Roboter und die Imitation des Emotionalen
Kolloquium "Maschinen (in) der Kommunikation". BTU Cottbus-Senftenberg, Cottbus, Germany: 07.07.2018
Thomas Christian Bächle
Predictive Policing, Computational Propaganda, Counter Surveillance – Praktiken und Projektionen der digitalen Kontrollgesellschaft
Vortrag auf Einladung des DFG-Graduiertenkolleg "Privatheit und Digitalisierung" im Rahmen der Ringvorlesung "Narrative von Überwachung und Kontrolle". Universität Passau, Passau, Germany: 14.06.2018
Thomas Christian Bächle
Of good and bad strangers – Representing migrants and refugees in German media
International Social Week. Pere Tarrés Faculty of Social Education and Social Work, Universitat Ramon Llull. Universitat Ramon Llull, Barcelona, Spain: 05.03.2018
Thomas Christian Bächle
Von der Zeitung zur lautsphärischen Territorialisierung: Medien, Interaktion und Privatheit im öffentlichen Raum
Workshop "Öffentlichkeit als Interaktion" (Session: Panel "Mediengebrauch"). Universitärer Forschungsschwerpunkt "Sprache und Raum" der Universität Zürich, Zürich, Switzerland: 19.01.2018
Thomas Christian Bächle
'Hochinvasive Überwachung' und der Verlust der Autonomie (die es nie gab?)
Vortrag im Rahmen der Ringvorlesung "Medien der Autonomie | autonome Medien: Interdisziplinäre Perspektiven auf Technologie und digitale Gesellschaft". Universität Bonn, Bonn, Germany: 14.11.2017
Thomas Christian Bächle
Algorithms, learning machines and the problem of autonomy
Jahrestagung der Association of Internet Researchers (AOIR) (Session: Re-Conceptualising 'autonomy' – interfaces, algorithms and new machines). University of Tartu, Tartu, Estonia: 19.10.2017
Thomas Christian Bächle
Wie nehmen Roboter wahr? Humanoid Robots und das Problem des Weltzugangs
Jahrestagung der Gesellschaft für Medienwissenschaft (GfM) zum Thema "Zugänge" (Session: Weltzugänge, implizit und explizit). Friedrich-Alexander Universität Erlangen-Nürnberg, Erlangen, Germany: 04.10.2017
Thomas Christian Bächle
Autonome Technik zwischen Unterjochung und Erlösung des Menschen. Ein kritischer Blick auf künstliche Intelligenzen und ihre Deutung
Vortrag im Rahmen der Reihe "Pre-Invent" Vortrag im Rahmen der Reihe "Pre-Invent". Hochschule Düsseldorf, Düsseldorf, Germany: 03.07.2017
Thomas Christian Bächle, Fred Turner, Tobias Matzner
Sensor und Sinnlichkeit – Interfaces und die Explikation impliziten Wissens in der humanoiden Robotik
Workshop der GfM-Arbeitsgruppe "Interfaces" zum Thema "Interfaces und implizites Wissen". Universität Bonn, Bonn, Germany: 09.06.2017
Thomas Christian Bächle, Peter Regier
Social bots, autonomous machines and deep mediatization:  the concept of 'autonomy' as a challenge for media theory
ICA pre-conference zum Thema "Data and the Future of Critical Social Research". Hilton San Diego Bayfront, San Diego, California, United States: 25.05.2017
Thomas Christian Bächle, Caja Thimm
Ars moriendi 4.0? – Zu den digitalen Technologien des sterbenden Selbst und der Objektivierung des Todes
Vortrag auf Einladung der Deutschen Gesellschaft für Psychoanalyse im Rahmen der Ringvorlesung zum Thema "Tod". Institut für Psychoanalyse, Frankfurt am Main, Germany: 10.02.2017
Thomas Christian Bächle
'Autonomie' – Medienethische Perspektiven eines ubiquitären Begriffsfeldes
Brauchen Maschinen Ethik – und wenn ja, welche? Interdisziplinäre Perspektiven auf selbständig 'handelnde' und 'kommunizierende' Systeme. Interdisciplinary Media Ethics Center Vienna an der Pädagogischen Hochschule Ludwigsburg, Ludwigsburg, Germany: 02.12.2016
Thomas Christian Bächle, Caja Thimm, Christoph Ernst, Jens Schröter
Im Anfang war das Wort... #beten – zur sich wandelnden Medialität spiritueller Erfahrung
Vortrag auf Einladung der Philosophisch-Historischen Fakultät/Theologischen Fakultät der Universität Basel am Studientag der Religionswissenschaft zum Thema "Religion und Cyberspace". Universität Basel, Basel, Switzerland: 04.11.2016
Thomas Christian Bächle
Are all Turks into fucking goats? – The pitfalls and limits of satire in the case of the 'Böhmermann affair' between Germany and Turkey
Vortrag auf dem Symposion "The Power of Ridicule: Humour and Laughter in Cultural Perspective". University of Helsinki, Helsinki, Finland: 25.10.2016
Thomas Christian Bächle
Big Data – Mythos der Allwissenheit, Instrument der Macht
Vortrag am Dies academicus der Universität Bonn. Universität Bonn, Bonn, Germany: 25.05.2016
Thomas Christian Bächle
'Positiv' berichten? – HIV/AIDS in den Medien
Workshop im Rahmen der Jugendmedientage 2015 zum Thema "machtWorte: Freiheit//Vielfalt//Verantwortung". Haus der Geschichte, Bonn, Germany: 06.11.2015
Thomas Christian Bächle
Big Data, Smart Devices, Humanoid Robots – Zukunftstechnologien zwischen Hoffnung, Hype und Risiko
Vortrag im Rahmen der "Schweriner Wissenschaftswoche" zum Thema "Zukunftsstadt". IHK zu Schwerin, Schwerin, Germany: 13.10.2015
Thomas Christian Bächle
Cocooning, Camping, Stage Phoning? Zu Strategien der Handynutzung in Bus und Bahn
Urban Games-Festival "playin'siegen". Hübbelbummler-Bus, Siegen, Germany: 18.04.2015
Thomas Christian Bächle
Hoc est Corpus Meum! – Selfies, Self Tracking und Self Surveillance als Identitätswerkzeuge
Vortrag auf Einladung der Bischöflichen Medienstiftung in der Diözese Rottenburg-Stuttgart im Rahmen der Tagung "Am Puls des Ichs – Unterwegs in eine narzisstische Mediengesellschaft?" mit anschließender Podiumsdiskussion mit Bischof Dr. Gebhard Fürst, Dr. Thomas Christian Bächle, Prof. Dr. Petra Grimm, Dr. Hans‐Joachim Maaz, Prof. Dr. Roland Mangold und Florian Schumacher. Haus der Katholischen Kirche, Stuttgart, Germany: 15.04.2015
Thomas Christian Bächle
Selfies, Geo Tagging, Mobile Lateral Surveillance – Smartphones und eine veränderte sozialräumliche Konstruktion von Privatheit
Vortrag auf der Tagung "Räume und Kulturen des Privaten" des DFG-Graduiertenkollegs 1681 "Privatheit. Formen, Funktionen, Transformationen". Universität Passau, Passau, Germany: 16.10.2014
Thomas Christian Bächle
Was schützt Datenschutz eigentlich? – Digitale Identitäten und Post Privacy als Effekte des Überwachungsdiskurses
Vortrag im Rahmen des Panels "Internet/Macht/Begehren/ Überwachung" auf der Jahrestagung der Gesellschaft für Medienwissenschaft (GfM) zum Thema "Medien|Recht". Universität Marburg, Marburg, Germany: 04.10.2014
Thomas Christian Bächle
Smartphones as Surveillant Agents – New Practices of Identity and the Reconceptualisation of Public Space
Vortrag auf der internationalen Konferenz "Social Media and the Transformation of Public Space". Amsterdam School for Cultural Analysis, Universiteit van Amsterdam, Amsterdam, Netherlands: 19.06.2014
Thomas Christian Bächle
Der Reiz der Selbstüberwachung – Digitale Medien als Kontroll- und Identitätswerkzeuge
Dies Academicus. Universität Bonn, Bonn, Germany: 21.05.2014
Thomas Christian Bächle
Governing Our Sick Souls, Mutilating Our Bodies – The Appropriation of Social Media as a Means of Corporeal Annihilation, Resisting the Neoliberal Logic of Self-Optimization
Vortrag auf der internationalen Konferenz: "Internet Research 14: Resistance and Appropriation" der Association of Internet Researchers (AOIR). University of Denver, Denver, United States: 24.10.2013
Thomas Christian Bächle
Können Smartphones auch performativ sein? – Locative media und augmented space aus der Perspektive einer dualen Konstruktion urbaner Räume
Vortrag auf dem Interdiziplinären Symposion "Die deklarative Stadt – Urbane Kommunikation als Ortsherstellung". Universität Bremen, Bremen, Germany: 11.10.2013
Thomas Christian Bächle
Governing Our Sick Souls – Digital Media and the Neoliberal Politics of the Pathological Body
Vortrag im Rahmen der NECS Conference 2013 zum Thema "Media Politics – Political Media". Charles University, Prag, Czech Republic: 22.06.2013
Thomas Christian Bächle
'Ich bin grad an der Kasse, ich ruf Dich gleich zurück' – Wie mobile Medien den öffentlichen Raum und soziale Beziehungen verändern
Vortrag am Dies academicus der Universität Bonn. Universität Bonn, Bonn, Germany: 29.05.2013
Thomas Christian Bächle
Adhinnio, ergo sum! Partizipation am kollektiven Lustkörper durch Selbstdarstellung auf pornographischen Videosharing-Websites
Vortrag auf der DGPuK-Fachgruppentagung (Computervermittelte Kommunikation) zum Thema "Digitale Gesellschaft – Partizipation im Netz". Universität Bonn, Bonn, Germany: 10.11.2012
Thomas Christian Bächle
Die Objektivierung des Todes am Beispiel von Christoph Schlingensiefs Spätwerk
Vortrag auf dem Symposium "Aspekte der Medizinphilosophie" zum Thema "Tod". Karlsruher Institut für Technologie (KIT), Karlsruhe, Germany: 07.10.2012
Thomas Christian Bächle
Der Algorithmus als nicht-menschlicher Spekulant
Vortrag auf der Jahrestagung der Gesellschaft für Medienwissenschaft (GfM): Spekulation (Session: Die materielle Seite der Spekulation. Oder: Die STS besuchen die Börse). Goethe-Universität, Frankfurt am Main, Germany: 04.10.2012
Thomas Christian Bächle
Alg und ANT – Überlegungen zu Performativität, Materialität und algorithmic trading
Impulsreferat in der der AG Medienwissenschaft und Wissenschaftsforschung der Gesellschaft für Medienwissenschaft (GfM) (Session: Andere Orte der STS). Universität Siegen, Siegen, Germany: 29.06.2012
Thomas Christian Bächle
Der Tod als Dysfunktionalität – Symbolische Übersetzungsversuche einer Leerstelle am Beispiel von Christoph Schlingensiefs Krebs-Blogs
Vortrag auf der Jahrestagung der Gesellschaft für Medienwissenschaft (GfM): Dysfunktionalitäten. Universität Potsdam, Potsdam, Germany: 07.10.2011
Thomas Christian Bächle
Infested Selves – The making of HIV-positive identities in popular discourse and medical practices
Vortrag auf der internationalen Konferenz: Mediatized Gender – Gender Perspectives on Mediatized Societies. Universität Bonn, Bonn, Germany: 24.09.2011
Thomas Christian Bächle
HIV shock campaigns and the construction of the 'monstrous other' – Raising awareness at the risk of stigmatisation
Vortrag auf der internationalen Konferenz: LGBT/Queer Studies: Toward Trans/national Scholarly and Activist Kinships. Syracuse University, Madrid, Spain: 05.07.2011
Thomas Christian Bächle
Identität – heute, gestern, morgen
Vortrag auf der DGPuK-Fachgruppentagung (Computervermittelte Kommunikation) zum Thema "Computer und Kommunikation – gestern, heute, morgen". Johannes Gutenberg-Universität, Mainz, Germany: 12.11.2010
Thomas Christian Bächle
Organisation of events
Social robots as an interface
Social robots as an interface – Lunch Talk with Thomas Christian Bächle. From 11.07.2018 to 11.07.2018. Humboldt Institut für Internet und Gesellschaft, Berlin, Germany (International)
Further information
Thomas Christian Bächle
Participation as expert
Mögliche Auswirkungen von Datenpreisgabe für den Nutzer und unsere Gesellschaft
Lasst Euch nicht verAPPeln! Kosten, Daten, Inhalte: Worauf (junge) Nutzer achten solltenBayerische Landeszentrale für neue Medien, München, Germany: 07.10.2015
Thomas Christian Bächle