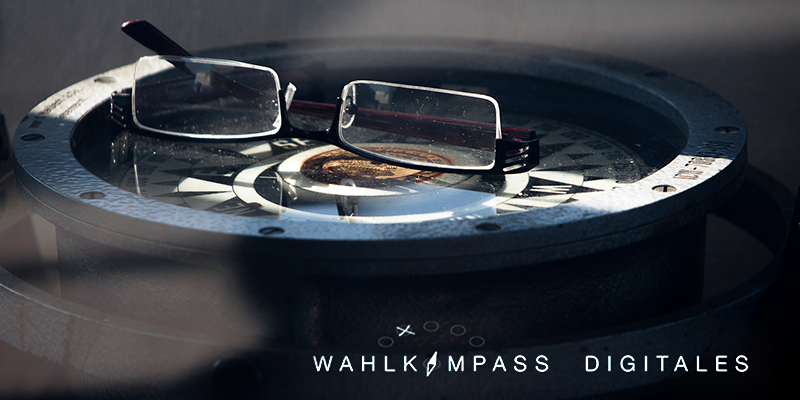 Click here for Wahlkompass 2021
---
Digital policy will be a focal point of the German federal elections in 2017. More than ever, the elections will deal with questions of the digital age: How do we use data purposefully and justly? How should we react to populism and social bots? How can we effectively protect ourselves against cyber attacks? In their attempt to gain electoral votes, the political parties must be prepared to answer these questions.
The Wahlkompass Digitales (digital election compass) creates transparency by opening up the political parties' positions on these pressing issues. The HIIG research team analyzed the election programs of six German parties regarding their views on digital policy including work, education, security and health.
This tool illustrates the initiatives and positions of each party in the aforementioned areas of interest and how their positions differ: How do we support digital economy in Germany? Who is committed to more data protection, and who is not? Where do they want to improve digital infrastructure? Which parties commit themselves to the media competency of our children? With this scientific service, interested voters and journalists can better understand which actions the different parties plan to take to address digital policy. Moreover, the project also asks experts to explain the role of specific digital initiatives for these key topics.
Media coverage
TITLE
MEDIUM/DATE
LINK
Online-Tool vergleicht Programme


Jörg Pohle, Christian Djeffal

Kommune21


27.07.2017

Vier Jahre Neuland


Christian Djeffal

Fritz Radio


27.07.2017

Hörbar: Wahlkompass Digitales


Nataliia Sokolovska

afk M94.5


25.07.2017

Zwischen Phrasen und klarer Haltung


Nataliia Sokolovska

Süddeutsche Zeitung


24.07.2017

Welche Partei nimmt den Datenschutz ernst?


Jörg Pohle

BR24


24.07.2017

Wahlkompass Digitales: Online-Tool vergleicht Programme der Parteien


Alexander von Humboldt Institut für Internet und Gesellschaft

Bochumer Zeitung


24.07.2017
Foto: CC BY-NC 2.0 Alessandro | flickr.com
| | |
| --- | --- |
| Duration | 07/2017 – 09/2017 |
| Sponsors | The Digitale Wahlkompass is a project of the Alexander von Humboldt Institute for Internet and Society. Media partner of the project is the Süddeutsche Zeitung. Network partner is media:net Berlin Brandenburg |
Other publications
Djeffal, C. (2017). Algorithmen, Roboter, smarte Maschinen: Was sagen die Parteien zu künstlicher Intelligenz? Digital Society Blog. Publication details
Pohle, J. (2017). Der Einsatz von Staatstrojanern und die IT-Sicherheit. Digital Society Blog. Publication details
Djeffal, C. (2017). Schafft 15 Digitalministerien. Süddeutsche Zeitung (215), 2. Publication details
Djeffal, C. (2017). Deutschland braucht nicht ein Digitalministerium, sondern viele! sueddeutsche.de. Publication details
Djeffal, C. & Baack, S. (2017). Kunde, Zeitungsleser oder Aktivist? BürgerInnen im Kontext der Verwaltungsdigitalisierung. Digital Society Blog. Publication details
Fecher, B. & Sokolovska, N. (2017). Digitale Forschungspolitik. HIIG Digital Society Blog. Publication details
Lectures and presentations
Wahlkompass Digitales
Wahlsalon Berlin. Open Knowledge Foundation. Open Knowledge Foundation, Berlin, Germany: 01.09.2018
Nataliia Sokolovska
Wahlkompass Digitales
Checkpoint bpb - Die Montagsgespräche. Bpb Berlin, Berlin, Germany: 11.09.2017
Nataliia Sokolovska
Wahlkompass Digitales
Wahlsalon in Köln. Open Knowledge Foundation, Köln, Germany: 07.07.2017
Nataliia Sokolovska