User innovation in smart energy technologies
People are increasingly dealing with their own energy conduct, are reshaping it and communicating with other users, who are interested in energy. In our research project we are looking at such collaborative structures – with varying levels of user participation. We have identified three different types: (1) Implementation of existing smart home applications, (2) active participation in energy infrastructure projects (co-creation) and (3) user-driven innovation.
"We are looking at users that take the future of smart energy into their own hands through user innovation and how companies can build on user innovation to set up user-centric business models for the energy future."
According to our current survey about the energy future in Germany, about 21 % of the respondents are already using smart energy products and solutions. Another 42 % are interested in existing energy solutions and planning to implement some of these soon. Internet platforms such as co2online or Haustechnikdialog are reliable sources of information and support the distribution and exchange of experiences between users in addition. Nevertheless our interviews have also shown, that only 11 % of the respondents are content with solutions and products that are available in the market. Users especially consider the inadequate data security a problem – about 38 % have expressed concerns. Another issue are high costs: About 41 % find the purchase of existing products too expensive.
Another phenomenon, that we have explored, is the active participation of people in innovation processes, so-called co-creation. In this light we examined the development of the self-sufficient village Feldheim in Brandenburg in a case study. Due to the close collaboration between company, local politics and residents, the location is a suitable example for how the interaction of acceptance and participation can lead to the successful realization of infrastructure projects. Especially the population's driving force behind initiating a smart energy supply can be seen as helpful for creating concepts regarding larger communities or smart cities.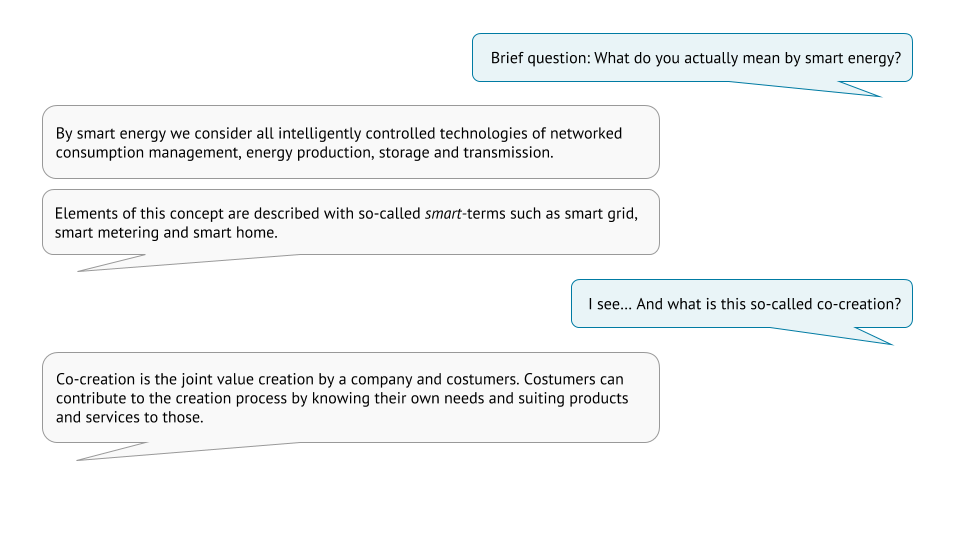 Eventually there are more and more examples for users becoming active innovators. Since they bring in their broad technical expertise and are aware of their unmet needs very well these efforts are particularly promising. It has been shown, that the exchange of knowledge and experiences with other interested parties in online communities significantly contributes to the efficiency enhancement of collective innovation processes. First and foremost users with an outstandingly high level of innovativity, activity and the willingness to cooperate drive the product development forward.

Since they point out not only barriers of existing smart energy products, but also propose solutions and give advices on the improvement of usability and functionality, companies can benefit from them. In the end everybody benefits from knowledge transfers – also the energy transition.
| | |
| --- | --- |
| Duration | 07/2015 – 06/2018 |
| Sponsors | innogy Stiftung für Energie und Gesellschaft gGmbH |
Former employees
Matti Grosse

Former Research associate: Innovation & Entrepreneurship

Mehera Hassan

Former Student Assistant: The evolving digital society

Thomas Richter

Associated Researcher: Innovation & Entrepreneurship
Journal articles and conference proceedings
Kettemann, M. C., & Tiedeke, A. S. (2020). Back up: can users sue platforms to reinstate deleted content? Internet Policy Review, 9(2). DOI: 10.14763/2020.2.1484 Publication details
Edited works
Große, M., Send, H. & Loitz, T. (2018). Smart Energy in Deutschland: Wie Nutzerinnovationen die Energiewende voranbringen. Berlin, Deutschland: Alexander von Humboldt Institut für Internet und Gesellschaft. DOI: 10.2139/ssrn.3249002 Publication details
Other publications
Große, M. (2015). Autarkie und der große Plan – die Energiewende und kleine, konkrete Lösungen. Publication details
Lectures and presentations
Innovation ist überall
Symposium: Der smarte Weg für die Energiewende. Humboldt Institute for Internet and Society. Humboldt Institute for Internet and Society, Berlin, Germany: 22.06.2018
Further information
Nicolas Friederici
User innovation in communities: a systematic literature review
16th International Schumpeter Society Conference (Session: The Digital Economy). International Schumpeter Society. Hotel Bonaventure, Montréal, Canada: 08.07.2016
Matti Große, Hendrik Send