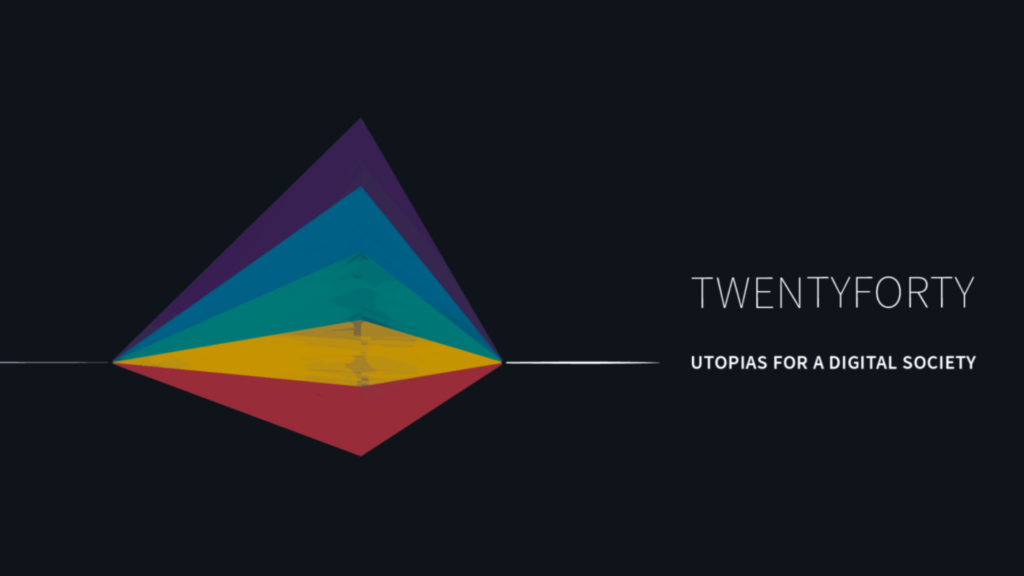 Digital technologies have revolutionised our lives over the past two decades. How will they continue to shape our work, relationships, education, governance and existence in 2040? With our international essay competition, we offered scientists a platform to imagine utopias beyond the usual research and to submit their visions along five categories: love, live, learn, work and rule. The invited researchers and thinkers came from remarkably different backgrounds: a digital geographer, a computer scientist, two communication scientists, four legal scholars, a dementia researcher, three political scientists and an educational researcher. These were authors from ten different countries, united by their desire to shed light onto the mysteries of a digital world to come.
The project "twentyforty – Utopias for a Digital Society" is an exceptional experiment in science communication. Starting as an essay competition, twentyforty grew into an anthology, a website, an exhibition, a mini series, an audio book and many more.
The anthology explores the future of 2040 through thirteen captivating stories penned by researchers across diverse disciplines, including artificial intelligence, law, and geography. Serving as an innovative experiment in science communication, this collection invites scholars to transcend their academic confines and tap into their imagination. Breaking free from the "peer prison", they embark on a creative journey to envision a future beyond our current horizons. These visionary tales bridge the gap between scientific insights and storytelling, offering profound societal implications for tomorrow's world. 
Each narrative explores the opportunities and challenges presented by digital technologies in the realms of love, living, learning, working, and governance. Through this experiment, we aim to provoke discourse and leverage these insights for shaping the future.
The anthology "Twentyforty – Utopias for a Digital Society" inspired a captivating audio-visual project. A screenplay and concept were created, aiming to translate the diverse stories into a visual language. The project comprises 15 episodes, featuring an introduction and conclusion, which can be experienced individually or as a cohesive 45-minute film. Kathrin Unger and Helena Kühnemann lead the production and direction of this innovative endeavor.
An exhibition showcasing excerpts, illustrations, and audio-visual experiments derived from the book and website of "Twentyforty – Utopias for a Digital Society" successfully premiered in Berlin. This immersive experience invites visitors to explore future visions of a digital society, engaging with the profound questions raised by the thirteen researchers. Additionally, an audio book based on selected stories from the collection was created, with script, production, and direction by Angelina Urbanczyk. The exhibition also included a screening on 14 July 2020.
twentyforty – Utopias for a Digital Society has been initiated by the Alexander von Humboldt Institute for Internet and Society (HIIG) in cooperation with the Global Network for Internet and Society Research Centers (NoC).

Researcher and project manager: Knowledge & Society
Head of Research Programme: Knowledge & Society
Associate Researcher & Former Head of Research Programme: Knowledge & Society
OPEN EDUCATIONAL RESOURCE
HIIG is continuously developing a wide range of OER, including a lecture series, a future thinking toolkit and several games.
The foreword of the publication as a blog post by Benedikt Fecher, Bronwen Deacon, Timothée Ingen-Housz, and Nataliia Sokolovska.