Artificial Intelligence & Knowledge Work – Implications, Opportunities And Risks
The research project focuses on the use of Artificial Intelligence (AI) applications in the intraorganizational workplace of knowledge workers. The project investigates with which intentions and strategies AI applications are used in the workplace, which changes are perceived by the participants and how employees, companies and co-determination actors react to them. The work is methodically guided by an empirically qualitative social science research design with a mixed-method approach. The project thus joins the existing research on the digitisation of the working world and supplements it with empirical findings on the use of AI applications at knowledge workstations within organisations in Germany.
The project is part of the focus group "Artificial Intelligence in the Workplace" of the German Federal Ministry of Labour and Social Affairs. The aim is to develop recommendations for the handling of AI in interdisciplinary collaboration with experts from politics, science and industry.
Artificial intelligence is generally (AI) regarded as the essential driver for a comprehensive transformation of the world of work. The term AI refers to a series of systems that, on the basis of large amounts of data, can learn to solve complex problems, recognize patterns, or predict behavior completely or partially autonomously – abilities that are usually associated with human intelligence.
AI enters into areas of work that previously seemed to be reserved for humans. This applies increasingly to comparatively demanding knowledge work, i.e. white-collar-work or other work that demands non-routine problem solving, for example, based knowledge-intensive service sectors such as marketing or product development. The latest advances in speech recognition, word processing, simultaneous translation and the automated creation of complex standard texts offer are being regarded as a powerful technical tool with diverse potentials.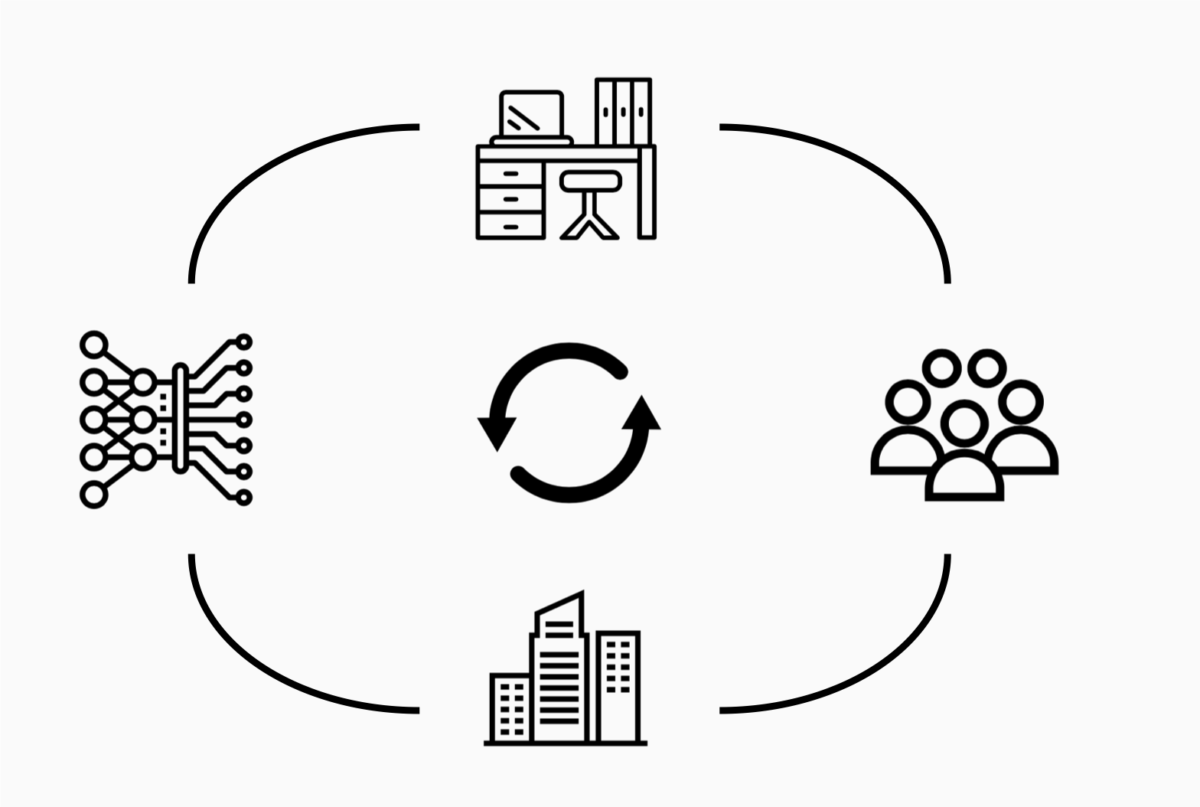 Media & Links
| | |
| --- | --- |
| Duration | June 2019 until May 2022 |
| Funding | Federal Ministry of Labour and Social Affairs |
Former employees
Miriam Feldman

Former Associate Researcher: Knowledge & Society

Vivien Hard

Former student assistant: Innovation, Entrepreneurship & Gesellschaft
Lectures and presentations
People Analytics am Arbeitsplatz: Every Break You Take, Every Click You Make
People Analytics am Arbeitsplatz: Every Break You Take, Every Click You Make. re:publica 21, Online, Berlin, Germany: 22.05.2021
Further information
Sonja Köhne
Künstliche Intelligenz – Potenziale, Grenzen und betriebliche Mitbestimmung
KI-Tag der Technologieberatungsstelle DGB NRW (TBS NRW). TBS NRW, Online, Dortmund, Germany: 20.05.2021
Sonja Köhne
Künstliche Intelligenz in der Personalarbeit: Risiken, Chancen, neue Machtfragen
Vom Wert der Demokratie und demokratischen Werten in Zeiten des Wandels (Session: Künstliche Intelligenz in der Personalarbeit: Risiken, Chancen, neue Machtfragen). Forum Politische Bildung – IG Metall, Frankfurt, Online, Germany: 11.05.2021
Sonja Köhne
Panels
KI und Wissensarbeit – Implikationen, Möglichkeiten und Risiken
Algorithmen, Automatisierung und Arbeit – Wie KI unsere Arbeit und unser Leben besser machen kann. BMAS. Die Denkfabrik des Bundesministeriums für Arbeit und Soziales, Berlin, Germany: 20.05.2021
Further information
Georg von Richthofen
Organisation of events
Vom Fließband zur KI
Digitaler Salon. 28.04.2021. Online, Berlin, Germany (National)
Further information
Georg von Richthofen
Digitaler Salon: KI – Die Letzte räumt das Internet auf
31.03.2021. Livestream, Berlin, Deutschland (National)
Further information
Natasha Vukajlovic, Philip Meier, Christian Grauvogel