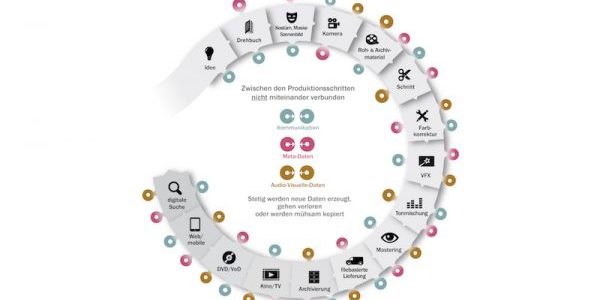 The dwerft project is a collaborative research project regarding new IT-based film and television technologies. Core theme of this project is to create a cross-linking between all these processes without any loss of data but with open interoperable standards. Thus, the main goal is creating a commonly shared technology platform named Linked Production Data Cloud. All partners contributing to this project are developing different services, processes and interoperable technologies linked to that core technology within five joint projects. The Alexander von Humboldt Institute for Internet and Society was involved in three joint projects: copyright, distribution, and knowledge transfer.
For the copyright project, the institute contributed analysis of the legal requirements for using works whose rightsholders are unidentifiable or untraceable (so-called orphan works). This issue is of importance for the development of adequate technologies to further the automation of rights management. The project also analysed the general copyright framework for re-using (orphan) film works. The distribution project focuses on semantic and explorative search engines and intelligent recommendation systems, whereas the knowledge transfer project is focussing on the changing business models of content production and distribution that arise due to changing usage behavior and leads to a high level of user integration. The project tries to pull innovative methodologies and findings out of the complete dwerft project as a linking transfer and communication part between all joint projects.

The mutual vision of this alliance is cross-linking production, archiving and distribution processes of audio-visual media content. The associated partner companies for the practice-oriented research and the development work are: e.discom Telekommunikation GmbH (IT), Grundy UFA TV Produktions GmbH (TV) and the Studio Babelsberg AG (film).
| | |
| --- | --- |
| Laufzeit | 02/2014 – 06/2017 |
| Förderer | The project »dwerft« is funded by the Ministry of Education and Research. |
Books
Maier, H. (2018). Remixe auf Hosting-Plattformen. Eine urheberrechtliche Untersuchung filmischer Remixe zwischen grundrechtsrelevanten Schranken und Inhaltefiltern. Tübingen: Mohr Siebeck. Publication details
Journal articles and conference proceedings
Maier, H. (2017). German Federal Court of Justice rules on parody and free use. Journal of Intellectual Property Law and Practice, 12(1), 16-17. Publication details
Maier, H. & Jütte, B.J. (2017). A human right to sample—will the CJEU dance to the BGH-beat? Journal of Intellectual Property Law and Practice, 12(9), 784-796. Publication details
Maier, H. (2016). Meme und Urheberrecht. GRUR-Prax, 2016(19), 397-398. Publication details
Maier, H. (2015). Games as Cultural Heritage – Copyright Challenges for Preserving (Orphan) Video Games in the EU. JIPITEC 2015, 120-131. Publication details
Other publications
Maier, H. (2017). Streaming ade? – Verkäufer und Nutzer werden haftbar. Digital Society Blog. Publication details
Maier, H. (2016). Von Urheberrecht und Dokumentarfilmen – Interview mit den Machern des geplanten "illegalen" Films. Digital Society Blog. Publication details
Kind, U. (2016). Branded Content im TV und auf YouTube: Was sind die Unterschiede? Digital Society Blog. Publication details
Kind, U. (2016). Live-streaming im Internet und seine Auswirkungen auf die Medienlandschaft. Digital Society Blog. Publication details
Maier, H. (2016). Nicht immer unversöhnlich: Meme und Urheberrecht. irights.info. Publication details
Maier, H. (2016). Digital Copyright & Free Speech: Technische Schutznahmen nach US-Recht auf dem Prüfstand. Telemedicus. Publication details
Maier, H. (2016). Parody and free use in Germany: Federal Court of Justice decides first parody case after Deckmyn. IPKat. Publication details
Maier, H. (2016). EuGH gibt grünes Licht für E-Book-Verleih, doch offene Fragen bleiben. irights.info. Publication details
Maier, H. (2015). Where to sue in online infringement cases. Internet Policy Review – News & Comments. Publication details
Maier, H. (2015). Orphan works in the US: getting rid of "a frustration, a liability risk, and a major cause of gridlock"? The 1709 Blog. Publication details
Lectures and presentations
Film und Recht – urheberrechtliche Entwicklungen & automatisierte Rechteklärung
dwerft Abschlusskonferenz. Brandenburgische Landesvertretung, Berlin, Germany: 12.05.2017
Henrike Maier
Memes im Urheberrecht – Eine Bestandsaufnahme mit Blick auf deutsche und amerikanische Schranken
"One does not simply…" – Memes zwischen #Originalität und #Viralität, Interdisziplinärer Workshop (Session: Memes und Recht). Graduiertenkolleg "Innovationsgesellschaft heute" der TU Berlin in Kooperation mit der Gesellschaft für Musikwirtschafts- und Musikkulturforschung (GMM) sowie der HMKW Berlin. Technische Universität Berlin, Berlin, Germany: 16.03.2016
Henrike Maier
Urheberrecht und Technik am Beispiel von Hostingplattformen
Versprechungen des Rechts: Dritter Kongress der deutschsprachigen Rechtssoziologie-Vereinigungen (Session: Urheberrecht – Technologie – künstlerische Produktion). Law and Society Institute Berlin, and others. Humboldt Universität zu Berlin, Berlin, Germany: 09.09.2015
Henrike Maier
aVoD Werbefinanziertes video on demand
Linked Production Workshops 2015 (Session: Video on Demand - So stellen Sie ihren Content gewinnbringend auf geeignete Plattformen). transfer media. Humboldt Institut für Internet und Gesellschaft, Berlin, Germany: 01.07.2015
Urs Kind
Film meets IT-Veranstaltung
Film meets IT 2015 (Session: Film meets IT-Veranstaltung). transfer media, media.connect brandenburg. Medieninnovationszentrum, Babelsberg, Germany: 26.03.2015
Urs Kind, Christoph Krachten, Christian Meinberger
Produzieren und Verwerten von Big, Medium & Small Screen Content
Linked Film & TV Workshops 2014 (Session: Block II - Anytime, Anyway, Any Devices!). transfer media, media.connect brandenburg. transfer media, Babelsberg, Germany: 16.09.2014
Urs Kind, Uwe Schnepf, Hannes Jakobsen, Veit Quack
Organisation of events
d-werft Geschäftsmodell Workshop
From 12.01.2016 to 12.01.2016. Humboldt Institut für Internet und Gesellschaft, Berlin, Germany (National)
Kerstin Bass, Urs Kind, Martina Weifenbach