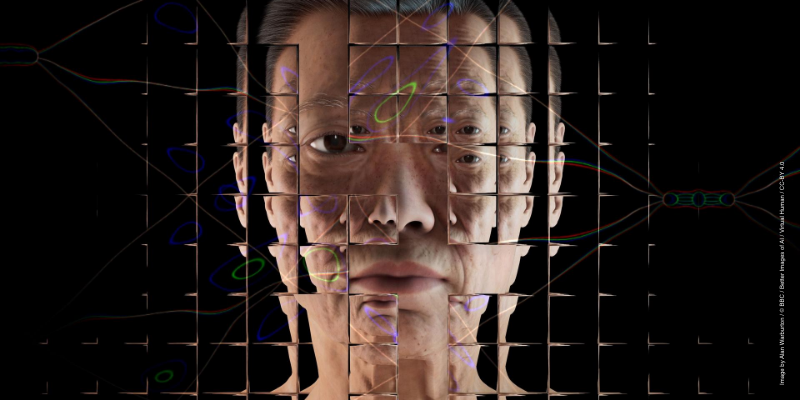 Between Autonomy and Surveillance – Employee-oriented use of people analytics in onsite and remote work
In the research project "Between Autonomy and Surveillance (ZAUber)", we are researching how people and organisations use so-called people analytics software. These enable the automated analysis of personnel data, combine it with business and/or external data and promise to optimise decisions about employees, for example in personnel planning or development. The project is funded by the Hans Böckler Foundation as part of the Digitale Transformation Research Network and is carried out in close cooperation with the FZI Research Centre for Information Technology.
Background of the project
The use of people analytics software has the potential to fundamentally change the world of work. Due to the increase in remote work in the wake of the COVID 19 pandemic, such people analytics tools are gaining momentum by promising employers possibilities of supervision despite physical distance. Advocates of people analytics software hope to increase employee autonomy through e.g. personalised support for self-organisation. However, due to the comprehensive analysis of usage data, many users perceive predictive people analytics tools in the context of employee monitoring, surveillance, and control of performance and behaviour in the workplace.
Research questions
People analytics approaches place high demands on the stakeholders involved, such as management, employees and their representatives, as well as the technical and legal side. Organisations need to match technical requirements and capabilities with stakeholder needs and legal frameworks. The granular functionalities of people analytics platforms provide flexibility, but also create complexities. Our research project focuses on the challenges and design options for corporate actors that emerge in the area of tension between autonomy and employee surveillance. More specifically, we are answering the following two research questions:
How – if at all – does the perception of the use of people analytics differ among those employees affected by the evaluations in the use cases of remote and onsite work?
Which technical, individual and organisational conditions promote or inhibit a use of people analytics that is oriented towards the well-being and self-determination of employees?
Methodological approach
To answer the research questions, we draw on a multi-method approach that includes both qualitative and quantitative studies. A structured literature review, market survey and qualitative stakeholder interviews form the basis of the project. Based on these findings, we conduct in-depth qualitative case studies on the use of people analytics tools in German organisations. In addition, a theory-based quantitative survey and an experimental study provide insights into the perception of privacy intrusions and trust-building features of the systems. Workshops at the beginning and end of the project support the as-is analysis and the transfer of our findings into practice.
Media & Links
Duration: 01.04.22 – 30.09.2024
Sponsor: Hans Böckler Foundation
Part of the research group
Journal articles and conference proceedings
Köhne, S., & Klöpper, M. (2023). Shifting Structures – A Systematic Literature Review on People Analytics and the Future of Work. ECIS 2023 Research Papers. Publication details
Winkler, M., Köhne, S., & Klöpper, M. (2022). 'Not all algorithms!' Lessons from the Private Sector on Mitigating Gender Discrimination. INFORMATIK 2022, Lecture Notes in Informatics (LNI), Gesellschaft für Informatik, 1289-1303. Publication details
Klöpper, M., & Köhne, S. (2022). People Analytics and the Promise of the Good Life. A Critical Transformative Perspective. Wirtschaftsinformatik 2022 Proceedings(4), 1-17. Publication details
Other publications
Köhne, S. (2023). Zwischen Experimentierräumen und Ampelsystemen: Künstliche Intelligenz auf der betrieblichen Ebene verhandeln. WZB. Publication details
Köhne, S., & Winkler, M. (2022). Weil der Algorithmus es sagt: Zur Rolle menschlicher Entscheider*innen und datengetriebener Unterstützung. Denkfabrik Digitale Arbeitsgesellschaft. Publication details
Gümüsay, A., Köhne, S., Schildhauer, T., Krzywdzinski, M., & Send, H. (2022). Why Big Brother should not be watching you at work. I by IMD. Publication details
Winkler, M. & Köhne, S. (2022). Was ist KI und wenn ja, wie viele? Zur Debatte um den Begriff der Künstlichen Intelligenz. Denkfabrik Digitale Arbeitsgesellschaft. Publication details
Köhne, S., Klöpper M. & Buß, N. (2022). People Analytics: Chancen, Risiken und neue Gestaltungsfragen. Gegenblende. Publication details
Köhne, S. & Klöpper, M. (2021). Working from Home but Never Alone: Warum People Analytics die Perspektive der Beschäftigten einbeziehen muss. Digital Society Blog. Publication details
Lectures and presentations
Daten, Algorithmen und ein neuer Blick auf das Personalmanagement: Erkenntnisse aus einem Forschungsprojekt zu People Analytics
Personalinformationssysteme: Chancen, Risiken, Mitbestimmung. IG Metall Vorstand, Frankfurt a. M., Germany: 18.07.2023
Further information
Sonja Köhne
Artificial Intelligence and Work Representation
39th EGOS Colloquium 2023: "Organizing for the Good Life: Between Legacy and Imagination". University of Cagliari, Cagliari, Italy: 07.07.2023
Further information
Sonja Köhne, Georg von Richthofen, Ali Aslan Gümüşay, Hendrik Send
How I Met Your Money: Das Geschäft mit den Beschäftigtendaten
re:publica. Arena, Berlin, Germany: 07.06.2023
Further information
Sonja Köhne, Georg von Richthofen
Künstliche Intelligenz in freier Wildbahn: Wer profitiert vom Einsatz von KI am Arbeitsplatz?
re:publica. STATION, Berlin, Germany: 06.06.2023
Sonja Köhne
People Analytics im Spannungsfeld zwischen Be- und Entlastung
Netzwerktreffen Stabsmitarbeiter*innen "Gute und gesunde (Mitbestimmungs-)Arbeit in einer transformierenden Wirtschaft". Institut für Mitbestimmung und Unternehmensführung (I.M.U.) der Hans-Böckler-Stiftung, Düsseldorf, Germany: 10.01.2023
Sonja Köhne
Möglichkeiten und Grenzen von Künstlicher Intelligenz im Recruiting
Möglichkeiten und Grenzen von Künstlicher Intelligenz im Recruiting. Fortbildungsakademie des Ministeriums des Innern des Landes Nordrhein-Westfalen, Online, Germany: 29.09.2022
Sonja Köhne
Algorithmisches Personalmanagement: Kartierung einer komplexen Landschaft
Demo Day. Prototype Funds. bUm, Raum für solidarisches Miteinander, Berlin, Germany: 31.08.2022
Further information
Sonja Köhne
Coffee Chat: A human has viewed your CV – Künstliche Intelligenz im Bewerbungsprozess?
Künstliche Intelligenz im Bewerbungsprozess?. re:publica 2022, Berlin, Germany: 09.06.2022
Further information
Sonja Köhne
Das interaktive People-Analytics-Quiz. re:publica 2022, Berlin, Germany: 09.06.2022
Further information
Sonja Köhne
People Analytics and the Promise of the Good Life—A Critical Transformative Perspective
17th International Conference on Wirtschaftsinformatik. Wirtschaftsinformatik 2022 Proceedings 4, Online, Germany: 21.02.2022
Further information
Sonja Köhne
Mitarbeiter*innen-zentrierter Einsatz von People Analytics
LABOR.A® 2020 – Arbeit der Zukunft in Corona-Zeiten (Session: Ideenpitch Künstliche Intelligenz in der Arbeitswelt). Hans-Böckler-Stiftung, Forschungsstelle Arbeit der Zukunft, Online, Germany: 07.10.2020
Further information
Miriam Klöpper, Sonja Köhne
Panels
People Analytics: Management zwischen Daten, Intuition und Diskriminierung
Geschlechterungleichheit und KI am Arbeitsplatz. Gleichstellungsforum 2023, Berlin, Germany: 03.03.2023
Further information
Sonja Köhne
Moderation of workshops and panels
Die Pandemie als Wendepunkt? Transformation von Autonomie und Kontrolle in neuen Arbeitsformen
LABOR.A® 2020 – Arbeit der Zukunft in Corona-Zeiten. Hans-Böckler-Stiftung, Forschungsstelle Arbeit der Zukunft, Online, Germany: 07.10.2020
Further information
Karen Eilers, Miriam Klöpper, Sonja Köhne, Valentin Niebler, Nora Thorade, Klara-Aylin Wenten, Tobias Drewlani
Organisation of events
People Analytics in der betrieblichen Praxis
People Analytics in der betrieblichen Praxis - Workshop I. 19.10.2022. Humboldt Institut für Internet und Gesellschaft, Berlin, Germany. Co-Organised by: IG Metall (National)
Further information
Nele Buß, Georg von Richthofen, Sonja Köhne, Hendrik Send