The Foundation Board discusses the overall development of the institute and ensures its structural independence, together with the Executive Board of the Foundation, and the academic directors of the HIIG. It consists of a representative from each of the shareholders, one representative from the funding institution "Gesellschaft zur Förderung der Internetforschung gGmbH" (GFI), owned by Google, and further distinguished researchers or managers from the scientific community. Prof. Dr. Otfried Jarren was appointed as Chairman. The Foundation Board consists of the following members:
 Chair
Prof. Dr. Otfried Jarren
Head of department "Media & Politics" Institute of Mass Communication and Media Research (IPMZ) at the University Zurich 
Otfried Jarren studied mass communication and media research, political science and European ethnology in Münster, Germany. Appointed as a Professor for Journalism with focus on Communication and Media Studies, he lead the Institute of Mass Communication and Media Research Zürich (IPMZ) from 1998 to 2008. Additionally, he was a reviewer of the German Research Foundation from 2001 to 2005. Otfried Jarren was the managing director of the Hans-Bredow-Institute in Hamburg from 1995 until 2001. From 2008 till 2016 he was the prorector of humanities and social sciences and a member of the executive board of the University of Zurich. Since 2016 Jarren is honorary professor for Journalism and Communication Studies at FU Berlin. Subjects of particular interest in his research and publications are political communication, media regulation, media shift and social change.
Representatives of Shareholders

Prof. Dr. h.c. Jutta Allmendinger Ph.D.
President of the Wissenschaftszentrum Berlin für Sozialforschung
Jutta Allmendinger is president of the WZB Berlin Social Science Center and Professor of Educational Sociology and Labor Market Research at the Humboldt University, Berlin since 2007. From 2003 until 2007 she was director of the Institute of Employment Research, Nuremberg and from 1992 until 2007 she was professor of Sociology at the Ludwig-Maximilians-University, Munich.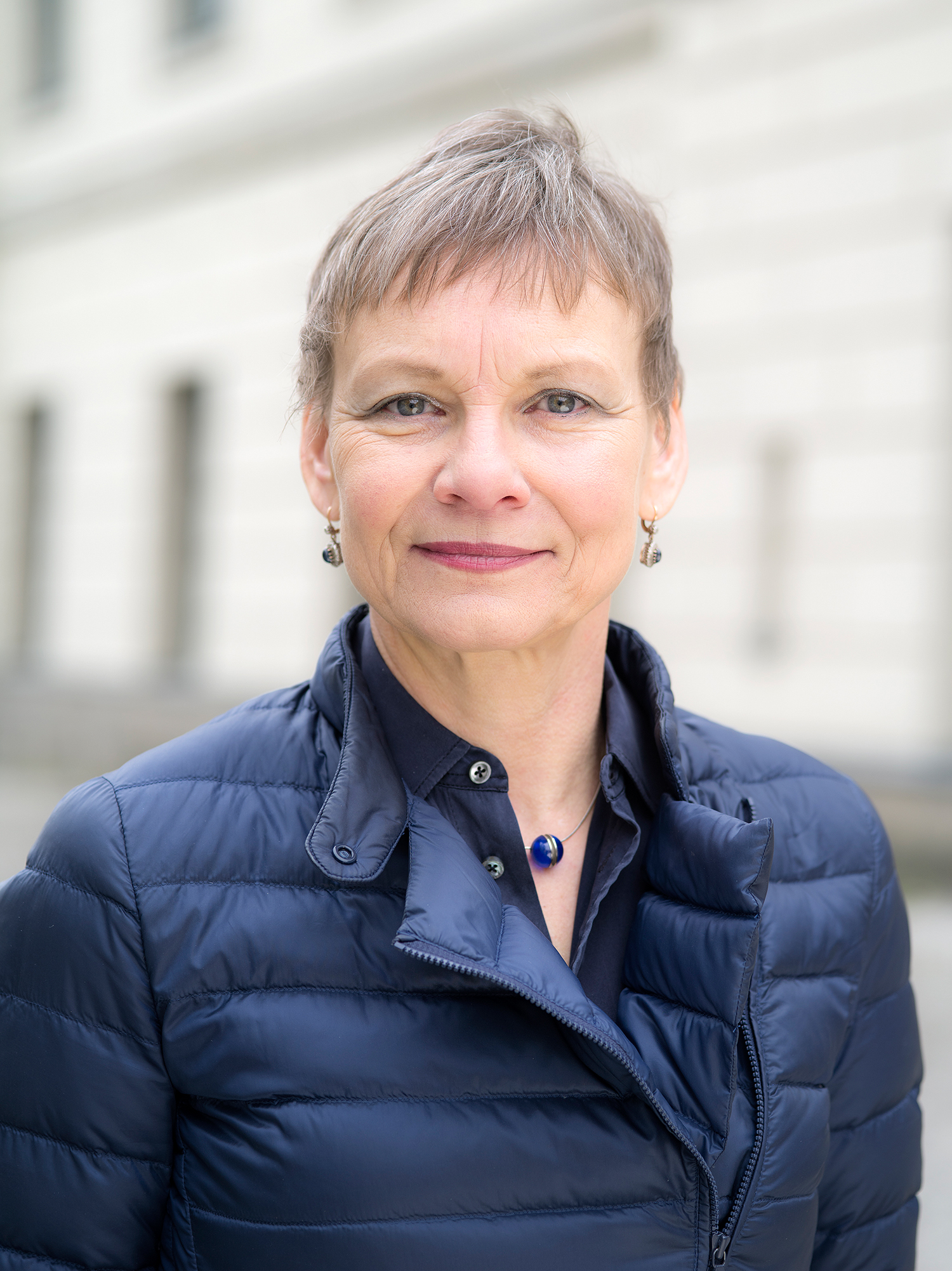 Prof. Dr.-Ing. habil. Dr. Sabine Kunst
President of the Humboldt-Universität zu Berlin
Since 2016 Sabine Kunst is the president of the Humboldt-Universität zu Berlin. Prior to that she was Minister for Science, Research and Culture of the state of Brandenburg from 2011 to 2016 and president of the University of Potsdam from 2007 - 2011. She held different management positions at the Leibniz Universität Hannover, for example as Director of International Affairs and Vice-president for Teaching, Studies and Further Education. From 2010 to 2011 she was the president of the German Academic Exchange Service. Sabine Kunst studied biology, politics, and water management, and graduated in engineering and politics.
Prof. Martin Rennert
President of the University of Arts, Berlin
After his studies at the music academies in Vienna, Graz and Granada Martin Rennert received numerous awards and honours. Since 1972 he has been appearing worldwide as a soloist and chamber musician. In 1985 he became a professor of concert guitar at the UdK of Berlin (University of Arts) and from 1989 until 1995 he was the dean of the music faculty.
Representative of the funding company GFI gGmbH
Dr. Wieland Holfelder
Engineering Director Google Deutschland GmbH
Wieland Holfelder is Engineering Director for Google Germany GmbH where he oversees Google's engineering and research activities in Germany. As part of his Ph.D. research Wieland Holfelder worked at IBM's European Networking Center in Heidelberg, Germany and the International Computer Science Institute in Berkeley, CA. He holds a Master in computer science and economics (Dipl. Wirtsch. Inf.) and a Doctorate (Dr. rer. nat.) in computer science from the University of Mannheim.
Further Members
Prof. Dr.-Ing. Dr. h.c. Karlheinz Brandenburg
Director of the Fraunhofer-Institut für Digitale Medientechnologie IDMT
Karlheinz Brandenburg is an audio engineer who has contributed to the audio compression format MPEG Audio Layer 3, more commonly known as MP3. In 1989 he obtained his Ph.D. from the Friedrich-Alexander University Erlangen-Nuremberg in electrical engineering for his work on digital audio coding and perceptual measurement techniques. Since 2000 he has been a full-time professor at the Institute for Media Technology at Technical University of Ilmenau. In addition, he is the director of the Fraunhofer Institute for Digital Media Technology IDMT in Ilmenau.
Christiane Neumann
Secretary-General of the Leibniz-Gemeinschaft 
From 1992 until 2005 Christiane Neumann was the administrative executive of the Social Science Research Center in Berlin. During this time Christiane Neumann was the vice president of the Leibniz-Gemeinschaft from 1999 until 2003. She worked for the Hertie School of Governance in Berlin and the Helmholtzzentrum for the Society of Heavy Ion Research in Darmstadt as the managing director. She returned to the Leibniz-Gemeinschaft as a Secretary-General in 2010.
About HIIG
The HIIG researches the development of the internet from a societal perspective with the aim to better understand the digitalisation of all spheres of life. Find out more...
Internet & Society