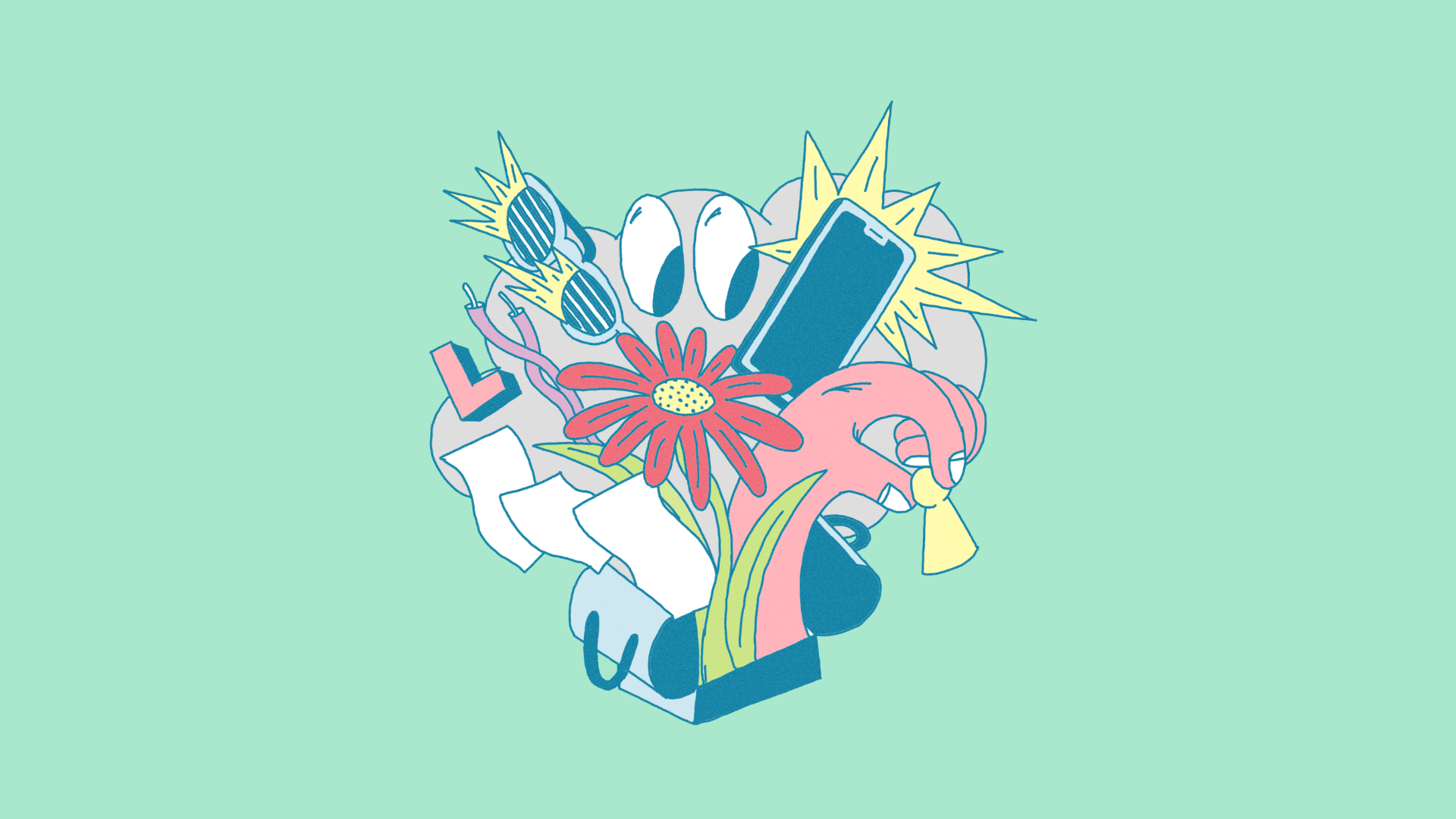 Making sense of the Future
Future(s) of the digital world
This toolbox aims to promote transdisciplinary, multi-perspective and creative (future) thinking. The different exercises combine future studies methods with topics and materials around the issues of digitalisation and its impact on our society.
"Making sense of the Future" can be used in knowledge-based engagement with possible futures in schools, universities and organisations. It can also be used privately for education, inspiration or as an intellectual exercise. In the educational context, the exercises are suitable as creative content for seminars. A combination of several exercises can also be used to create workshop formats.
The six exercises encourage digital visionaries to engage with the paradigm of uncertainty that constitutes the future. The tools encourage a creative engagement with possible futures of the digital society. We deliberately speak of futures in the plural; rather than only one future, numerous futures are conceivable. Our actions influence the possible developments of futures.
Complete material
The entire toolset is published under the DOI: 10.5281/zenodo.6901530. Downdload the unified PDF or choose one of the tools below.
OPEN EDUCATIONAL RESOURCE
HIIG is continuously developing a wide range of OER, including a lecture series, a future thinking toolkit and several games.
The toolbox consists of 6 different exercises.
Show your stance and impact towards digital futures
This exercise is an effective introduction. Position yourselves in the room and discuss your attitudes and capacities. Find out whether you have an optimistic or pessimistic view of digital future(s)
| | | | |
| --- | --- | --- | --- |
| | 30–60 minutes | | introductory |
| | group of at least 3 | | printouts + utensils |
Develop a realistic future
Work on concrete ideas for digital futures related to one of the 7 clusters of the Makings sense of the digital society compendium. Follow the principle of the Future Workshop method and generate an idea lab.
| | | | |
| --- | --- | --- | --- |
| | 2 hours – 2 days | | intermediate |
| | group of 4 or more | | printouts + utensils |
Deconstruct and reconstruct metaphors
This exercise invites you to uncover the hidden assumptions and concepts within the language used in relation to digital future(s). Test and reflect on language-reflexive and critical approaches to thinking about the future.
| | | | |
| --- | --- | --- | --- |
| | 40–60 min | | advanced |
| | alone or in groups | | printouts + pens |
Set the Course for Progress
The exercise will help to understand our own ideas and behaviour as part of our common future. Develop 3 actions that could lead to a preferred change in the future.
| | | | |
| --- | --- | --- | --- |
| | 40–90 min | | introductory |
| | alone or in groups | | pens + paper |
Explore signals of change
Find signals, innovations and possible trends, and explore possible future scenarios based on one trend. Train your abilities to collect, identify and interpret possible drivers of change, and reflect your assumptions about the future.
| | | | |
| --- | --- | --- | --- |
| | 60–90 min | | intermediate |
| | in groups | | printouts + utensils |
Think ahead and write an article from 2040
This tool introduces you to creative writing and speculative thinking. Imagine yourself as a journalist from 2040 and write an informative article: develop your own utopian future scenario driven by digital change within society.
| | | | |
| --- | --- | --- | --- |
| | 2–4 hours | | advanced |
| | alone or in groups | | internet access |
Technical innovations and the digitalisation of our society(ies) are becoming difficult to comprehend for many people. At the same time, digital transformation is playing a fundamental role in almost every area of society. Global political crises and problems can only be understood and managed in a global context. To comprehend these interrelationships, knowledge and exchange are essential. Shaping the future is therefore always a shared task that must be carried out globally by society as a whole.
The exercises from the toolbox combine two focal points:
Based on the concept of futures literacy, it is assumed that future thinking is a skill that needs to be learned and practised just like reading and writing. Using methods from future studies, the exercises encourage and promote future thinking. Futures literacy always begins with facts and agency from the present. Futures literacy is thus a tool that creates connections between the present and the future.
With reference to the Making sense of the digital society compendium and the twentyforty project, knowledge and materials concerning the big questions of digitalisation are provided and made accessible with the exercises.
The exercises focus on possible and preferable futures in the digital society:
How do we want to live together, what form will communication and participation take, and how can we use digitalisation for sustainability and the common good?
The examination of futures and the uncertainty that they entail are used as a starting point.
By thinking about the future from multiple perspectives, our ability to act becomes apparent. The aim is to develop alternative and preferable futures. Which aspects of the present underlie our constructions of the future? How can we critically question and further develop them?
The exercises can all be done individually and independently of each other.
They are assigned to levels: introductory, intermediate and advanced.
| | |
| --- | --- |
| | introductory |
| | intermediate |
| | advanced |
Some of the exercises require preparation.
| | |
| --- | --- |
| | required utensil + preparations necessary |
When using the toolbox in groups, workshops or seminar contexts, there are different possible combinations depending on time-frame and needs.
We've created three possible variations A, B and C that you can find below.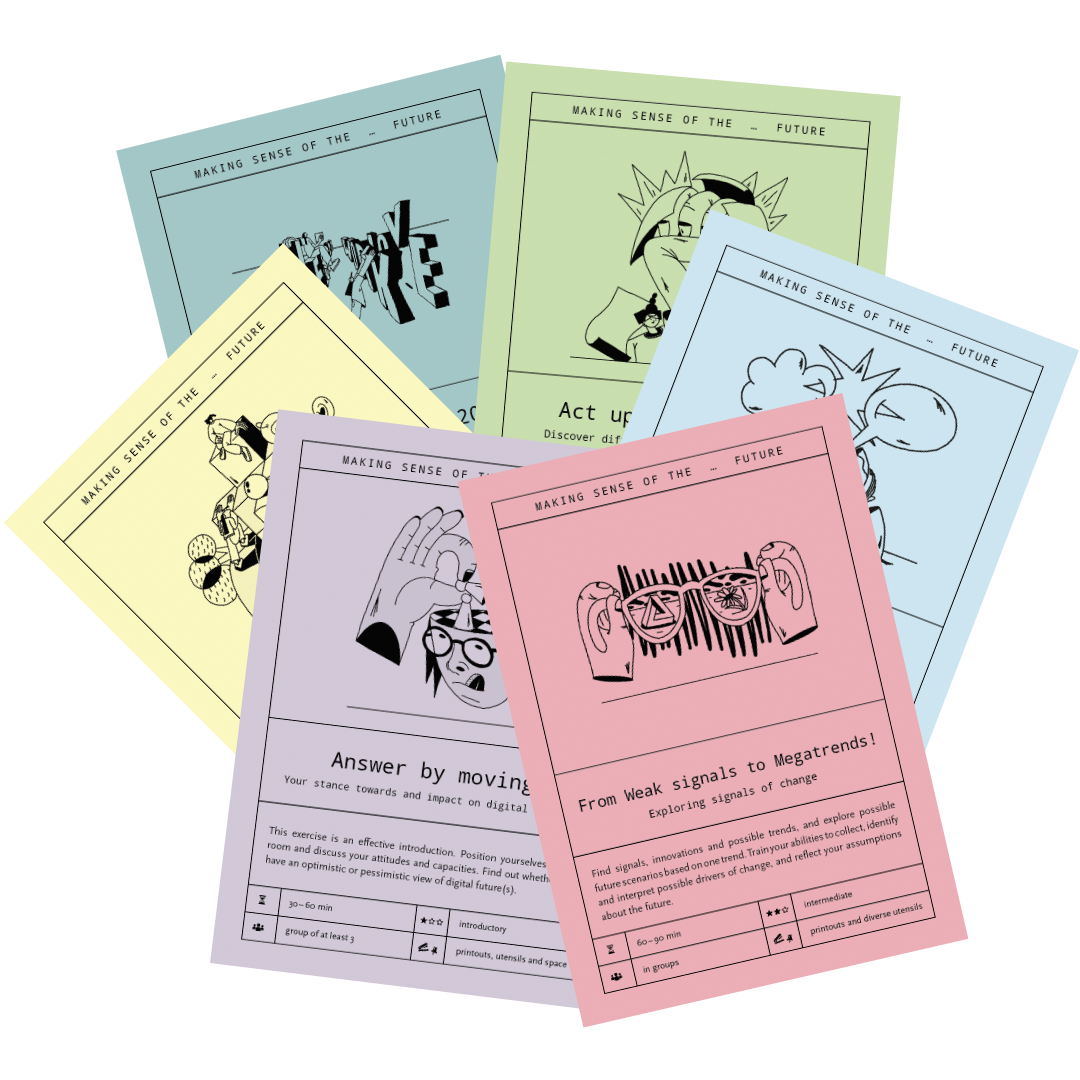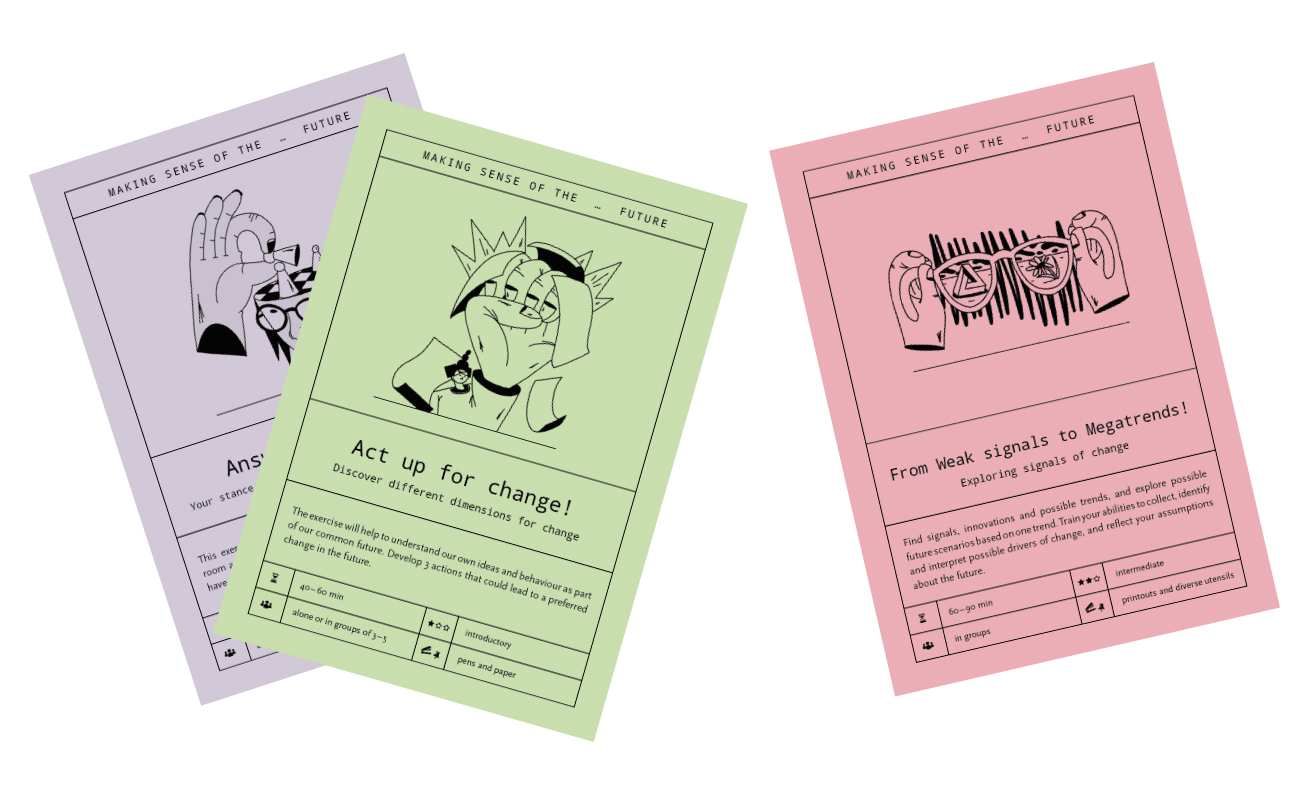 2 exercises · approx. 2 hours
Answer by moving or Act up for change!
From Weak signals to Megatrends
Answer by moving or Act up for change! work well as warm-ups or as an introduction to investigating the future of the digital world. From Weak signals to Megatrends goes deeper into the topic of digital transformation.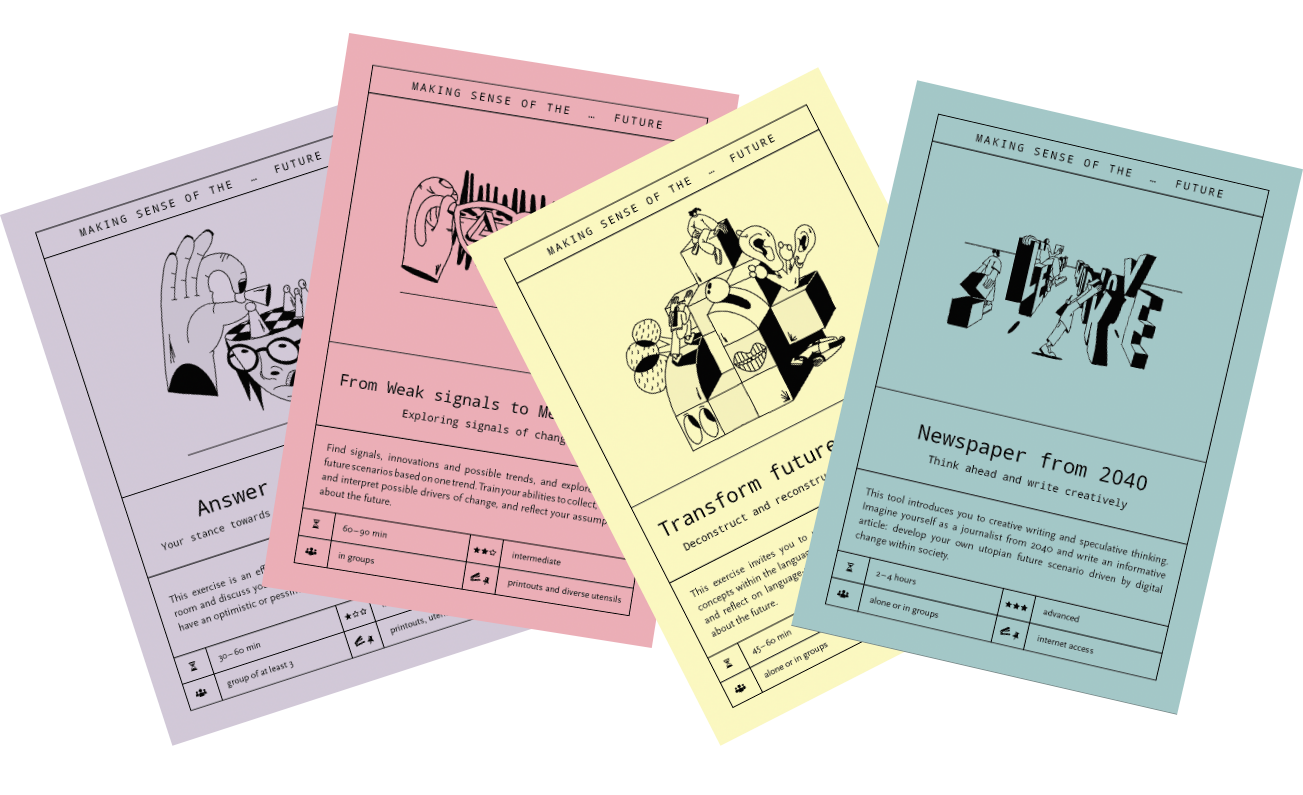 4 exercises · 5–6 hours
Answer by moving
From Weak signals to Megatrends
Transform future language
Newspaper from 2040
These four exercises focus on our language for the digital future. After a warm-up, participants are encouraged to do research, and after the analysis of linguistic metaphors, there is a creative writing exercise.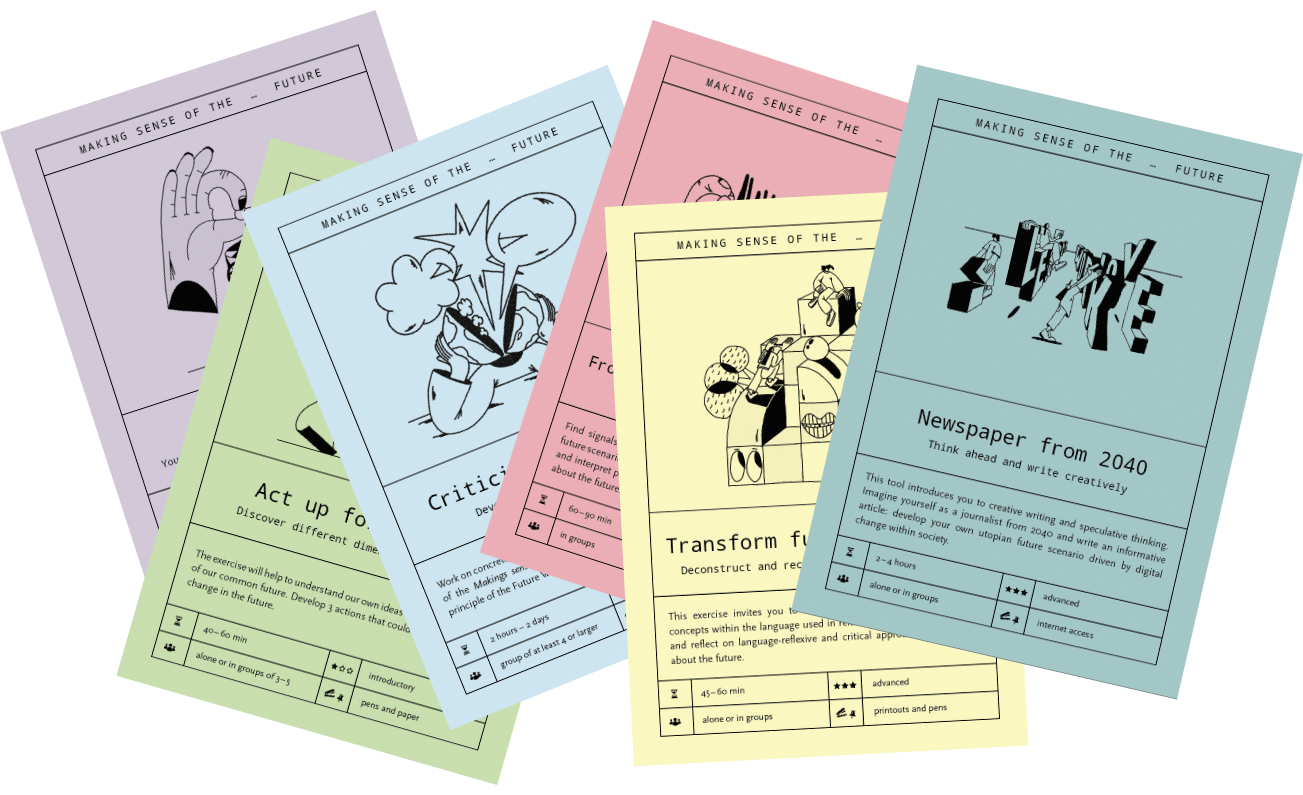 All exercises · min. 2–3 days
Answer by moving
Act up for change!
Criticise your utopia
From Weak signals to Megatrends
Transform future language
Newspaper from 2040
It is recommended to spread these over 2-3 days or to work on them in a (weekly) seminar rotation.