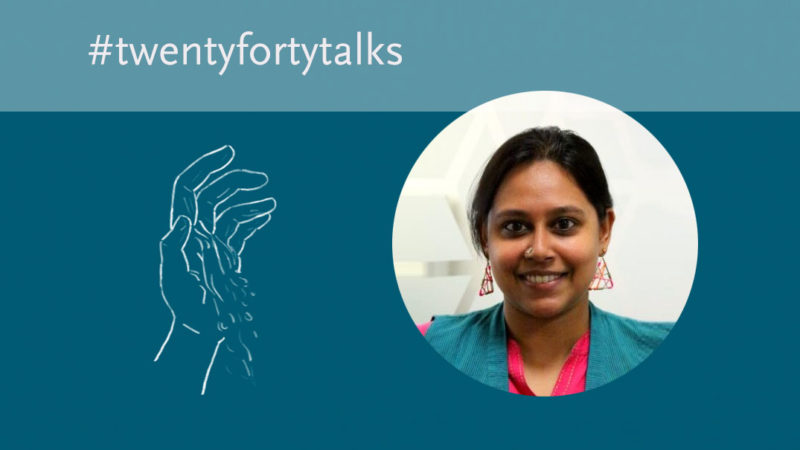 twentyforty talks – A Drink with Preeti Mudliar
Is a rebellion against technology sustainable in a digitally connected world? Preeti Mudliar's short story "In Mangal's New World" attempts to understand the world of people who occupy positions of marginality and find themselves vulnerable to the top-down diktats of technological systems. Specifically, it examines the enforcement of biometric authentication through fingerprints on the poor so that they can obtain state-sponsored entitlements of essential commodities. In conversation with Bronwen Deacon (HIIG), Preeti Mudliar will expand on how she got the initial idea of the plot and explain her understanding of a digital utopia.
twentyforty talks – A Drink with Preeti Mudliar
22 April 2020 | 5pm CEST | livestream | hiig.de
Following the digital launch of the twentyforty anthology at the beginning of April, we are pleased to invite you to the twentyforty talks. Each digital live event will feature a conversation between a twentyforty author and one of our researchers at HIIG. The discussion will provide you with interesting background information on the author's story and their academic context. You are warmly invited to ask questions directly via Slido. The conversation with Preeti Mudliar will be held in English.
UPCOMING TWENTYFORTY TALKS
ABOUT

OUR GUEST

Preeti Mudliar is an assistant professor at International Institute of Information Technology Bangalore (IIITB). Her research interests broadly center around gender, infrastructure, and digital media using ethnographic methods and analyses. Currently, her work is focused on people's acts of "repair" and coping following biometric authentication failures in the public distribution system (PDS) in India. Preeti Mudliar holds a PhD in communication studies from the University of Texas, Austin.
ABOUT THE BOOK
"twentyforty" is an anthology, consisting of thirteen visionary stories written by researchers in various disciplines, addressing the opportunities and challenges that digital technologies present for our future society in 2040. It started as an essay competition and is an exceptional experiment in science communication. In addition to the anthology, other formats have emerged in the context of twentyforty. The website twentyforty.hiig.de features background information on the texts as well as discursive resources.
This high-profile lecture series thrives to develop a European perspective on the processes of transformation that our societies are currently undergoing.
Once a month we publicly discuss the impact of digitalisation on the society. Therefore we invite special guests and engage in a dialogue with the audience.