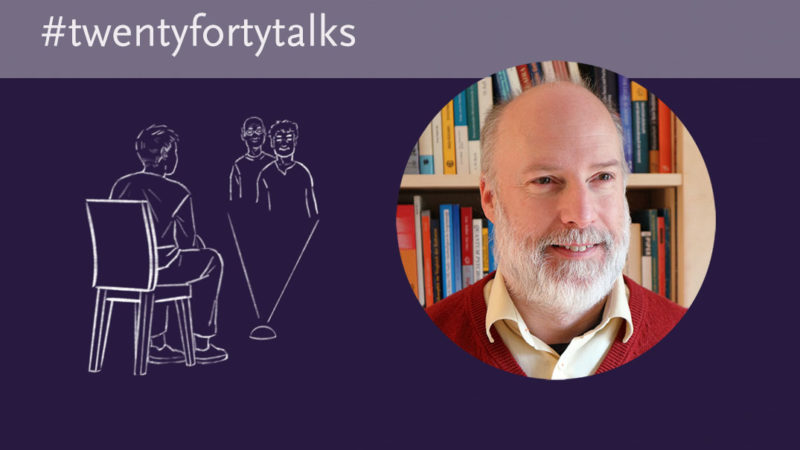 twentyforty talks – A drink with Burkhard Schafer
Burkhard Schafer's play "Digital Pharaohs" depicts a society where people routinely train AIs on their personal preferences, ethical commitments, and normative inclinations in the hope that these "legacy AIs" can, after the death of their owner, give guidance, advice, and help to the next generation(s). In this society, wills and testaments are supplemented or replaced by these dynamic, continuously learning and adapting computational artifacts. In conversation with Bronwen Deacon (HIIG), Burkhard Schafer will discuss his utopia in between ZombAI apocalypse and digital immortality and maybe explain what role a Kaiserschmarrn recipe plays in this….
twentyforty talks – A drink with Burkhard Schafer
19 May 2020 | 6pm | livestream | hiig.de
Following the digital launch of the twentyforty anthology at the beginning of April, we are pleased to invite you to the twentyforty talks. Each digital live event will feature a conversation between a twentyforty author and one of our researchers at HIIG. The discussion will provide you with interesting background information on the author's story and their academic context. You are warmly invited to ask questions directly via Slido. The conversation with Burkhard Schafer will be held in English.
ABOUT OUR GUEST



Burkhard Schafer studied philosophy, logic, computational linguistics, and law, joining the University of Edinburgh in 1996. In 2010, he became chair of computational legal theory. Furthermore, he is director of the SCRIPT Centre for IT and IP Law and Co-I of Creative Informatics.
ABOUT THE BOOK



"twentyforty" is an anthology, consisting of thirteen visionary stories written by researchers in various disciplines, addressing the opportunities and challenges that digital technologies present for our future society in 2040. It started as an essay competition and is an exceptional experiment in science communication. In addition to the anthology, other formats have emerged in the context of twentyforty. The website twentyforty.hiig.de features background information on the texts as well as discursive resources.
This high-profile lecture series thrives to develop a European perspective on the processes of transformation that our societies are currently undergoing.
Once a month we publicly discuss the impact of digitalisation on the society. Therefore we invite special guests and engage in a dialogue with the audience.