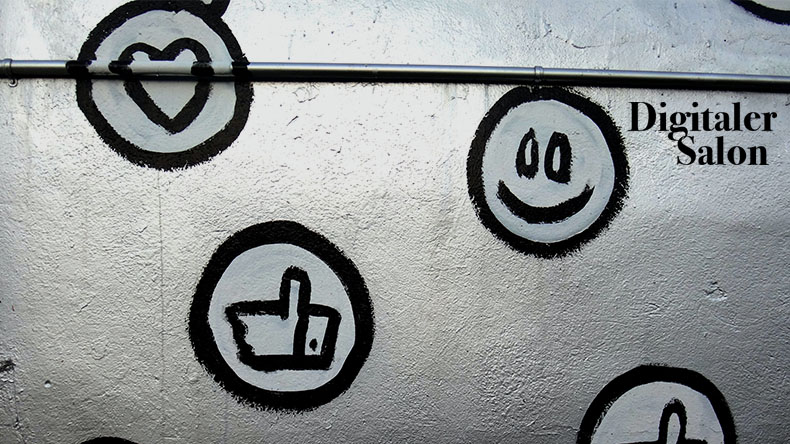 Digitaler Salon: The troll next door
Once a month, we publicly discuss the impact of digitisation on society at Digitaler Salon. We invite special guests, engage in a dialogue with the audience and the Twitter community and broadcast it on YouTube. In August, we will talk about how our online discussions differ from personal conversations. The talk will be held in German. Below you will find more detailed information in German. 
Ganz viel Liebe auf Instagram, knallharte Argumente auf Twitter, Daumen hoch auf Facebook und Verschwörungstheorien bei YouTube und Telegram. Warum gehen die Umgangsformen und Interaktionen von Plattform zu Plattform so auseinander? Liegt es an den Menschen, die sie nutzen oder an den Algorithmen? Und wie unterscheidet sich eine Diskussion in den Kommentarspalten von einem persönlichen Gespräch unter vier Augen? In digitalen Debatten sind miese Shitstorms und Hate Speech leider keine Seltenheit mehr. Wer geht dagegen vor? Gibt es eine digitale Zivilcourage?



Digitaler Salon – The troll next door
26.08.2020 | 19.00 Uhr | Livestream
Die Moderatorin Katja Weber (radioeins, Deutschlandfunk Nova) diskutiert mit:
Niklas Rakowski,

er ist Doktorand am

Weizenbaum-Institut

für die vernetzte Gesellschaft und befasst sich mit dem Einfluss des digitalen Wandels auf Grund- und Menschenrechte. Er ist Teil des Teams von

Diskutier Mit Mir

, einer App für politischen Dialog.

Philip Faigle, er leitet das Schwerpunkt-Ressort X bei ZEIT ONLINE und ist einer der Mitgründer von "Deutschland spricht" und der internationalen Debattenplattform "My Country Talks".
Laura Lackas

ist Kommunikationswissenschaftlerin und arbeitet als

Social Media Managerin

und Bloggerin. Sie gibt Counter Speech Trainings an Schulen.
Claudia Haas und Lorenz Grünewald-Schukalla führen in das Thema ein. Claudia arbeitet als wissenschaftliche Mitarbeiterin und Leiterin des Projekts Jung. Digital. Engagiert. Lorenz leitet das Projektteam des Dritten Engagementberichts Zukunft der Zivilgesellschaft am HIIG.
From 7 pm the talk will be broadcasted live on hiig.de. Then join in – via Twitter or sli.do using #DigSal. Digitaler Salon takes place every last Wednesday of the month under a different question. Records of past events and more information can be found here. 
This high-profile lecture series thrives to develop a European perspective on the processes of transformation that our societies are currently undergoing.
Once a month we publicly discuss the impact of digitalisation on the society. Therefore we invite special guests and engage in a dialogue with the audience.