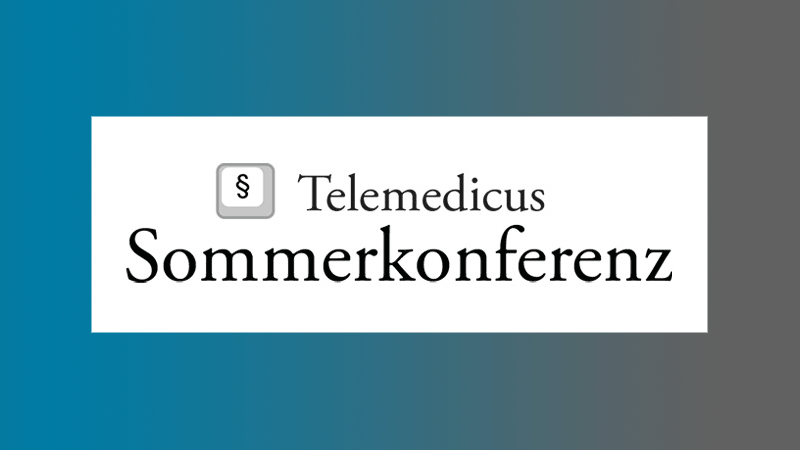 Telemedicus summer conference
The annual Telemedicus summer conference (Soko18) will be taking place from 30 June – 1 July 2018. As in previous years, the Alexander von Humboldt Institute for Internet and Society (HIIG) is event partner. The conference language will be German.
Das diesjährige Leitthema steht unter dem Eindruck, dass eine große "Welle" digitalen Rechts über uns hereingebrochen ist, die zunehmend schwer beherrschbar wird. Wieviel von diesem neuen Recht brauchen wir wirklich? Wie behalten wir überhaupt den Überblick? Was sind die wichtigsten neuen Regelungsakte und was ändert sich dadurch?
Digitalisiert und totreguliert – wie viel digitales Recht brauchen wir?
30. Juni – 1. Juli 2018 · 10:00 Uhr · Microsoft Atrium
Wie bereits in den Vorjahren verknüpft die Sommerkonferenz inhaltsreiche Vorträge mit spannenden Debatten, spontane Sidetracks mit Platz für NewcomerInnen und etablierte SpeakerInnen sowie viel Gelegenheit zum Netzwerken. Der inhaltliche Schwerpunkt soll in seinen aktuellen gesellschaftlichen, politischen und rechtlichen Bezügen dargestellt werden, dabei aber einen klaren wissenschaftlichen Fokus behalten. Hierzu werden PolitikerInnen, WissenschaftlerInnen, AktivistInnen und Wirtschaftsfachleute eingeladen. Das Programm wird laufend aktualisiert. Die Kapazitäten sind begrenzt. Eine Registrierung ist bis zum 28. Juni 2018 möglich.
Über Telemedicus
Telemedicus ist ein juristisches Internetprojekt zu allen Rechtsfragen der Informationsgesellschaft. Nach vier erfolgreichen Veranstaltungen findet die Sommerkonferenz im Jahr 2018 (#soko18) bereits zum fünften Mal statt. Das Alexander von Humboldt Institut für Internet und Gesellschaft (HIIG) ist wieder Kooperationspartner der Telemedicus-Sommerkonferenz.
This high-profile lecture series thrives to develop a European perspective on the processes of transformation that our societies are currently undergoing.
Once a month we publicly discuss the impact of digitalisation on the society. Therefore we invite special guests and engage in a dialogue with the audience.