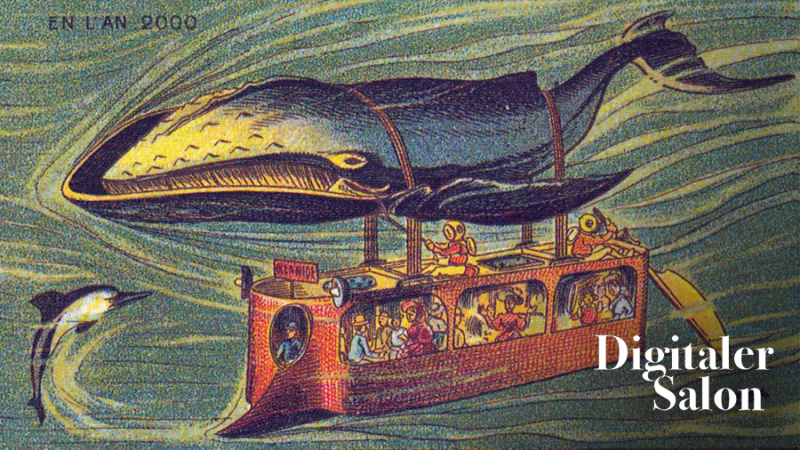 Talk | Digitaler Salon: Zurück in die Zukunft
Once a month, we publicly discuss the impact of digitisation on society at Digitaler Salon. We invite special guests, engage in a dialogue with the audience and the Twitter community and broadcast it on YouTube. In June, we will talk about future imaginaries: Gibson's Cyberspace, Orwell's 1984 – utopias and dystopias shape how we imagine the world of tomorrow. What influence do our ideas for the future have on research and innovation? Below you will find more detailed information in German.
Zurück in die Zukunft. Gibsons Cyberspace, Orwells 1984 – Utopien und Dystopien prägen, wie wir uns die Welt von morgen vorstellen. Welchen Einfluss haben Zukunftsideen auf Forschung und Innovation?
Digitaler Salon – Zurück in die Zukunft
26.06.2019 | 19.00 Uhr | HIIG | Französische Straße 9 | 10117 Berlin
Gibsons Cyberspace, Orwells Überwachungsgesellschaft und demnächst vielleicht Andy Weirs "Marsianer": Viele der technischen und gesellschaftlichen Utopien und Dystopien, die die Science Fiction in der Vergangenheit entworfen hat, scheinen heute – zumindest in Teilen – Realität zu werden. Doch welchen Einfluss hat das Genre auf die Entwicklung von Technologie und Wissenschaft? Und wie viel Wissenschaft steckt andersrum in der Science Fiction? Unsere Vorstellungskraft wird von Sci-Fi Erzählungen schon lange beflügelt – aber welches Potential hat sie, um den technischen Wandel kritisch zu begleiten? Welche Rolle spielen technische Imaginationen in einer Zeit, in der große gesellschaftliche Utopien rar sind? Welchen Beitrag können sie zum Diskurs über unseren Umgang mit neuen Technologien und wissenschaftlichen Errungenschaften leisten? Diesen und vielen weiteren Fragen widmen wir uns beim DigSal im Juni.



Die Moderatorin Katja Weber diskutierte mit:
Die Einführung in das Thema übernahm Benedikt Fecher, Leiter des Forschungsprogramms Wissen & Gesellschaft und Initiator des Essaywettbewerbs "twentyforty".
Der Digitale Salon öffnet um 18:30 Uhr seine Türen. Ab 19:00 Uhr wird die Sendung live auf hiig.de übertragen. Dann heißt es mitmachen – vor Ort und per Twitter via #DigSal. Der Digitale Salon findet jeden letzten Mittwoch im Monat unter einer anderen Fragestellung statt. Aufzeichnungen vergangener Digitaler Salons und mehr Informationen finden Sie hier.
Für den Digitalen Salon ist keine Registrierung erforderlich.

This high-profile lecture series thrives to develop a European perspective on the processes of transformation that our societies are currently undergoing.
Once a month we publicly discuss the impact of digitalisation on the society. Therefore we invite special guests and engage in a dialogue with the audience.