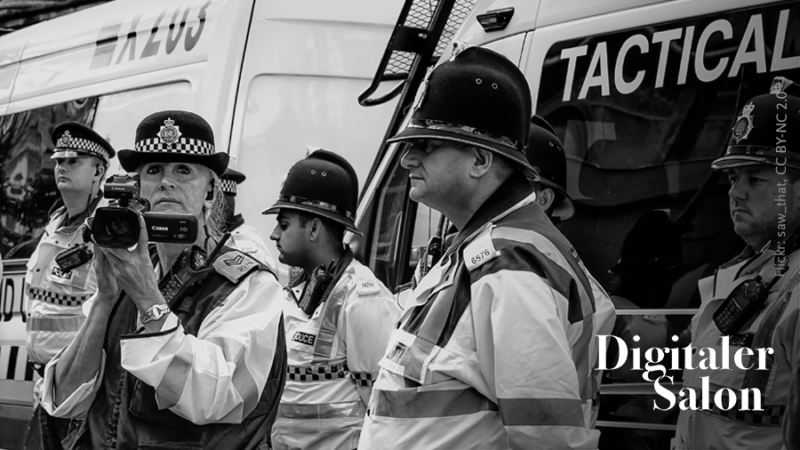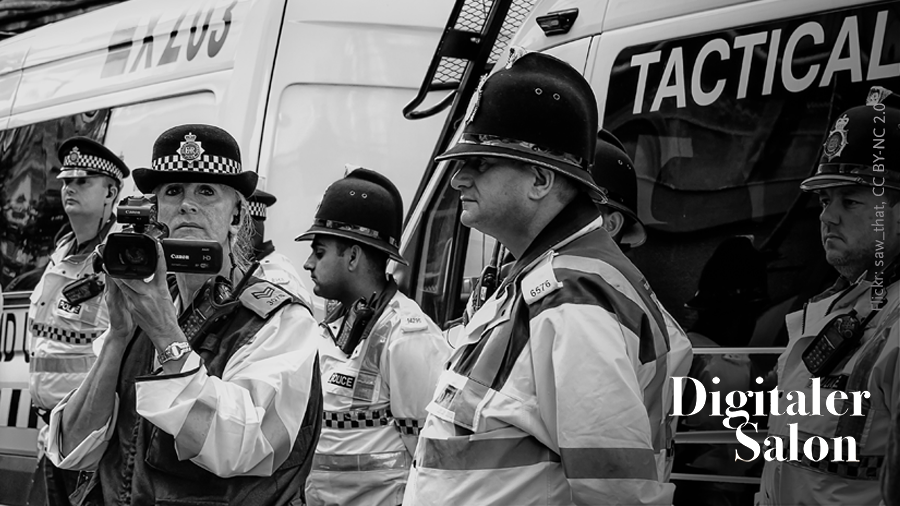 Talk | Digitaler Salon: In dubio pro Data
Once a month, we publicly discuss the impact of digitisation on society at Digitaler Salon. We invite special guests, engage in a dialogue with the audience and the Twitter community and broadcast it on YouTube. In July, we will talk about digital crime prevention: Online data is like fingerprints for investigators today. Chat messages and data in the cloud help convict criminals. Is everything becoming safer or is there room for new crime? Below you will find more detailed information in German.
In dubio pro Data. Online-Daten sind für ErmittlerInnen heute wie Fingerabdrücke. Chatnachrichten und Daten in der Cloud helfen, VerbrecherInnen zu überführen. Wird nun alles sicherer oder versteckt sich hier Raum für neue Kriminalität?
Digitaler Salon – In dubio pro Data
31.07.2019 | 19.00 Uhr | HIIG | Französische Straße 9 | 10117 Berlin
Früher führte ein vergessener Zigarettenstummel ErmittlerInnen zum Ziel, heute sind es oft Chatverläufe, Handy-Metadaten, Emails und Social Media-Posts. Was bedeutet es, dass unsere Online-Daten von ErmittlerInnen wie Fingerabdrücke genutzt werden können? Inwieweit wird dadurch unsere individuelle Freiheit eingeschränkt? Leben wir dadurch sicherer oder eröffnet Daten-Forensik neuen Raum für Kriminalität? Digitale Strafverfolgung geht oft über nationale Grenzen hinweg. Welche bürokratischen und politischen Hürden stehen den ErmittlerInnen im Weg und welche internationalen Abkommen gibt es? Und ganz aktuell: Wie steht es um die anvisierte E-Evidence-Verordnung der EU – Segen oder Fluch?

Die Moderatorin Katja Weber diskutierte mit:
Die Einführung in das Thema übernahm Amadeus Peters, Fellow "Daten, Akteure, Infrastrukturen" am HIIG.
Der Digitale Salon öffnet um 18:30 Uhr seine Türen. Ab 19:00 Uhr wird die Sendung live auf hiig.de übertragen. Dann heißt es mitmachen – vor Ort und per Twitter via #DigSal. Der Digitale Salon findet jeden letzten Mittwoch im Monat unter einer anderen Fragestellung statt. Aufzeichnungen vergangener Digitaler Salons und mehr Informationen finden Sie
hier
.
Für den Digitalen Salon ist keine Registrierung erforderlich.

Photo: I saw_that/Flickr CC BY-NC 2.0
This high-profile lecture series thrives to develop a European perspective on the processes of transformation that our societies are currently undergoing.
Once a month we publicly discuss the impact of digitalisation on the society. Therefore we invite special guests and engage in a dialogue with the audience.