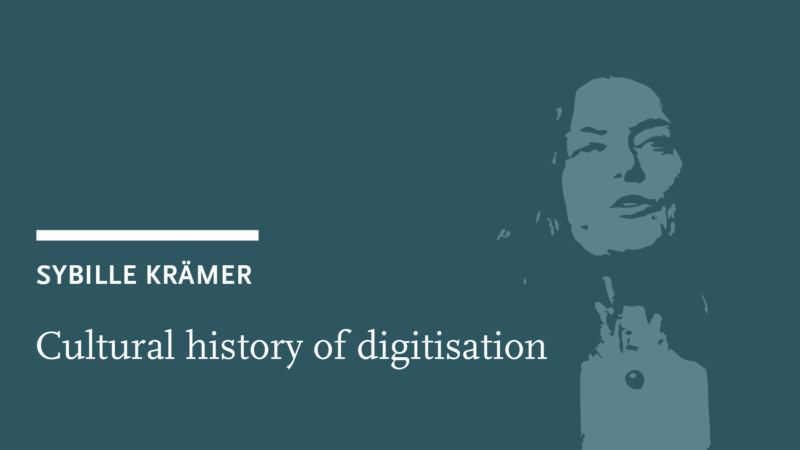 Sybille Krämer: Cultural history of digitisation
It is often assumed that digitisation and computer technology are inseparably linked. However, digitality is part of a much older cultural history, namely the symbols and signs that people have been inventing and developing since the first cave paintings, the first characters and mathematical symbols humans used to describe, structure and share their world. Digitisation thus did not come through machine technology, but rather through early symbolization practices. In this light, the alphabet is a prototype of a digital system, but also all the counting systems that quantify and make our world comparable. In her lecture, the philosopher Sybille Krämer therefore tries to dissolve the connection between digitisation and computer technology in order to understand why digitalisation can penetrate our lives and our society so quickly and so profoundly. In fact, there are answers to the questions "What is the meaning of digital?" and "What is the meaning of digitalisation?" that reach beyond computer technology.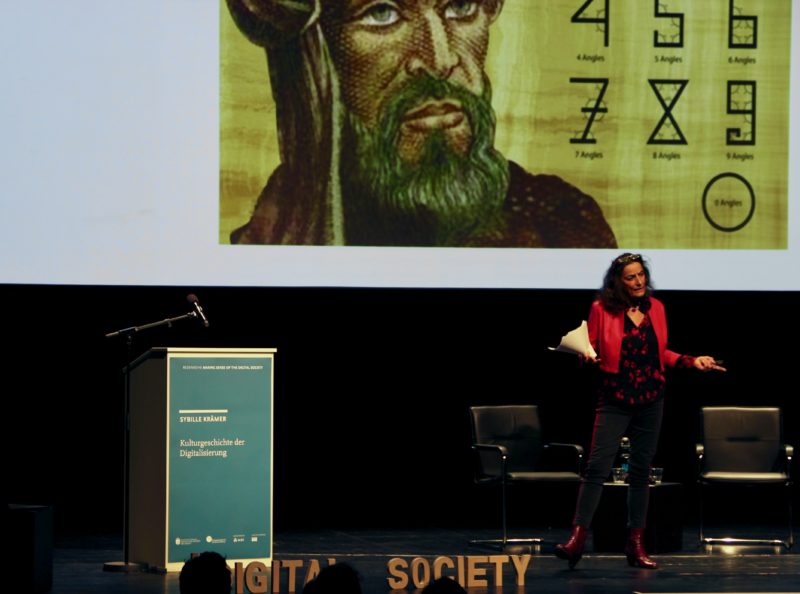 Sybille Krämer: Cultural History of Digitisation
Thursday, 13 February 2020 | 7 pm | Doors open 18:30 pm
HAU 1 | Stresemannstraße 29 | 10963 Berlin
Sybille Krämer is professor emeritus of philosophy at Freie Universität Berlin and is senior professor at Leuphana Universität Lüneburg since March 2019. She has been a member of the German Council of Science and Humanities, a permanent fellow at the Wissenschaftskolleg zu Berlin, and a panel member of the European Research Council. Her research areas include epistemology; philosophy of language, writing, and image; symbolic machines; and digitisation as a cultural technique. 
You can download the Handout here.
Agenda
18:30

  Doors open

19:00 – 19:15

  Welcome and introduction

19:15 – 20:00
  Cultural History of Digitisation 
 

Sybille Krämer

(Leuphana Universität Lüneburg)
20:00 – 21:00
  Moderated discussion and questions from the audience

21:00 – 22:00

  Get-together
The event will be held in German and simultaneously translated into English.
For press accreditation, please contact Tanja Zagel.
This event will be recorded and broadcasted live. By signing up you consent to be photographed, filmed and/or otherwise recorded during the event and to the use of the content in connection with the promotion and public relations of the event.
Making Sense of the Digital Society
The current rapid pace of technological change creates enormous uncertainties – and thus the need for explanations that help us better understand our situation and shape the future. The Alexander von Humboldt Institute for Internet and Society (HIIG) and the Federal Agency for Civic Education (bpb) are therefore continuing the Lecture Series Making Sense of the Digital Society that was launched in 2017. The aim of the format is to develop a European perspective on the current processes of transformation and its societal impact. The first speaker of this year's series is the Philosopher Sybille Krämer


Registration
This high-profile lecture series thrives to develop a European perspective on the processes of transformation that our societies are currently undergoing.
Once a month we publicly discuss the impact of digitalisation on the society. Therefore we invite special guests and engage in a dialogue with the audience.