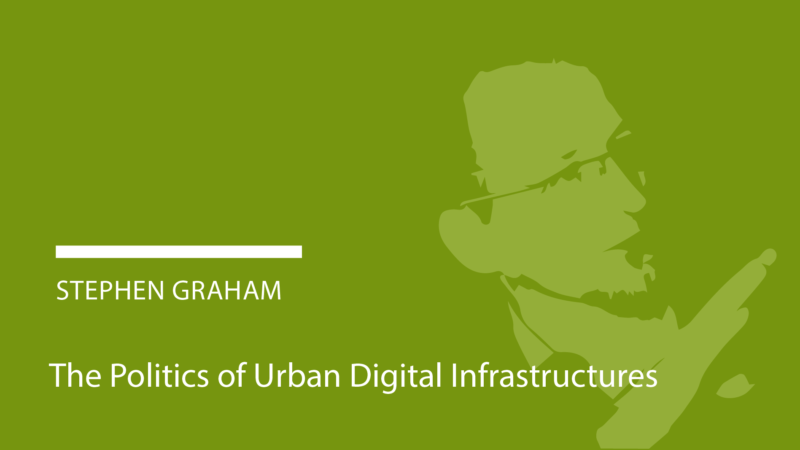 Stephen Graham: The politics of urban digital infrastructures
Already more than half of the world's population lives in cities – and this number is growing. Modern cities depend largely on invisible infrastructures that usually only become noticeable when they cease functioning. Similarly, the internet is also a material infrastructure, although it is often portrayed as immaterial. The much-hyped 'Smart Cities' promise to digitise the urban merging of these two infrastructural layers. But what happens when they fail? Can cities be smart – and should they be in the first place? What are the interests and values embodied in these infrastructures? How do we make sure that cities in the digital society remain public spaces? How can they be designed to foster social benefits and not just commercial interests?
Stephen Graham is Professor of Cities and Society at Newcastle University's School of Architecture, Planning and Landscape. He has an interdisciplinary background linking human geography, urbanism and the sociology of technology. Since the early 1990s Prof. Graham has used this foundation to develop critical perspectives addressing how cities are being transformed through remarkable changes in infrastructure, mobility, digital media, surveillance, security, militarism and verticality. His books include Telecommunications and the City (with Simon Marvin), Disrupted Cities: When Infrastructures Fail and Vertical: The City From Satellites to Bunkers. Prof Graham's 2011 book Cities Under Siege: The New Military Urbanism was nominated for the Orwell Prize in political writing and was the Guardian's book of the week.
Agenda
18:30

  Doors open

19:00 – 19:15

  Welcome and introduction

19:15 – 20:00
  The politics of urban digital infrastructures


  Stephen Graham (Newcastle University)

20:00 – 21:00

  Moderated discussion and questions from the audience

21:00 – 22:00

  Get-together
This event was recorded, simultaneously translated into German and broadcasted live.
Making sense of the digital society
Alexander von Humboldt Institute for Internet and Society (HIIG) and the German Federal Agency for Civic Education/bpb are organising an academic lecture series on Making Sense of the Digital Society. The high-profile series thrives to develop a European perspective on the processes of transformation that our societies are currently undergoing. It started with an inaugural lecture by Manuel Castells about power and counter-power in the digital society in December 2017 and was continued by Christoph Neuberger, Elena Esposito and Marion Fourcade. Shoshana Zuboff and Nick Couldry are the upcoming speakers of our lecture series.
Registration
Die Veranstaltung ist ausgebucht.
Stay tuned for more events
Sign up for our newsletters and be the first to learn about new events and exciting research results.