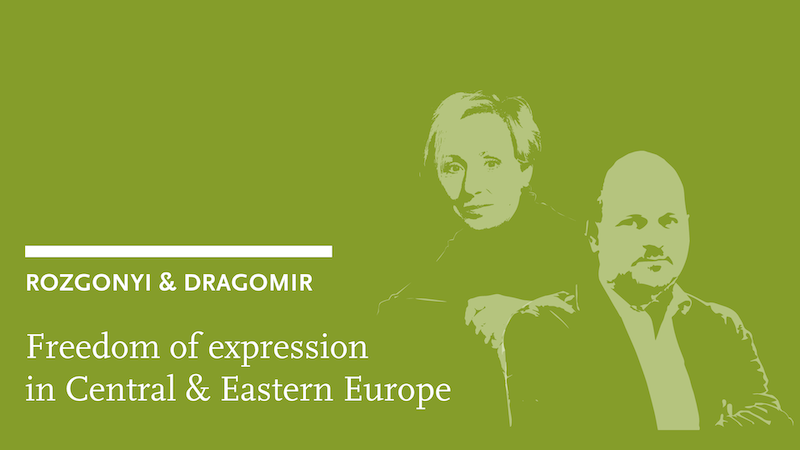 Krisztina Rozgonyi and Marius Dragomir: Freedom of expression in Central and Eastern Europe
The event will be held in English and simultaneously translated into German. In addition the lectures will be broadcasted live from 7 pm – if the livestream is not being displayed here, please reload this page. The recorded video will be uploaded to this website a few days after the event.
Media systems in Central and Eastern Europe have been subject to significant transformation processes over the past two decades. In the face of populist tendencies and with large swathes of the media being captured by governments and oligarchs, the space for independent journalism has dramatically shrunk in most of the region's nations. For citizens, this results in experiencing their everyday realities through multiple layers of distorted communication channels. This situation is further compounded by global digital technologies such as the algorithm-driven manipulation of content. These rapid developments have additional negative effects on national and regional media diversity.
How can economically vulnerable media regain editorial independence and stand up against the powerful propaganda channels? To find answers to this question, this edition of the lecture series features two scholars who specialise on the digital transformation of media systems in democratic societies and the particular challenges in Central and Eastern Europe.
Marius Dragomir talks about the changes experienced by media systems in Central and Eastern Europe and presents findings of his research into the impact of media capture on independent journalism. He highlights risks that independent journalism is likely to face in the near future. Krisztina Rozgonyi analyses how digital societies in Central and Eastern Europe are embedded in a politically manipulated communicative context and sheds light on its historical roots. This unique situation is further complicated by social media platforms, resulting in an increased vulnerability of the public to hate speech, disinformation, and propaganda.
Krisztina Rozgonyi and Marius Dragomir: Freedom of expression in Central and Eastern Europe
Monday 21 March 2022 | 7 pm | Doors open 6:30 pm
Säälchen –  Holzmarktsraße 25 | Livestream – hiig.de
Bookings
Eine Anmeldung ist für diese Veranstaltung aktuell nicht möglich.
This high-profile lecture series thrives to develop a European perspective on the processes of transformation that our societies are currently undergoing.
Once a month we publicly discuss the impact of digitalisation on the society. Therefore we invite special guests and engage in a dialogue with the audience.