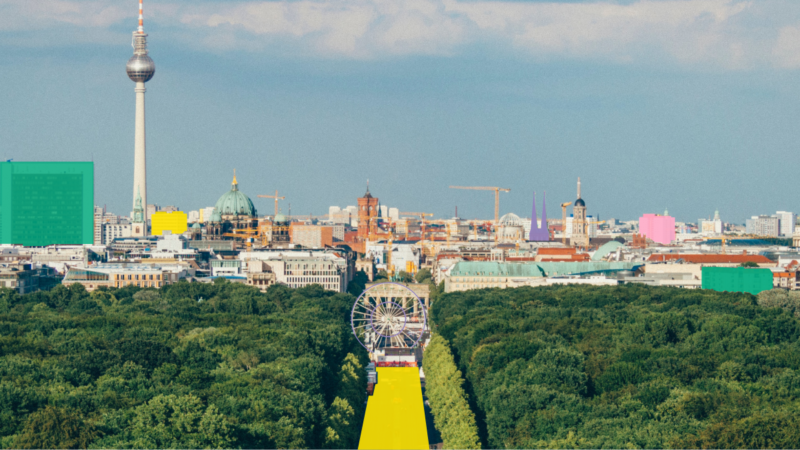 Laboratory for citizen participation: Better air quality through a traffic turnaround?
The Alexander von Humboldt Institute for Internet and Society invites interested citizens from Berlin to an action workshop. Using the example of measures to improve the city's air quality, we would like to develop ideas with them on what ideal citizen participation should look like in the future. For this purpose, the participants will immerse themselves in the interactive simulation of a participation process. The action workshop is part of the project "Data & Smart City Governance using the example of air quality management" and will take place at CityLAB Berlin. The event will be held in German.
Reallabor Bürger*innen-Beteiligung:
Bessere Luft durch Verkehrswende?
Maßnahmenwerkstatt im Rahmen der Strategie Gemeinsam Digital: Berlin
25. November 2023 | 10:00 – 16:00 Uhr
CityLAB Berlin | Platz der Luftbrücke 4, 12101 Berlin
Die wichtigsten Informationen in Kürze:
Unsere Simulation besteht aus verschiedenen Räumen zum Informieren, Interagieren und Diskutieren.
Ein Durchlauf dauert insg. zwei Stunden.
Aufgrund der unterschiedlichen Dauer der verschiedenen Formate erfolgt der Einlass zu manchen Räumen nur zu bestimmten Zeiten.
Die Räume haben eine begrenzte Kapazität, daher erfolgt der Durchlauf in Gruppen von max. 30 Teilnehmer*innen.
Wir bitten dich daher, im Anmeldeformular eine Uhrzeit für den Start deiner Simulation (Dauer: zwei Stunden) auszuwählen und dich anzumelden!

Stell dir vor,…
die Stadt möchte die Luft in Berlin weiter verbessern und entwickelt dafür verschiedene Maßnahmen zur Verkehrsreduktion. Zum Beispiel eine drastische Erhöhung der Parkkosten, Einfahrverbote für Verbrennerfahrzeuge und vieles mehr! Warum? Das ist doch klar: Maßnahmen für bessere Luft kommen allen Menschen zugute. Doch oft wird dabei vergessen, dass sie sich die damit einhergehenden Veränderungen ganz unterschiedlich auf die jeweiligen Alltage der Berliner Bürger*innen auswirken. Damit solche Maßnahmen auf eine möglichst breite Akzeptanz stoßen, müssen möglichst alle Betroffenen in den Entscheidungsprozess einbezogen werden. Im Rahmen unseres Reallabors möchten wir deshalb mit euch gemeinsam Ideen entwickeln, wie Bürger*innen-Beteiligung in der öffentlichen Daseinsvorsorge optimalerweise gestaltet werden soll. 
Werde Bürgerforscher*in und entwickle gemeinsam mit uns Ansätze für die Bürgerbeteiligung von morgen! Tauche ein in unsere Simulation eines Beteiligungsprozesses um Maßnahmen zur Verbesserung der Berliner Luft und hilf uns zu verstehen: Auf welche Weise möchtest du beteiligt werden, wenn eine Verwaltung in Zukunft Maßnahmen plant, deren Auswirkungen dich konkret betreffen?

Die Maßnahmenwerkstatt im Rahmen der Strategie Gemeinsam Digital: Berlin
Das Format der Veranstaltung entspricht der Maßnahmenwerkstatt aus dem methodischen Instrumentarium der Strategie Gemeinsam Digital: Berlin. Die Maßnahmenwerkstatt ist der Ort bzw. die Arbeitsform, wo gemeinsam erste Antworten auf die zuvor formulierten Transformatorischen Fragen gestaltet werden. Ziel ist es, alle Stakeholder in eine intensive und produktive Zusammenarbeit zu führen. Die resultierende Breite an Perspektiven soll als Basis für daraus hervorgehende, konkrete Schritte dienen.
Data & Smart City Governance am Beispiel von Luftgütemanagement
Das Projekt Data & Smart City Governance am Beispiel von Luftgütemanagement wird vom Alexander von Humboldt Institut für Internet und Gesellschaft (HIIG) zusammen mit dem Kompetenzzentrum Wasser Berlin (KWB) als eine der Pilotmaßnahmen der Strategie Gemeinsam Digital: Berlin durchgeführt. Ziel ist die Entwicklung eines Data-Governance-Modells zur Lösung der Frage, wie öffentliche Verwaltungen, wirtschaftliche Akteur*innen und die Zivilgesellschaft beim Thema Datennutzung und -verarbeitung gemeinwohlorientiert und auf Augenhöhe zusammenarbeiten können.
Anmeldung
Die Anmeldung zu dieser Veranstaltung wird ab dem 15. November über ein Online-Buchungstool möglich sein. Den Link finden Sie an dieser Stelle. 
Bei Fragen und Anmerkungen wenden Sie sich bitte an das Organisationsteam: reallabor@hiig.de.
This high-profile lecture series thrives to develop a European perspective on the processes of transformation that our societies are currently undergoing.
Once a month we publicly discuss the impact of digitalisation on the society. Therefore we invite special guests and engage in a dialogue with the audience.