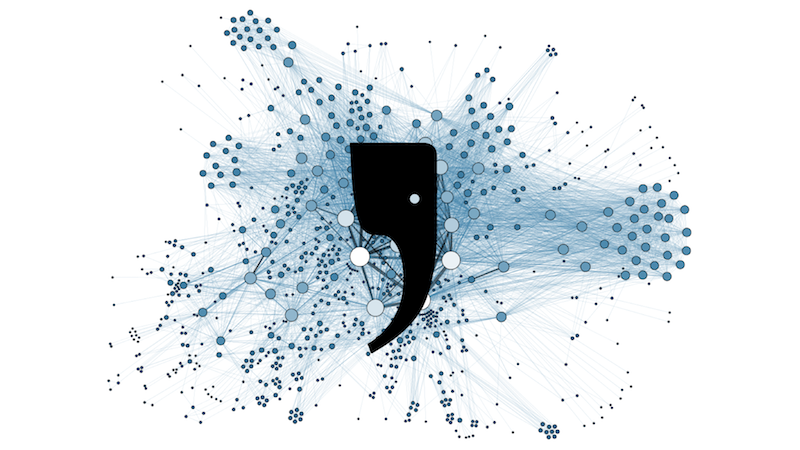 Picture it! What data visualisations can do for science
On 3rd July Elephant in the lab are organising their next Meetup session. If you are interested in participating, please register in advance via the Meetup website. The event will be in English.
Picture it! What data visualisations can do for science
3 July 2019 | 7 pm
HIIG | Französische Straße 9 | 10117 Berlin
When you think of Leonardo da Vinci's Vitruvian Man or John Snow's famous map of cholera outbreaks in 19th century London, you think of early examples for data visualisations. In academia, visualisations have always been widely used to communicate findings and make sense of the data. Given that early research was published on paper and distributed analogously, visualisations were static.
Nowadays, there is an ever increasing number of visualisations in papers: statistical results, maps, social networks, you name it. But despite technological advances and modern approaches to data visualisation, published infographics remain mostly static.
What opportunities does science miss by sticking to this (outdated) state-of-the-art? Can publications benefit from the tools and approaches already employed in data science or data-driven journalism? What better ways are there for telling stories with interactive graphs or web apps to make research more compelling?
Bringing together scientists and data visualisation specialists, we give you an insight into the world of visual representations and discuss new ways to explore data. We will encounter the good, the bad, and the beautiful side of data visualisations and give you some inspiration for your own research. Just picture it!
Speakers
Katrin Glinka is with the Prussian Cultural Heritage Foundation (SPK) where she is the Scientific Project Lead of museum4punkt0. She is also a lecturer at the University of Applied Sciences Potsdam. In her research she focuses on digitisation and visualisation in the cultural field and its means and potentials for curation, critical and interventionist approaches, and visitor orientation in museums.
Christoph Maurer is a Senior Designer and Frontend Developer with specialisation in Design Thinking, UI- & UX-Design, and data visualisation. He works for international clients and small business from various fields.
Julius Tröger is a journalist and book author. He is Head of Visual Journalism with ZEIT ONLINE. At his former employee Berliner Morgenpost, he founded the multi-award winning Interaktiv-Team. He was a guest author at Guardian US and ProPublica.
Agenda
| | |
| --- | --- |
| 7 – 7.30 pm | Networking / Get-together with pizza and drinks |
| 7.30 – 7.40 pm | Introduction |
| 7.40 – 9 pm | Speakers + Q&A Session |
This high-profile lecture series thrives to develop a European perspective on the processes of transformation that our societies are currently undergoing.
Once a month we publicly discuss the impact of digitalisation on the society. Therefore we invite special guests and engage in a dialogue with the audience.