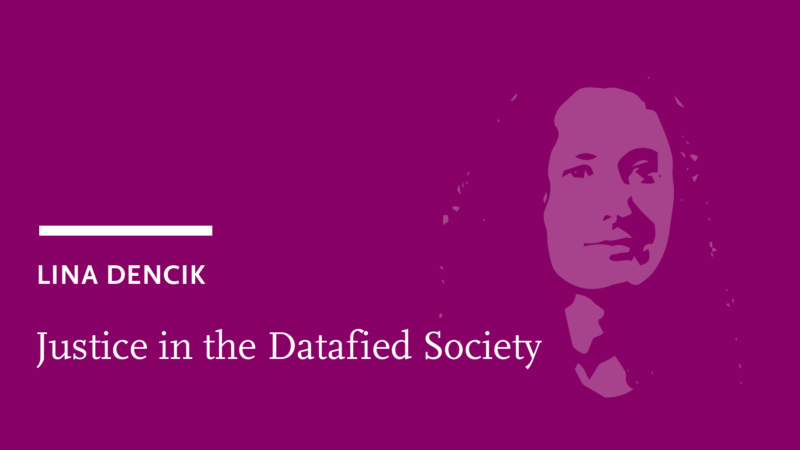 Cancelled: Lina Dencik – Justice in the Datafied Society
Cancellation of the event due to COVID-19
Due to the immediate measures decided on 11 March 2020 for the Berlin scientific institutions against the spread of the coronavirus, we are cancelling this event. We try to offer the majority of our events as livestreams, so that especially in such times science communication and public discourse do not come to a complete standstill. For logistical reasons, however, this is unfortunately not possible for this event. Please visit our website to find out about the current livestream offer and news from the institute. We hope for your understanding. 
The use of data and algorithmic processes for decision-making are a growing part of social life. Digitally monitoring, tracking, profiling as well as predicting human behaviour and social activities is at the core of the information order often described as surveillance capitalism. Increasingly, it also determines decisions that are central to our ability to participate in society, such as welfare, education, crime, work, and if we can cross borders. How can we grasp what is at stake in such developments? 
Recently, there is a growing focus on questions of bias, discrimination and fairness in this debate. In her lecture, Lina Dencik will take stock of these concerns and present research that examines the implementation of data-driven systems in practice across pertinent sites of governance. She is making the case that in order to contend with crucial issues of justice in a datafied society, we need to understand data systems as part of broader societal transformations. She argues that we need to give greater importance to the question of why these technologies are developed and implemented in the first place and how data practices relate to a wider political economy. 
The lecture, which is also part of the festival "Spy on Me #2 – Artistic Maneuvers for the Digital Present", will be followed by a moderated discussion with the artist Jonas Staal, who will present his work "Collectivize facebook" in the context of the festival.
Lina Dencik: Justice in the Datafied Society
Monday, 23 March 2020 | 7 pm | Doors open 18:30 pm
HAU 1 | Stresemannstraße 29 | 10963 Berlin
Lina Dencik is Associate Professor (Reader) at the School of Journalism, Media and Culture at Cardiff University, UK where she is researching the interplay between media developments and social and political change, with a particular focus on globalisation and resistance. Dencik is the author of four books including "Digital Citizenship in a Datafied Society" with Arne Hintz and Karin Wahl-Jorgensen, published in 2018. Together with Arne Hintz and Joanna Redden she founded and now directs the Data Justice Lab at Cardiff University.
Agenda
18:30

  Doors open

19:00 – 19:15

  Welcome and introduction

19:15 – 20:00
   Justice in the Datafied Society
 

Lina Dencik

(Cardiff University)
20:00 – 21:00
  Moderated discussion and questions from the audience

21:00 – 22:00

  Get-together
The event will be held in English and simultaneously translated into German.
For press accreditation, please contact Tanja Zagel.
This event will be recorded and broadcasted live. By signing up you consent to be photographed, filmed and/or otherwise recorded during the event and to the use of the content in connection with the promotion and public relations of the event.
Making Sense of the Digital Society
The current rapid pace of technological change creates enormous uncertainties – and thus the need for explanations that help us better understand our situation and shape the future. The Alexander von Humboldt Institute for Internet and Society (HIIG) and the Federal Agency for Civic Education (bpb) are therefore continuing the Lecture Series Making Sense of the Digital Society that was launched in 2017. The aim of the format is to develop a European perspective on the current processes of transformation and its societal impact. The first speaker of this year's series is the Philosopher Sybille Krämer


Registration
This high-profile lecture series thrives to develop a European perspective on the processes of transformation that our societies are currently undergoing.
Once a month we publicly discuss the impact of digitalisation on the society. Therefore we invite special guests and engage in a dialogue with the audience.