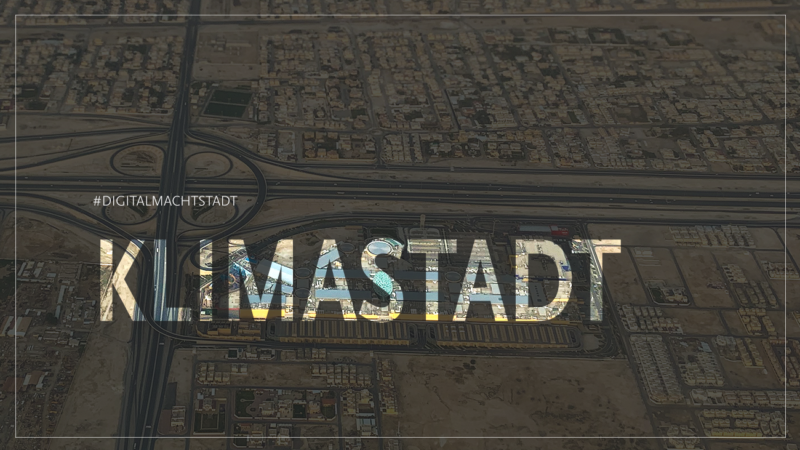 digital macht stadt – KlimaStadt
On 20th November, a panel discussion on digital tools for climate resilience will take place at the Alexander von Humboldt Institute for Internet and Society (HIIG). The event will take place in German, below you find more detailed information. It is part of the series "digital macht stadt", a cooperation of Hybrid Space Lab and HIIG. 
digital macht stadt – KlimaStadt
Mittwoch, 20.11.2019 | 19:00 Uhr | Einlass ab 18:30 Uhr
HIIG | Französische Straße 9 | 10117 Berlin
Digitale Technologien werden oft als Lösung für die Herausforderungen der Zukunft betrachtet, so auch im Bereich des Klimawandels. Die "smarte" Stadt soll dabei helfen den Klimawandel zu bekämpfen. Vernetzte Mobilität soll die CO2 Emissionen senken und digitale Tools die Klimaresilienz von Städten verbessern. Doch kann die Digitalisierung tatsächlich Lösungen für eine klimaneutrale und klimaresiliente Stadt liefern? Oder verbrauchen die Serverfarmen am Ende mehr Energie als durch digitale Anwendungen eingespart wird?  
Welche Technologien und Tools können einen wirklichen Beitrag zur Klimaresilienz und Klimaadaption in Städten liefern? Wie verändert sich der Stadtraum durch vernetzte Klimadaten?  Und wozu dienen offene Daten und Sensornetzwerke jenseits von Partizipation und Sensibilisierung? Kann Technologie einen Beitrag zur Klimagerechtigkeit liefern, oder profitieren am Ende doch nur Großstädte in westlichen Industrienationen?
Der Moderator Benjamin Knödler (der Freitag) diskutiert u.a. mit:
Die Veranstaltung Klima Stadt beschäftigt sich schwerpunktmäßig mit der Frage wie digitale Technologien zur Klimaanpassung beitragen können. Sie ist Teil der Reihe digital macht stadt, die als Kooperationsprojekt des Hybrid Space Lab und des Alexander von Humboldt Instituts für Internet und Gesellschaft (HIIG) die aktuellen Entwicklungen an der Schnittstelle von Städten und digitaler Technologie untersucht.
Bookings
Eine Anmeldung ist für diese Veranstaltung aktuell nicht möglich.
Event Newsletter
Sign up for our newsletters and be the first to learn about new events and exciting research results.
This high-profile lecture series thrives to develop a European perspective on the processes of transformation that our societies are currently undergoing.
Once a month we publicly discuss the impact of digitalisation on the society. Therefore we invite special guests and engage in a dialogue with the audience