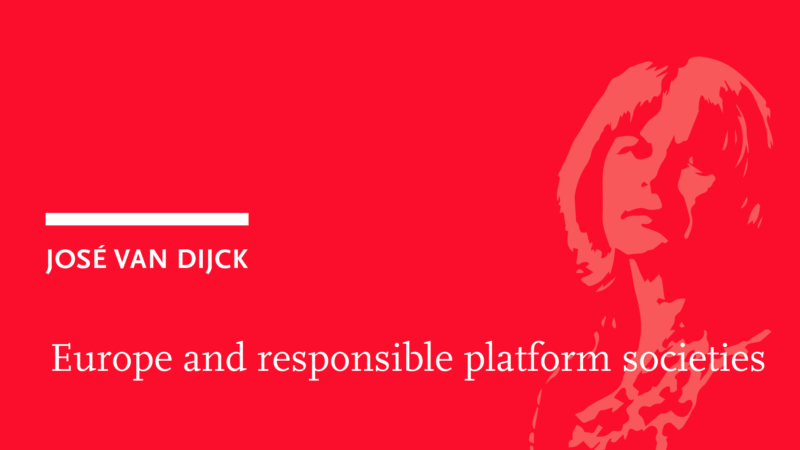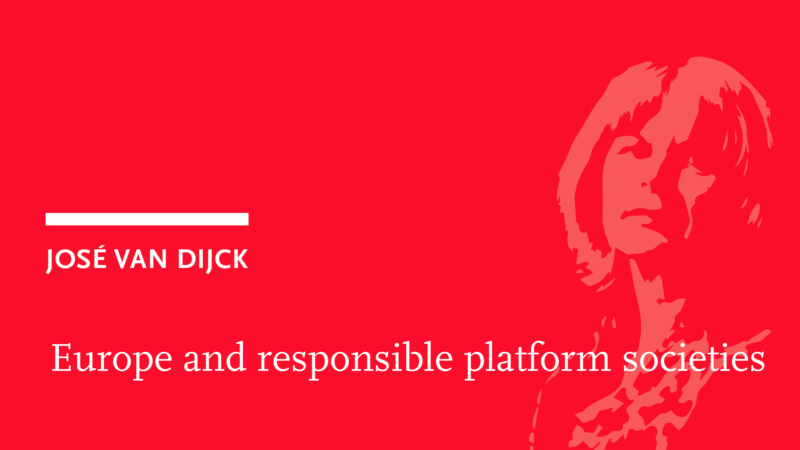 José van Dijck: Europe and responsible platform societies
The growing pains of digitisation involve intense struggles between competing ideological systems and contesting societal actors – market, government and civil society — raising important questions about responsibility and accountability. Two large ecosystems rule the global online world: a Chinese and an American-based ecosystem. The latter has overwhelmingly penetrated Western-European societies, disrupting markets and labor relations, circumventing institutions, transforming social and civic practices, and affecting democracies. Online platforms paradoxically bypass the institutional processes through which European democratic societies are organised, while at the same time they clash with local, national, and supra-national governments over who controls data-flows and algorithms.
Online architectures are governed by platform mechanisms (e.g. datafication and commodification) that dominate both private and public sectors. Public values and the common good are the very stakes in the struggle over the platformisation of societies around the globe. This lecture concentrates on the position of European (private and public) interests vis-à-vis the interests of an American-based online ecosystem, driven by a handful of high-tech corporations. At the heart of the online media industry's surge is the battle over information control: Who owns the data generated by online social activities? Who is responsible for anchoring public values in an online world? Particularly in the European context, governments and civil society organisations can be proactive in negotiating public values on behalf of citizens and consumers.
José van Dijck: Europe and responsible platform societies
5 June 2019 | 7 pm | doors open 6.30 pm
Säälchen am Holzmarkt | Holzmarktstraße 25 | 10243 Berlin
José van Dijck's keynote (PDF)
José van Dijck is a distinguished university professor at the University of Utrecht (The Netherlands); she was the president of the Royal Netherlands Academy of Arts and Sciences from 2015 until 2018. She was a visiting professor at MIT (USA), University of Toronto (CAN), Stockholm University (SWE) and University of Technology, Sydney (AUS). She received an honorary doctorate from Lund University (SWE).
Van Dijck's academic field is media studies and digital society. Her work covers a wide range of topics in media theory, media and communication technologies, social media, and digital culture. She is the (co-)author and (co-editor of ten books and over one hundred journal articles and book chapters. Van Dijck's book The Culture of Connectivity. A Critical History of Social Media (Oxford UP, 2013) was distributed worldwide and was translated into Spanish, Chinese and Farsi. Her latest book, co-authored by Thomas Poell & Martijn de Waal is titled The Platform Society. Public values in a connective world (Oxford University Press, 2018).
Agenda
18:30

  Doors open

19:00 – 19:15

  Welcome and introduction

19:15 – 20:00
  Europe and responsible platform societies


  José van Dijck (University of Utrecht)

20:00 – 21:00
  Moderated discussion and questions from the audience

21:00 – 22:00

  Get-together
The event will be held in English and simultaneously translated into German.
For press accreditation, please contact Florian Lüdtke.
This event will be recorded and broadcasted live. By signing up you consent to be photographed, filmed and/or otherwise recorded during the event and to the use of the content in connection with the promotion and public relations of the event.
Making Sense of the Digital Society
The current rapid pace of technological change creates enormous uncertainties – and thus the need for explanations that help us better understand our situation and shape the future. The Alexander von Humboldt Institute for Internet and Society (HIIG) and the Federal Agency for Civic Education (bpb) are therefore continuing the Lecture Series Making Sense of the Digital Society that was launched in 2017. The aim of the format is to develop a European perspective on the current processes of transformation and its societal impact. The first speaker of this year's series was sociologist Eva Illouz, followed by Dirk Baecker. Louise Amoore will be the upcoming speaker on 1 July.
Registration
Bookings
Eine Anmeldung ist für diese Veranstaltung aktuell nicht möglich.
Event Newsletter
Sign up for our newsletters and be the first to learn about new events and exciting research results.
This high-profile lecture series thrives to develop a European perspective on the processes of transformation that our societies are currently undergoing.
Once a month we publicly discuss the impact of digitalisation on the society. Therefore we invite special guests and engage in a dialogue with the audience