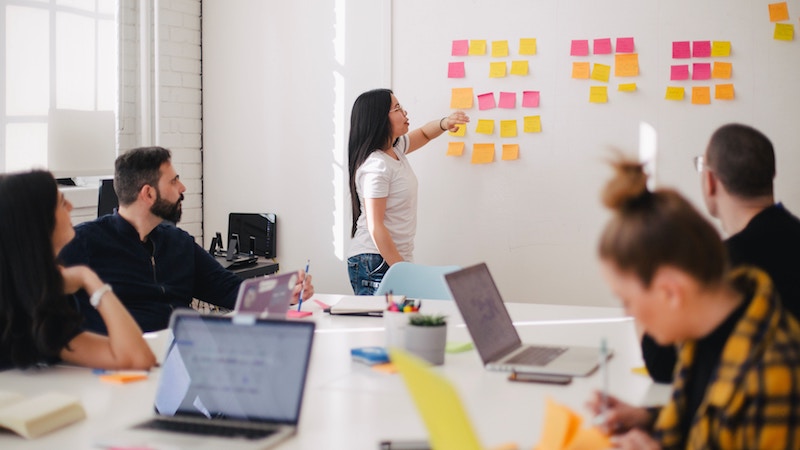 Influencing the digital transformation? – Rethinking culture & participation!
Funded by the Hans Boeckler Foundation the Alexander von Humboldt Institute for Internet and Society (HIIG) is organising in cooperation with the Institute for Sociology of Friedrich-Alexander University Erlangen-Nürnberg a workshop on 23 & 24 September,  that will elaborate on digital platforms that facilitate employee participation online. If you are interested in taking part in the workshop, please register via the booking form below. If there are any questions concerning the event please write an e-mail to joram.gruenenberg@hiig.de. The event will take place in German only, below you'll find more detailed information.
W O R K S H O P
Digitale Transformation mitbestimmen? – Kultur & Partizipation neu denken!
23.09.2019, 14-18 Uhr & 24.09.2019, 9-13 Uhr
HIIG | Französische Straße 9 | 10117 Berlin
Im Zuge der Digitalisierung und der sich wandelnden Lohnarbeit werden digitale Plattformen, die eine Enterprise Social Software benutzen, eingeführt oder geplant. Diese funktionieren dabei ähnlich wie ein Soziales Netzwerk im Betrieb. Die Software soll dabei die Beschäftigten untereinander vernetzen und so die Partizipation stärken und eine verbesserte Kultur der Teilhabe ermöglichen. Das HIIG und IfS beforschen diese Entwicklungen gefördert durch die Hans-Böckler-Stiftung gegenwärtig intensiv mit dem Schwerpunkt, wie sich die betrieblich verfasste Mitbestimmung angesichts des zunehmenden Einsatzes von digitalen Unternehmens-Plattformen für Partizipation und Kollaboration, insbesondere für Betriebsräte, verändern und gestalten lässt.
Wir wollen nun auf Grundlage unserer Forschungsergebnisse einen Schritt weiter gehen und mit Ihnen an konkreten Lösungsansätzen arbeiten. Deswegen möchten wir Sie herzlich einladen, mit uns gemeinsam in einem interdisziplinären Rahmen Handlungsempfehlungen zu entwickeln. In einer entspannten und kreativen Umgebung vernetzen wir Mitbestimmungs-AkteurInnen über Branchengrenzen hinweg und bieten eine unkonventionelle Ideenschmiede.
Die Ergebnisse dieses Intensiv-Workshops bereiten wir in Form eines Werkzeugkastens auf und stellen diesen Ihnen und interessierten InteressenvertreterInnen zur Anwendung zur Verfügung. Die Teilnahme am Workshop erfüllt die Kriterien nach §37.6 BetrVG.
Wir freuen uns über Ihre rege Teilnahme. Die TeilnehmerInnenzahl am Workshop ist limitiert. Bitte melden Sie sich über untenstehendes Formular zu der Veranstaltung an. Sollten Sie Interesse an dem Thema haben, allerdings zum Termin verhindert sein, dann nehmen Sie bitte mit uns Kontakt auf joram.gruenenberg@hiig.de.

This high-profile lecture series thrives to develop a European perspective on the processes of transformation that our societies are currently undergoing.
Once a month we publicly discuss the impact of digitalisation on the society. Therefore we invite special guests and engage in a dialogue with the audience.