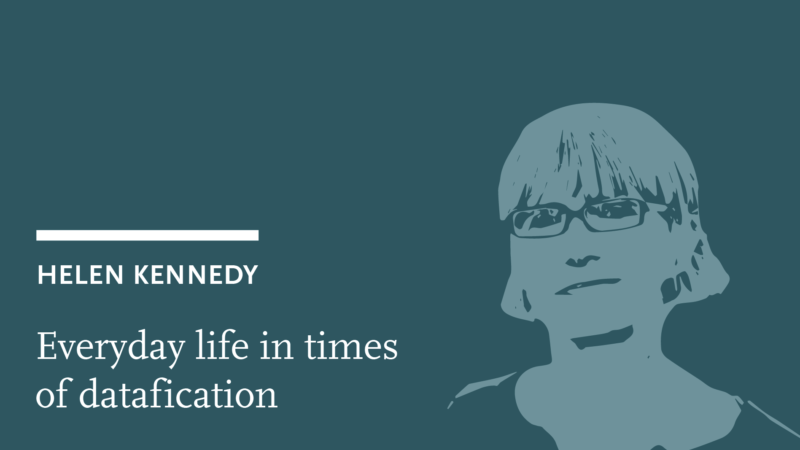 Helen Kennedy: Everyday life in times of datafication
The event will be held in English and simultaneously translated into German. In addition Helen Kennedy lecture will be broadcasted live from 7 pm – if the livestream is not being displayed here, please reload this page. The recorded video will be uploaded to this website a few days after the event.
Please note: Due to the current development of the infection situation, the event will take place under the 2G rule and not under the 3G rule as originally announced. Admission will only be granted to registered persons who have been vaccinated or recovered. In order to be able to track possible chains of infection, a registration via the Corona-Warn-App will take place on site. As the admission takes longer than usual due to the hygiene concept, we kindly ask you to be there in time.
---
Attending to everyday experiences of living with data can help us make sense of the digital society, especially in relation to the politics of datafication and data-related inequalities. By focusing on everyday life, structures of datafication can be seen not simply as constitutive of social life, but also to be constituted through everyday practices. With an everyday life lens, we can seek out acts of agency, which there is little scope for in visions of datafication conjured up by concepts like data colonialism and surveillance capitalism. Attending to the everyday directs us to the importance of people's feelings and values in their experiences with data and often mundane acts of agency.
Social inequalities shape lives and lead to different data experiences, many of which are troubling. People's everyday lives are not all the same, and already socially unequal populations are more likely to be discriminated against in data-driven systems. The relationship between inequality and datafication, therefore, also requires our attention. In short, ostensibly apolitical, ordinary, everyday engagements with data are as important as more obviously political phenomena, in the broad project of understanding and intervening in data power. The ordinary is political, and a lot is lost if we overlook this.
Helen Kennedy: Everyday life in times of datafication
Tuesday 16 November 2021 | 7 pm | Doors open 6.30 pm
Auditorium Friedrichstraße – Quartier 110 | Friedrichstraße 180
Livestream – hiig.de
This high-profile lecture series thrives to develop a European perspective on the processes of transformation that our societies are currently undergoing.
Once a month we publicly discuss the impact of digitalisation on the society. Therefore we invite special guests and engage in a dialogue with the audience.