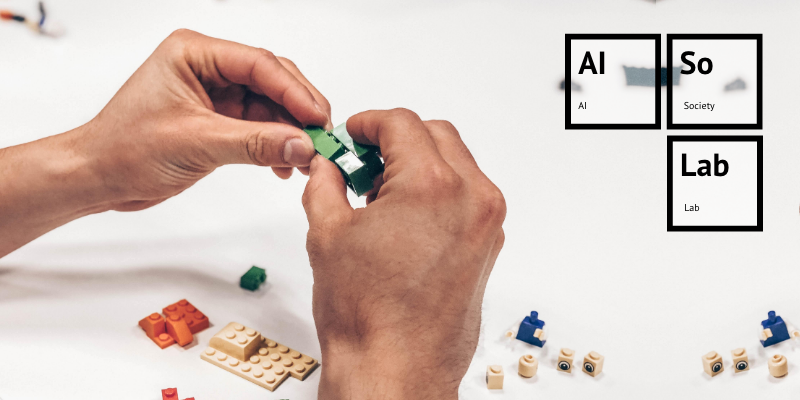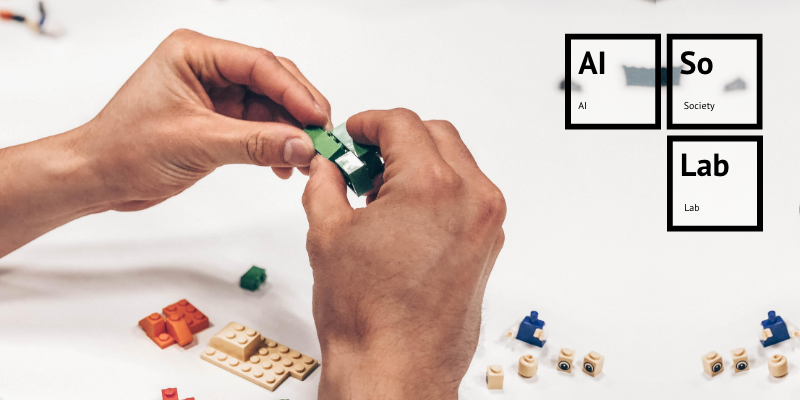 Hackathon I Developing explanatory models for AI
The Alexander von Humboldt Institute for Internet and Society (HIIG) and the non-profit organisation neuland & gestalten gGmbH cordially invite you to a hackathon at HIIG to develop explanatory models for a better understanding of artificial intelligence (AI) together with researchers and experts. The event takes place on Friday, February 3, 2023, at the Institute's premises. The workshop will be held in German.
Das Alexander von Humboldt Institut für Internet und Gesellschaft (HIIG) und die gemeinnützige Organisation neuland & gestalten gGmbH laden Sie herzlich zu einem Hackathon am HIIG ein, um gemeinsam mit Forschenden und Expert*innen Erklärungsmodelle für ein besseres Verständnis von Künstlicher Intelligenz (KI) zu entwickeln.
Hackathon: Entwicklung von KI-Erklärungsmodellen

03. Februar 2023 | 15:00 – 18:00 Uhr
Im Alexander von Humboldt Institut für Internet und Gesellschaft
Französische Straße 9, 10117 Berlin
Innerhalb des Forschungsprojekts Künstliche Intelligenz, menschlich erklärt sind in zwei Bürger*innen Workshops Ideen zu Erklärformaten für KI entwickelt sowie Themen aus unterschiedlichen Bereichen der KI herausgearbeitet worden, die ohne das zugehörige Fachwissen für die Zivilgesellschaft nur schwer nachzuvollziehen sind. Das Ziel dieses Projekts ist, durch die Entwicklung zweier Erklärmodelle, mit je technischer und spielerischer Ausrichtung, gesellschaftliche Denkanstöße für ein besseres Verständnis von KI in der Zivilgesellschaft zu geben.
Der Hackathon wird dahingehend genutzt, die Ideen und Perspektiven der Bürger*innen aus den vorangegangenen Workshops mit dem Fachwissen von Expert*innen und Forschenden zu bündeln und daraus Konzepte zu formulieren, die es in den kommenden Monaten umzusetzen gilt. Dabei behalten wir immer die Erklärbarkeit, Interpretierbarkeit und Nachvollziehbarkeit von KI  im Fokus.
Wir möchten eine ausgewählte Anzahl an Bürger*innen dazu einladen, bei der Entwicklung eines technischen und eines spielerischen Erklärungsmodells für KI beizuwohnen und  ihr Feedback zu den durch die Expert*innen und Forscher*innen entwickelten Konzepte zu geben. So wird die Nachvollziehbarkeit der Erklärmodelle im Hackathon einem Realitätscheck unterzogen – einem wichtigen Schritt für die Realisierung der Konzepte im nächsten Teil des Forschungsprojektes Künstliche Intelligenz, menschlich erklärt.
Bitte melden Sie sich für die Veranstaltung im nachfolgenden Anmeldeformular an. Nennen Sie bitte kurz und knapp Ihre Beweggründe, an diesem Hackathon teilnehmen zu wollen. Die Auswahl der Teilnehmenden findet am 23.01.23 statt. Die Teilnahme wird Ihnen per E-Mail bestätigt. Bitte melden Sie sich bei Fragen direkt an Daniel Pothmann: Daniel. Pothmann@hiig.de
Cooperation partners

Bookings
Die Veranstaltung ist ausgebucht.
This high-profile lecture series thrives to develop a European perspective on the processes of transformation that our societies are currently undergoing.
Once a month we publicly discuss the impact of digitalisation on the society. Therefore we invite special guests and engage in a dialogue with the audience.