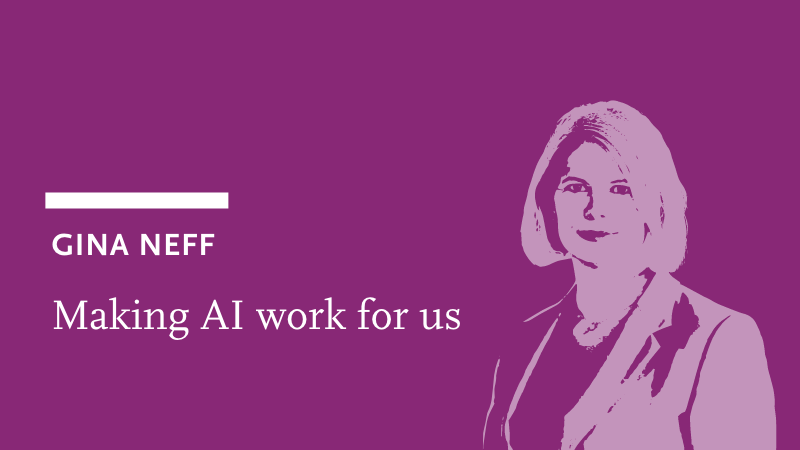 Gina Neff: Making AI work for us
The event will be held in English and simultaneously interpreted into German. In addition, the lecture will be broadcast live from 7 pm. The recorded video will be uploaded to this website a few days after the event.
Artificial intelligence (AI) and other innovative technologies are rapidly evolving. What will it take to make these tools work for us?
In her talk, Gina Neff will look at how we can build a better future by addressing what still needs to be done to use generative AI and other automated technologies in our homes and workplaces. From robotic surgery and automated engineering to generated text and images from models like GPT and Dall-E, AI is forcing us to develop new ways of working.
Understanding the challenges and the opportunities ahead requires a deep look at how we work in teams, and how we adapt, resist, or follow the new ways for organising information at work and in society at large. Anticipating these challenges, and adapting the technology as well as our jobs, our regulations and our organisations, will help AI work for all of us.
Gina Neff: Making AI work for us
Wednesday 3 May 2023 | 7 pm | Doors open 6:30 pm
HAU1, Stresemannstr. 29, 10963 Berlin
Bookings
Eine Anmeldung ist für diese Veranstaltung aktuell nicht möglich.
This high-profile lecture series thrives to develop a European perspective on the processes of transformation that our societies are currently undergoing.
Once a month we publicly discuss the impact of digitalisation on the society. Therefore we invite special guests and engage in a dialogue with the audience.