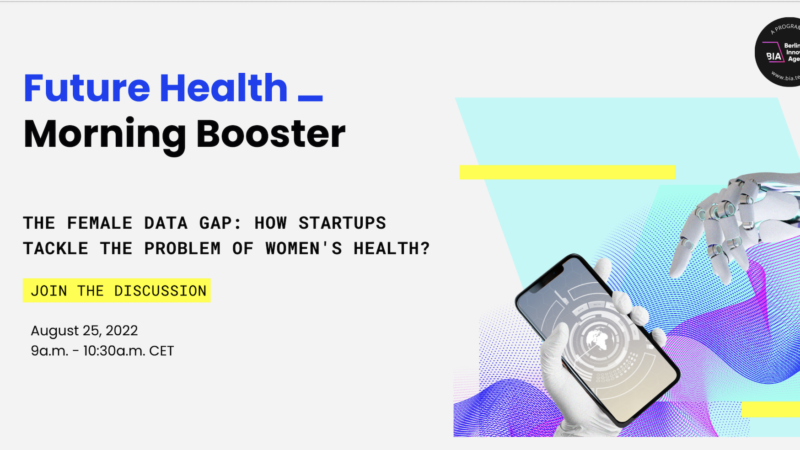 Future Health Morning Booster
 The Female Data Gap: How startup tackle the problem of women's health?
The Digital Urban Center for Aging and Health and the Berlin Innovation Agency invite you to the second workshop Future Health-Morning Booster on the topic of Female data Gap. The event will take place on 25 August 2022 from 09:00 to 10:30 in presence.
FUTURE HEALTH – MORNING BOOSTER: The Female Data Gap
Innovationswerkstatt
Thursday, 25 August 2022 | 09:00 – 10:30 a.m.
Alexander von Humboldt Institute for Internet and Society
Event by Berlin Innovation Agency in collaboration with
the Digital Urban Center for Aging and Health (DUCAH)
Invitation by the Foundation for Internet and Society
In our digital world, data is everything. But, despite the wealth of data out there, inequalities remain. Until a few years ago, "research was mainly conducted on male subjects with the results extended to women, assuming that the biological diversity had no significant repercussions on diseases." (Giovannella Baggio, University of Padua). As more recent research shows, women are subjected to other health symptoms, such as recurrent hormonal issues and different chronic diseases. And research has only started tackling the lack of data recently.
Meet stakeholders from femtech startups, pharmaceutical companies, VCs, public entities, and government representatives to discuss the future of female health and how to reach more equality in research and data.
Concept
Each Morning Booster will put the spotlight on a current Future Health topic, kicking off with engaging impulses from innovators and thought leaders to open the stage for everyone to share ideas, discuss, interact and connect with each other.
Participation
If you are interested in attending the event, please write a message to Kerstin Bieneck at bieneck@ieb.net.
We look forward to your participation!
Office Manager, Scientific Coordinator and Stakeholder Management: Digital Urban Center for Aging & Health
This high-profile lecture series thrives to develop a European perspective on the processes of transformation that our societies are currently undergoing.
Once a month we publicly discuss the impact of digitalisation on the society. Therefore we invite special guests and engage in a dialogue with the audience.