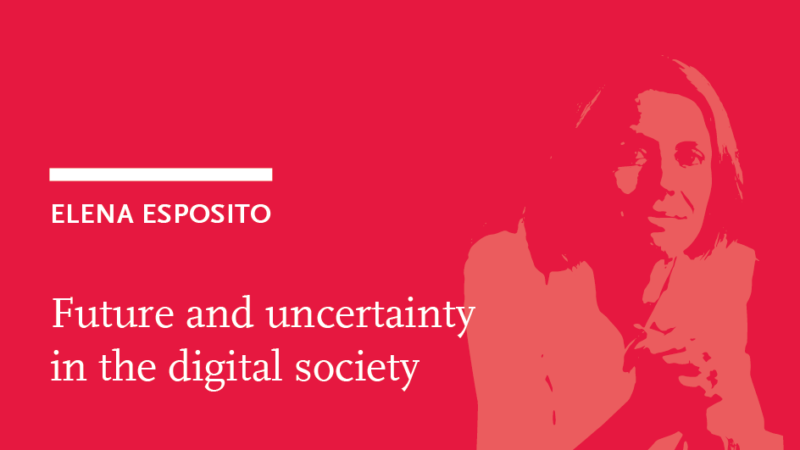 Elena Esposito: Future and uncertainty in the digital society
What does prediction by algorithms and AI mean? Organisations and administrations are collecting and storing massive amounts of data in order to detect patterns in the present and generate expected scenarios of the future. How do algorithms and AI help us in coping with increasing uncertainties and huge amounts of data – and at what price? What can we know, in turn, about these technological infrastructures of our society? How does AI shift our understanding and production of knowledge? And how do algorithmic forecasts affect our relationship with the future?
Elena Esposito is professor of sociology at Bielefeld University and at the University of Modena and Reggio Emilia. She is one of the leading advocates of systems theory. Esposito studies problems of time in social systems, including memory and forgetting, fashion and transience, probability calculus, fiction, and the use of time in finance. Her current research focuses on the possibility and forms of forgetting on the web, on a sociology of algorithms and on the proliferation of rankings and ratings for the management of information.
Esposito's recent publications include "The Future of Futures"; The Time of Money (2011); "Artificial Communication? The Production of Contingency by Algorithms." Zeitschrift für Soziologie, 2017; "The structures of uncertainty. Performativity and unpredictability in economic operations." Economy & Society, 2013, and a debate with David Stark on Observation Theory in Sociologica, 2013(2).
Making sense of the digital society
Alexander von Humboldt Institute for Internet and Society (HIIG) and the German Federal Agency for Civic Education/bpb are organising an academic lecture series on Making Sense of the Digital Society. The high-profile series thrives to develop a European perspective on the processes of transformation that our societies are currently undergoing. It started with an inaugural lecture by Manuel Castells about power and counter-power in the digital society on December 12, 2017 and was continued by Christoph Neuberger in January 2018. Further confirmed speakers are Marion Fourcade, professor of sociology at the UC Berkeley and José van Dijck, author of the forthcoming book The Platform Society and president of the Royal Netherlands Academy of Arts and Sciences.

This high-profile lecture series thrives to develop a European perspective on the processes of transformation that our societies are currently undergoing.
Once a month we publicly discuss the impact of digitalisation on the society. Therefore we invite special guests and engage in a dialogue with the audience.