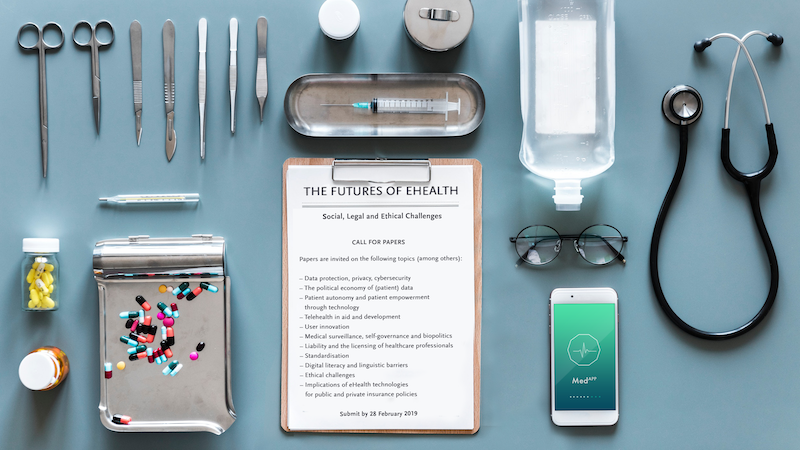 THE FUTURES OF eHEALTH
Social, legal and ethical challenges
29–30 April 2019
Festsaal, Humboldt Graduate School Berlin | Luisenstraße 56 | 10115 Berlin
International and interdisciplinary conference 
In recent years, there have been significant technological developments in the field of eHealth. Applications such as electronic health records, wearable technologies (fitness trackers, medical devices, etc.) or telehealth devices that allow patients to consult with a health-care worker using ICT technology, such as video calls or live chats, have led to significant social, legal and ethical challenges and insecurities among patients, healthcare professionals and regulators. Often, these systems are being used in transnational contexts, raising the question of regulatory and policy issues between different jurisdictions. The picture is further complicated by the increase in eHealth applications used on mobile devices (mHealth) as well as the rise of health analytics and automated expert systems ("big data", "machine learning").
The conference provides a comprehensive overview of the internationally relevant issues associated with the adoption of eHealth technologies and and offers a multidisciplinary platform for discussing the solutions to the identified challenges. It will feature contributions from scholars coming from diverse fields, such as media and communication studies, law, computer science, sociology and management.
Preliminary Conference Programm
29 April 2019
9:00-10:00 Registration
10:00 Welcome Note
Thomas Christian Bächle (HIIG)
Alina Wernick (HIIG)
Thomas Schildhauer (HIIG & UdK Berlin)
10:30-12:00 Introducing current challenges in eHealth
Chair: Thomas Christian Bächle & Alina Wernick
Bianca Jansky, Tereza Hendl und Nicole Peter (LMU München): Ethical, legal and social aspects of mHealth technologies: Tackling the jumble

Valeska Cappel (Universität Luzern), Karolin Kappler (Universität Hagen): Plurality of Values in mHealth: A conventionalist approach to illustrate the logic of ethical dilemmas

Trix Mulder (University of Groningen): Processing purposes of eHealth
13:00-14:30 Uses and perceptions of eHealth applications
Chair: Martin Stojanov
Freya Sukalla & Veronika Karnowski (Leipzig University): 7 cups to relieve stress? On the portrayal of well-being in the smartphone app market

Isabell Koinig (University of Klagenfurt): Technology Acceptance, Interest in Fitness and Empowerment:  Testing Consumer Responses Towards a Wearable Technology Advert

Galit Madar & Azi Lev-On, Nachman Ash (Ariel University): Family Physicians' Perceptions of the Impact of e-Visit Systems on Patient Perceptions of and Interactions with their Family Physicians
15:00-16:30 eHealth in Practice
Chair: Bianca Dsouza
Sai Praveen Haranath (Apollo Hospitals, Hyderabad, India): eACCESS: Improving Critical Care Access Through Remote Technology – A tele-ICU live demo

Daniela Rudner (GIZ, Unjani Clinic Network NPC): Case Study on electronic health records and telehealth used by a South African low-cost primary healthcare clinic network

Manisha Mantri (C-DAC): Addressing data privacy in Digital Health: Policies, Regulations, and Technical Standards in India
17:00-18:00 Keynote address by Prof. Stefaan Callens (Katholieke Universiteit Leuven):
"The demand for new legislation on eHealth in the EU"
18:15-19:45 Markets for eHealth: Perspectives from Innovators and Entrepreneurs
Chair: Janis Reinelt
Farina Schurzfeld (Selfapy)

Yannick Schmid (Vivy)

Annika Mierke (MyMate&Me)

Kishore Sankla (Solutions4Health)

Clemens Schricker (docdirekt/KVBW)
30 April 2019
9:00-10:30 Technology and Innovation in Context
Chair: Lauren Tonti
Elena Shataeva (International field for the development of biotechnical reha-educational systems and technologies «AGORA»): Biotechnical supplementations for the modern concepts of patient's autonomy

Martin Stojanov (Uppsala University): Second-order interoperability in the datafication of public health

Anastasiya Kiseleva (Leibniz University Hannover): Decisions made by AI vs. Transparency: Who wins in Healthcare?
11:00-12:30 eHealth and the Law: Comparative Perspectives
Chair: Trix Mulder
Mikhail Zhuravlev (International Laboratory for IT and IP Law, National Research University Higher School of Economics, Moscow):  eHealth Legal Challenges in Russia

Paola Aurucci (University of Turin): The interplay between GDPR and Clinical Trial Regulation: the impact of Italian Data Protection Rules on the secondary use of clinical trial data

Lauren Tonti (Max Planck Institute for Social Law & Social Policy): "Insuring" Prioritization & Parity: Comparing Approaches to Telemental Health in the Law
13.30-15.30 International Perspectives on eHealth Policies
Panel curated by the Asia eHealth Information Network (AeHIN)
Chair: Jai Ganesh Udayasankaran
Jai Ganesh Udayasankaran (Asia eHealth Information Network, AeHIN)
Séan Broomhead (African Centre for eHealth Excellence, Acfee)
Fernando Portilla (Red Americana de Cooperación en Salud Electrónica, RACSEL)
Niklas Kramer (Federal Ministry of Health Germany)
Alina Wernick (Humboldt Institute for Internet and Society, HIIG)
16:00-17:00 Keynote address by Dr. Btihaj Ajana (King´s College London):
"Self-management for better health? Reflections on the self-tracking culture"
17:30-19.00 Closing Discussion: "Ethics and Innovation in eHealth"
Jai Ganesh Udayasankaran (Asia eHealth Information Network (AeHIN))

Daniel Strech (Berlin Institute of Health)

Erwin Böttinger (University Potsdam)

Btihaj Ajana (King's College London)
Participation
To attend the conference, please register by sending an email with your full name, institutional affiliation (e.g. research institute, university) until 26 April 2019 to eHealth2019@hiig.de. The conference attendance is free of charge.
If you have any questions, contact the organisers Thomas Christian Bächle and Alina Wernick via eHealth2019@hiig.de.

This high-profile lecture series thrives to develop a European perspective on the processes of transformation that our societies are currently undergoing.
Once a month we publicly discuss the impact of digitalisation on the society. Therefore we invite special guests and engage in a dialogue with the audience.