Where and how does disruption happen? How do you create a disruptive company culture? How do you implement disruption and become a disruptive transformer?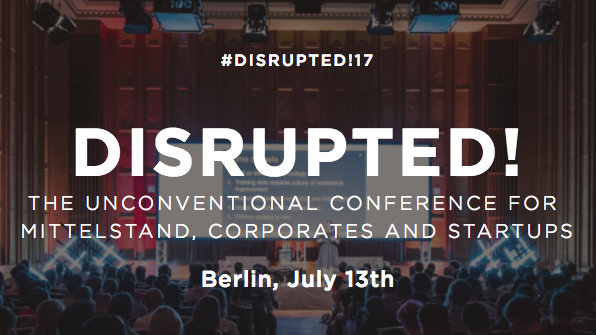 For the first time ever and in collaboration with HIIG, Tech Open Air offers an exclusive conference format for Mittelstand, Corporates and Startups. At DISRUPTED! on 13 July, we will discuss best practices, challenges and opportunities for disruptive innovation in an unconventional setting. The insights and network will help you unleash your transformative potential and become a true disruptive transformer.
The unconventional conference for Mittelstand, Corporates and Startups
Thursday, 13 July 2017 · 10 am · Funkhaus Berlin
The event:
connects representatives from innovative Mittelstand companies, established Corporate firms and disruptive Startups
inspires through active discussions on how to disrupt, how to deal with disruption and develop a culture that fosters disruption
facilitates relationships by offering an unconventional setting to meet and discuss, embedded into the interdisciplinary TOA festival at the heart of Berlin's buzzing startup scene
Offerings:
inspirational discussions in a World Cafe format
networking with experts from Mittelstand, Corporates and Startups
tailored Workshops on disruptive strategies
full access to TOA 17 – Europe's leading interdisciplinary technology festival

About TOA:
Tech Open Air (TOA) is a platform for interdisciplinary knowledge exchange, empowering technologists and creatives to exchange ideas and insights: to help them better understand the world we live in today and successfully shape the world we will live in tomorrow. With technology as common denominator, TOA facilitates collaboration and inspirational content at the heart of it at all.
This high-profile lecture series thrives to develop a European perspective on the processes of transformation that our societies are currently undergoing.
Once a month we publicly discuss the impact of digitalisation on the society. Therefore we invite special guests and engage in a dialogue with the audience.