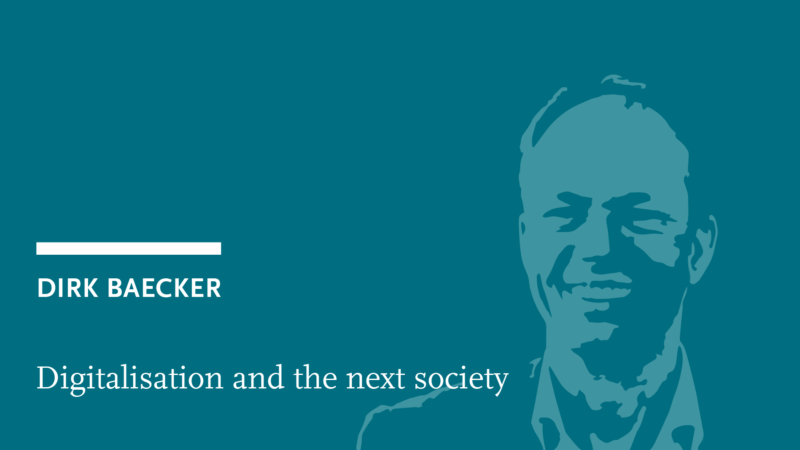 Dirk Baecker: Digitalisation and the next society
A new era in human society is beginning with digital media. While language, writing and book printing had been the hallmarks of this era, machines are now taking part in communication for the first time. Will society in the future be decisively determined by networks and artificial intelligences? At the heart of cognitive science is the observation of a complex synchronisation of organic, neuronal, mental, emotional and artificial intelligence. But how can we master the challenge of artificial intelligence? In his lecture, Dirk Baecker will draw a more precise picture of human as well as social intelligence, because only a more precise understanding of these will enable us to react appropriately to the new challenges.
Dirk Baecker: Digitalisation and the next society
16 April 2019 | 7 pm | doors open 6.30 pm
HAU Hebbel am Ufer (HAU 1) | Stresemannstraße 29 | 10963 Berlin
Dirk Baecker is Professor of Cultural Theory and Management at the University of Witten/Herdecke. As a theorist of systems, Dirk Baecker earned his doctorate and habilitated under Niklas Luhmann. He is the author of more than two dozen books in the field of cultural, organisational and economic sociology. His most recent book 4.0 oder Die Lücke die der Rechner lässt was published in 2018 by Merve.
Agenda
18:30

  Doors open

19:00 – 19:15

  Welcome and introduction

19:15 – 20:00
  Digitalisation and the next society


  Dirk Baecker (University of Witten/Herdecke)

20:00 – 21:00
  Moderated discussion and questions from the audience

21:00 – 22:00

  Get-together
The event will be held in German and simultaneously translated into English.
For press accreditation, please contact Florian Lüdtke.
This event will be recorded and broadcasted live. By signing up you consent to be photographed, filmed and/or otherwise recorded during the event and to the use of the content in connection with the promotion and public relations of the event.
Making Sense of the Digital Society
The current rapid pace of technological change creates enormous uncertainties – and thus the need for explanations that help us better understand our situation and shape the future. The Alexander von Humboldt Institute for Internet and Society (HIIG) and the Federal Agency for Civic Education (bpb) are therefore continuing the Lecture Series Making Sense of the Digital Society that was launched in 2017. The aim of the format is to develop a European perspective on the current processes of transformation and its societal impact.
The first speaker this year is sociologist Eva Illouz. She will be followed by international experts such as Dirk Baecker, José van Dijck and Louise Amoore.
The event is fully booked. Please refrain from further inquiries.
Registration
Bookings
Die Veranstaltung ist ausgebucht.
This high-profile lecture series thrives to develop a European perspective on the processes of transformation that our societies are currently undergoing.
Once a month we publicly discuss the impact of digitalisation on the society. Therefore we invite special guests and engage in a dialogue with the audience.