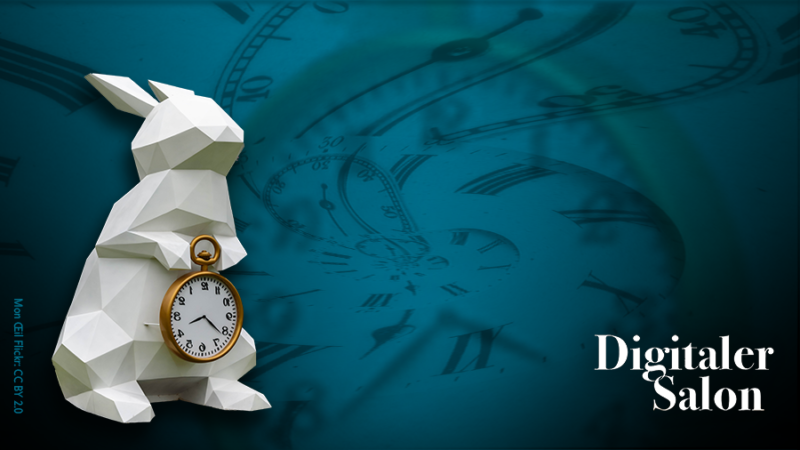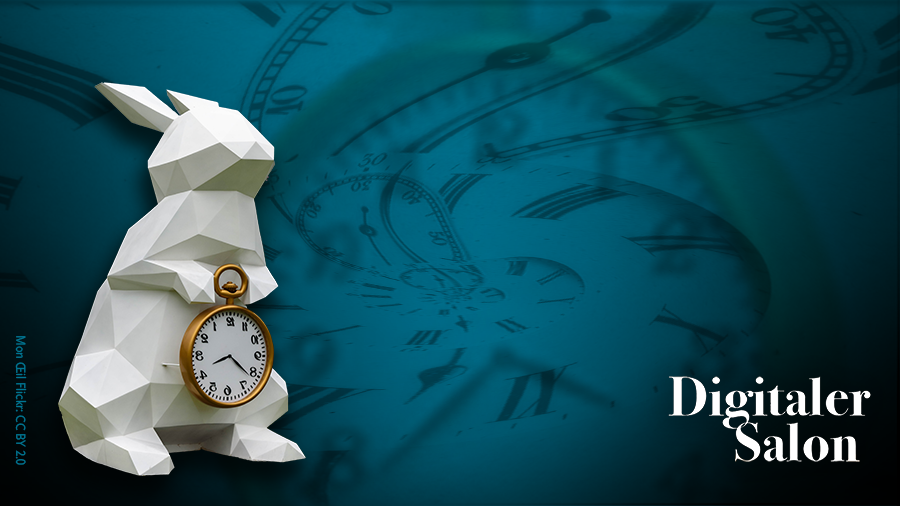 Digitaler Salon: Wer hat an der Uhr gedreht? | Talk
Once a month, we publicly discuss the impact of digitalization on society at Digitaler Salon. We invite special guests, engage in a dialogue with the audience and the Twitter community and broadcast it on YouTube. The subject of the #DigSal in June is time in cyberspace. How do smart apps and journeys through the cyberspace change our perception of time? Do we gain more time or do we get lost in the digital world? Below you will find more detailed information in German.
Wer hat an der Uhr gedreht? – Ein Blick aufs Smartphone, schon sind Stunden vergangen. Gewinnen wir durch smarte Apps mehr Zeit oder verlieren wir uns vor lauter Optimierung in der digitalen Welt?
Digitaler Salon – Wer hat an der Uhr gedreht?
27.06.2018 | 19.00 Uhr | HIIG | Französische Straße 9 | 10117 Berlin
Im digitalisierten Zeitalter sind es nicht länger die fiktiven grauen Herren aus "Momo", die den Menschen die Zeit stehlen, sondern Plattformen wie Slack oder Instagram: Digitale Tools versprechen Schnelligkeit, Flexibilität und nicht zuletzt mehr Spaß. Doch: Gewinnen wir durch smarte Apps mehr Zeit, oder verlieren wir uns vor lauter Selbstoptimierung und Effizienzsteigerung in der Beschleunigungsfalle? Wie wirken sich Reisen durch digitale Sphären auf unser Zeitgefühl aus? Ist unser Weltverhältnis im Netz ein anderes? Wissen und Ideen werden immer schneller in die digitale Umlaufbahn geschossen. Können wir diese immer komplexere Informationsflut überhaupt noch bewältigen? Rund um die Uhr erreichbar und stets das Smartphone in der Hand, verlieren wir offenbar unsere Fähigkeit zum Nichtstun. Geraten wir in eine immer größere Abhängigkeit, und was sind die Alternativen?
Die Moderatorin Katja Weber diskutierte mit:
Die Einführung in das Thema übernahm Christopher Olk, Mitarbeiter im Projekt "Die Entwicklung der digitalen Gesellschaft" am HIIG.
Der Digitale Salon öffnet ab 18:30 Uhr seine Türen. Ab 19:00 Uhr wird die Sendung live auf hiig.de übertragen. Dann heißt es mitmachen – vor Ort und per Twitter via #DigSal. Der Digitale Salon findet jeden letzten Mittwoch im Monat unter einer anderen Fragestellung statt. Aufzeichnungen vergangener Digitaler Salons und mehr Informationen finden Sie hier.
Für den Digitalen Salon ist keine Registrierung erforderlich.

Event Newsletter
Sign up for our newsletters and be the first to learn about new events and exciting research results.
This high-profile lecture series thrives to develop a European perspective on the processes of transformation that our societies are currently undergoing.
Once a month we publicly discuss the impact of digitalisation on the society. Therefore we invite special guests and engage in a dialogue with the audience