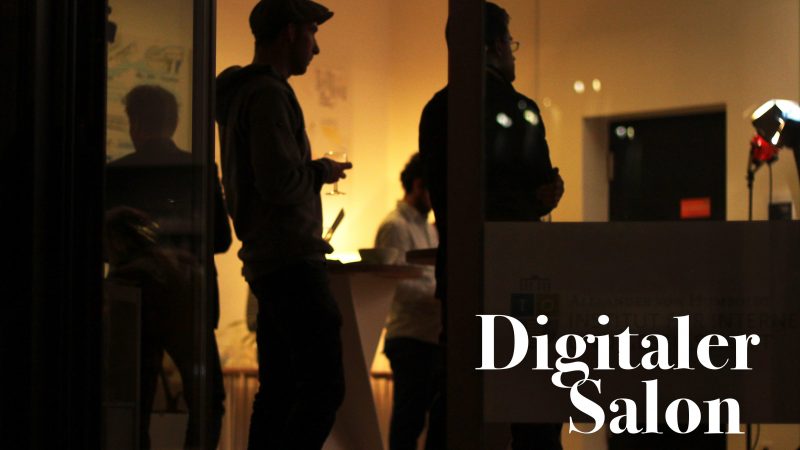 Digitaler Salon: Wearables. Fit und schlank dank Smartwatch | Talk
Once a month we publicly discuss the impact of digitalisation on the society. Therefore we invite special guests, engage in a dialogue with the audience and the Twitter-community and finally broadcast it in cooperation with the German broadcasting agency DRadio Wissen. The upcoming #DigSal deals with the dissemination of interconnected technologies into the use and manufacturing of everyday items. "Wearables. Fit und schlank dank Smartwatch?" is the question that will occupy us on 28 May.
Please note, that the event will be held in German – below you can find more detailed information.
Uhren, Brillen & T-Shirts, die Vernetzung unserer Kleidung scheint bevorzustehen. Sie sind Produkt von Fitnesswahn und Selbstdarstellung – dem Selfie folgt die Pulskurve. Wie viel Vernetzung akzeptieren wir und wer profitiert vom Tracking-Trend?
Am 28.05.2014 sprach Katja Weber von DRadio Wissen mit diesen Gästen:
Johannes Kleske, Macher des Quantified Self & Lifelogging Podcast I Grow Digital
Daniela Kuka, Wissenschaftliche Mitarbeiterin an der Universität der Künste im Bereich verbale Kommunikation
Enno Park, Journalist und selbsterklärter Cyborg
Karsten Weber, Professor an der Brandenburgische Technische Universität, Kultur und Technik












Einmal monatlich zum Digitalen Salon stellen sich unsere Gäste den 'Fragen zur vernetzten Gegenwart'. In unserer Diskussionsreihe beleuchten wir Netz-Phänomene, erörtern Vor- und Nachteile technischer Veränderungen und geben Denkanstöße. Kommunizieren auch Sie Ihre Meinung vor, während und nach der Sendung direkt auf unserer Webseite, über Social Media oder per Postkarte. Der Digitale Salon ist eine Kooperation zwischen DRadio Wissen und dem Humboldt Institut für Internet und Gesellschaft.
Am letzten Mittwoch des Monats um 19:00 Uhr.
Analog: In den Räumen des HIIG • Bebelplatz 1 • mit Wein & Brezeln • Einlass ab 18:30 Uhr
Digital: #DigSal • Livestream via www.dradiowissen.de und www.hiig.de
Radio: In der Reihe NETZ.REPORTER, einer Produktion der Kooperative Berlin auf DRadio Wissen.