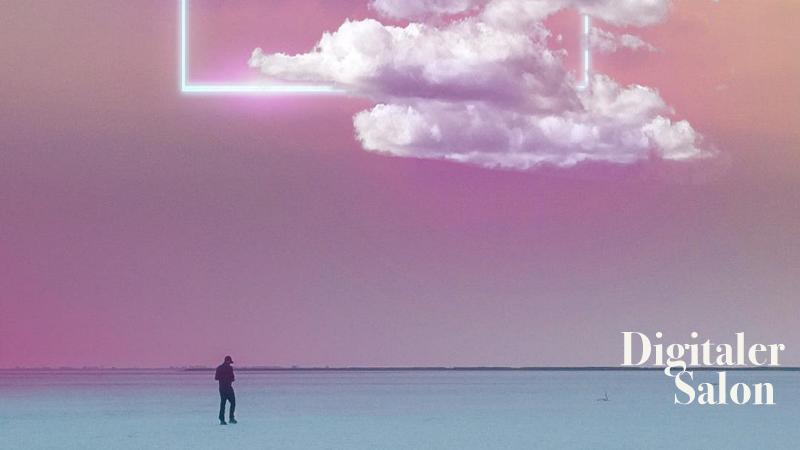 Digitaler Salon: Spirit in the Cloud
Once a month, we publicly discuss the impact of digitisation on society at Digitaler Salon. We invite special guests, engage in a dialogue with the audience and the Twitter community and broadcast it on YouTube. In August, we are discussing how religion is changing through the digital age. Below you will find more detailed information. The event will be held in German.
Ein twitternder Papst, virtuelle Pilgerreisen nach Mekka, religiöse Dating-Apps und Online-Gottesdienste: Wird das Internet  zur heiligen Stätte? Länder und Religionen haben unterschiedliche Geschwindigkeiten, wenn es darum geht, der Digitalisierung in ihrem Glauben Einzug zu gewähren und die Angebote für ein religiöses Leben im Netz zu nutzen. Im nächsten Digitalen Salon wollen wir uns diesem Thema nähern und stellen uns die Frage, wie die Digitalisierung Religionen und ihre Praktiken verändert. Welche religiösen Praktiken funktionieren im Digitalen? Wie beeinflussen entsprechende Projekte die Reichweite und die Legitimation von Religionen und Glauben? Und kann eine virtuelle Pilgerreise der Erfahrung einer realen wochenlangen Wanderung wirklich gerecht werden? 
Digitaler Salon: Spirit in the Cloud
28. September 2022 | HIIG & Livestream | 19:00 Uhr
Einlass: 18:30 Uhr 
Die Moderation übernimmt Marie Kaiser (radioeins) und diskutiert unter anderem mit:
Benjamin Fischer: Benjamin Fischer ist Programmmanager der Alfred Landecker Foundation. Seine Schwerpunkte liegen auf der Entwicklung und Umsetzung digitaler Initiativen sowie Projekten, die sich an jüngere Generationen richten. Zuvor war er Chief Digital Officer der Zentralwohlfahrtstelle der Juden in Deutschland in Berlin und Präsident der European Union of Jewish Students in Brüssel.
Samira Tabti: Samira Tabti ist Doktorandin am Lehrstuhl für Religionswissenschaften an der Ruhr-Universität Bochum. Ihre Forschungsschwerpunkte liegen unter anderem auf dem Islam in der Gegenwart und Religion und Online-Medien. Außerdem hat sie sich mit Moscheengemeinden im Netz auseinandergesetzt und sich gefragt, welche Aspekte des religiösen Lebens der Gemeinde digitalisierbar sind.
Die Einführung übernimmt Wolfgang Schulz, der Forschungsdirektor vom Alexander von Humboldt Institut für Internet und Gesellschaft. Die Schwerpunkte seiner Arbeit liegen bei der rechtlichen Regulierung in Bezug auf Medieninhalte, Fragen des Rechts neuer Kommunikationsmedien, vor allem des digitalen Fernsehens und der Rechtsgrundlagen journalistischer Arbeit, in den Grundlagen der Kommunikationsfreiheiten und der systemtheoretischen Beschreibung des publizistischen Systems.
Wir freuen uns, eine begrenzte Anzahl von Gästen vor Ort zum Digitalen Salon begrüßen zu können. Ab 19:00 Uhr wird die Sendung zusätzlich live auf hiig.de übertragen. Dann heißt es mitmachen – per Twitter oder Slido via #DigitalerSalon.
Der Digitale Salon findet jeden letzten Mittwoch im Monat unter einer anderen Fragestellung statt. Aufzeichnungen vergangener Digitaler Salons und mehr Informationen finden Sie hier.
Bookings
Eine Anmeldung ist für diese Veranstaltung aktuell nicht möglich.
This high-profile lecture series thrives to develop a European perspective on the processes of transformation that our societies are currently undergoing.
Once a month we publicly discuss the impact of digitalisation on the society. Therefore we invite special guests and engage in a dialogue with the audience.