Digitaler Salon 'Spezial': Von kommunikativen Kühlschränken und selbstfahrenden Autos. Ist das Internet der Dinge mehr als eine Vision? | Talk

Once a month we publicly discuss the impact of digitalisation on the society. Therefore we invite special guests, engage in a dialogue with the audience and the Twitter-community and finally broadcast it in cooperation with the German broadcasting agency DRadio Wissen. "Von kommunikativen Kühlschränken und selbstfahrenden Autos. Ist das Internet der Dinge mehr als eine Vision?" is the question that will occupy us on 24 September. The event is free of charge and requires registration.
Please note, that the event was held in German – below you can find more detailed information.
Den Kühlschrank, der eigenständig den Einkauf erledigt, gibt es schon, doch zum Kassenschlager hat er es bisher nicht gebracht. Was kann uns das Internet of Things wirklich bieten und wie verändert es das Internet wie wir es heute kennen?
Katja Weber von DRadio Wissen sprach am 24.09.14 mit:
Sandra Hoferichter, geschäftsführende Direktorin von EuroDIG
Christian Lang, Pressesprecher von iHaus
Hektor Haarkötter, Hochschullehrer und Journalist
Raúl Rojas, Professor für künstliche Intelligenz
Eine Einführung in das Thema gab Sascha Friesike, Projektleiter im Forschungsbereich Internetbasierte Innovation.
Dafür verließen wir erneut unsere Räumlichkeiten am Bebelplatz. Im "Elektronengehirn hinter Glas", ehemaliger Standort des Großrechners von IBM Deutschland am Ernst-Reuter-Platz, diskutierten wir die Auswirkungen des Internet of Things auf unser tägliches Leben. Einen Blick in die Welt der vernetzten Dinge ermöglichten unter anderem der Emoticon-Roboter El Niño von Weng Xinyu und der Prototyp eines fahrerlosen Autos von AutoNOMOS.
Ab dem 12. September gab es die Möglichkeit, sich vorab in den Digitalen Salon Spezial einzubringen. Das Diskussionsforum publixphere begleitete die Veranstaltung mit spannenden Beiträgen und Diskussionen zu den Auswirkungen des Internet der Dinge auf unser tägliches Leben.
| | |
| --- | --- |
| PDF ansehen | Einladung – Digitaler Salon Spezial am 24.09.2014 |
| PDF ansehen | Flyer – Digitaler Salon Spezial am 24.09.2014 |
Analog: orangelab Berlin, Ernst-Reuter-Platz 2 • mit Wein & Brezeln • Einlass ab 18:30 Uhr
Digital: #DigSal • Livestream via www.dradiowissen.de und www.hiig.de
Radio: Immer am dritten Sonntag des Monats ab 18:05 Uhr im Hörsaal auf Dradio Wissen
Digitaler Salon SPEZIAL im Wissenschaftsjahr 2014
Im Rahmen des Wissenschaftsjahres 2014 – Die digitale Gesellschaft laden das Alexander von Humboldt Institut für Internet und Gesellschaft gemeinsam mit DRadio Wissen zum Digitalen Salon SPEZIAL. In drei Sonderausgaben der monatlich statt findenden Veranstaltungsreihe diskutieren wir vor und mit dem Publikum die Chancen, Herausforderungen, Umbrüche und Folgen der digitalen Revolution. Für den Digitalen Salon SPEZIAL verlassen wir unsere Räumlichkeiten am Bebelplatz und tragen die Diskussion um die gesellschaftlichen Auswirkungen der Digitalisierung in die Stadt hinein.

Das Wissenschaftsjahr 2014 – Die digitale Gesellschaft widmet sich den Auswirkungen der digitalen Revolution. Die Wissenschaftsjahre sind eine Initiative des Bundesministeriums für Bildung und Forschung (BMBF) gemeinsam mit Wissenschaft im Dialog (WiD). Weitere Informationen finden Sie unter www.digital-ist.de.
Veranstaltungsort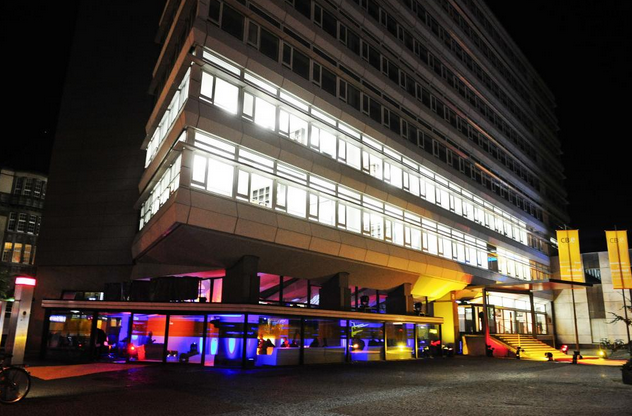 orangelab Berlin
Ernst-Reuter-Platz 2
10587 Berlin
Anmeldung
Bitte melden Sie sich für die Veranstaltung mit unten stehendem Formular an.
Stay tuned for more events
Sign up for our newsletters and be the first to learn about new events and exciting research results.