Digitaler Salon 'Spezial': Paducation. Digitales Lernen für eine digitale Welt? | Talk
Once a month we publicly discuss the impact of digitalisation on the society. Therefore we invite special guests, engage in a dialogue with the audience and the Twitter-community and finally broadcast it in cooperation with the German broadcasting agency DRadio Wissen. "Paducation. Digitales Lernen für eine digitale Welt?" is the question that will occupy us on 26 November. The event is free of charge and requires registration
Please note, that the event will be held in German – below you can find more detailed information.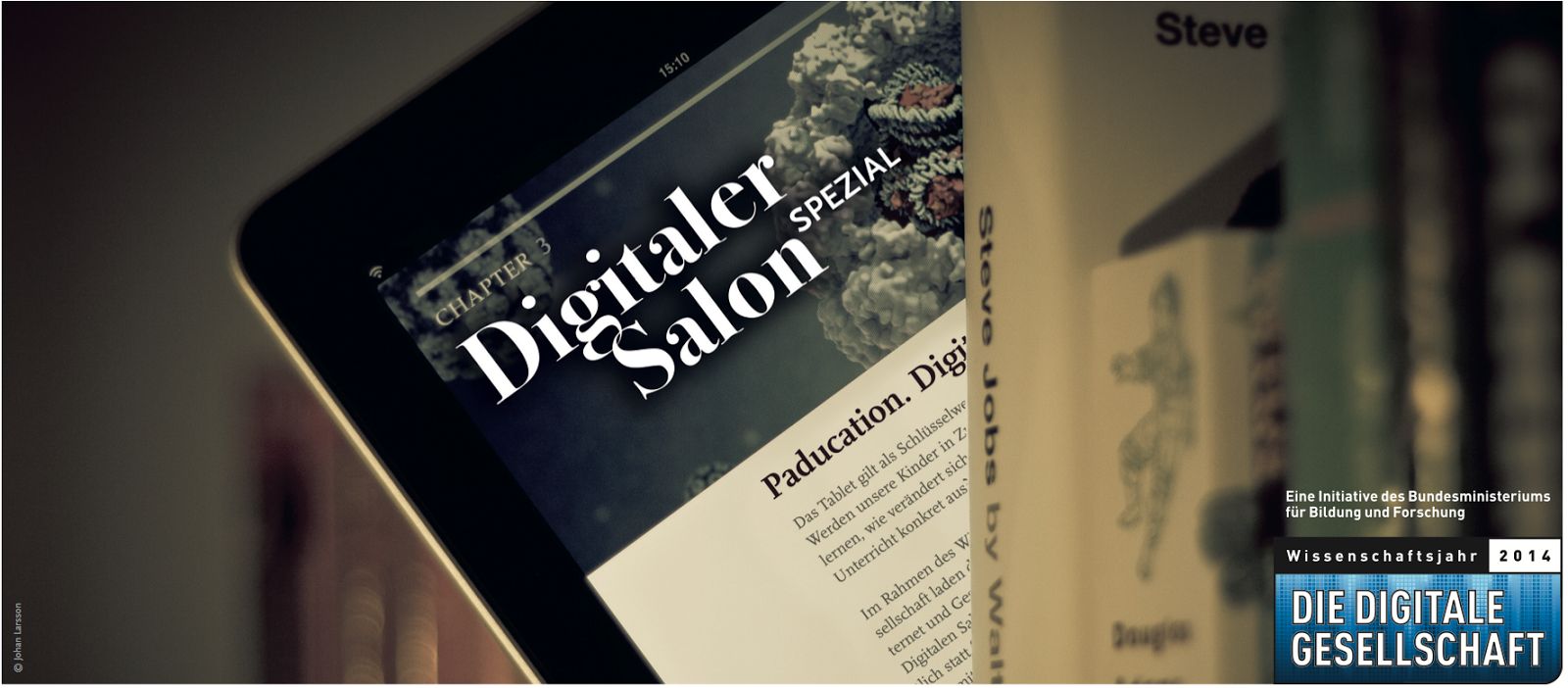 PADUCATION. DIGITALES LERNEN FÜR EINE DIGITALE WELT?
26. November 2014 | 19:00 Uhr
Schmiede, EUREF-Campus | Torgauer Str. 12-15 | Berlin-Schöneberg
Das Tablet gilt als Schlüsselwerkzeug des 21. Jahrhunderts. Werden unsere Kinder in Zukunft ausschließlich digital lernen, wie verändert sich das Lernen und wie sieht digitaler Unterricht konkret aus?
Im Rahmen des Wissenschaftsjahres 2014 – Die digitale Gesellschaft laden das Alexander von Humboldt Institut für Internet und Gesellschaft gemeinsam mit DRadio Wissen zum Digitalen Salon SPEZIAL. In drei Sonderausgaben der monatlich statt findenden Veranstaltungsreihe diskutieren wir vor und mit dem Publikum die Chancen, Herausforderungen, Umbrüche und Folgen der digitalen Revolution. Für den Digitalen Salon SPEZIAL verlassen wir unsere Räumlichkeiten am Bebelplatz und tragen die Diskussion um die gesellschaftlichen Auswirkungen der Digitalisierung in die Stadt hinein.
Katja Weber von DRadio Wissen spricht am 26. November ab 19:00 Uhr mit:
Steffen Jauch, Forscher zu Mediendidaktik an der Universität Leipzig
Regina Schulz, Autorin und Lehrerin u.a. an einer "iPad Schule"
Stephan Griebel, Leiter des Bildungsbereichs bei Texas Instruments und Vorstandsmitglied der Initiative D21
Seit dem 12. November gibt es die Möglichkeit, sich vorab in den Digitalen Salon SPEZIAL einzubringen. Das Diskussionsforum publixphere begleitete die Veranstaltung mit spannenden Beiträgen und Diskussionen zu den Chancen und Herausforderungen von digitalen Medien im Schulalltag.

Das Wissenschaftsjahr 2014 – Die digitale Gesellschaft widmet sich den Auswirkungen der digitalen Revolution. Die Wissenschaftsjahre sind eine Initiative des Bundesministeriums für Bildung und Forschung (BMBF) gemeinsam mit Wissenschaft im Dialog (WiD). Weitere Informationen finden Sie unter www.digital-ist.de.
Analog: Schmiede • EUREF-Campus • Torgauer Str. 12-15 • Berlin-Schöneberg
mit Wein & Snack • Einlass ab 18:30 Uhr
Digital: #DigSal • Livestream via www.dradiowissen.de und www.hiig.de
Radio: Immer am dritten Sonntag des Monats ab 18:05 Uhr im Hörsaal auf Dradio Wissen.
This high-profile lecture series thrives to develop a European perspective on the processes of transformation that our societies are currently undergoing.
Once a month we publicly discuss the impact of digitalisation on the society. Therefore we invite special guests and engage in a dialogue with the audience.