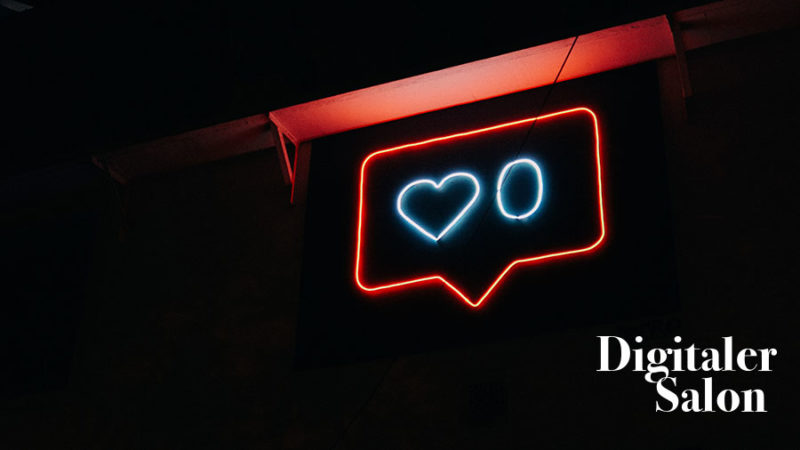 Digitaler Salon: Score me maybe?
Once a month, we publicly discuss the impact of digitisation on society at Digitaler Salon. We invite special guests, engage in a dialogue with the audience and the Twitter community and broadcast it on YouTube. In September, we will talk about social scoring in general and the social scoring system in China. Are there any advantages or just disadvantages? And who should you rather not be friends online with in the future? Below you will find more detailed information in German.
Bewertungssysteme entscheiden schon jetzt über Kreditvergabe. In China geht das sogenannte Social Scoring viel weiter. Trotz aller Kritik, gibt es auch Vorteile? Und welche Freundschaften im Netz kannst du dir demnächst noch leisten?
Digitaler Salon – Score me maybe?
30.10.2019 | 19.00 Uhr | HIIG | Französische Straße 9 | 10117 Berlin
Bewertungssysteme entscheiden schon jetzt über Kreditvergabe und Versicherungsbeiträge. Doch wie funktionieren diese Systeme, die unser Leben erleichtern und erschweren können? Wie transparent sind diese Entscheidungen? Die Schufa steht beispielsweise als privates Unternehmen in Deutschland in der Kritik. In China geht das sogenannte Social Scoring noch viel weiter: flächendeckend sollen dort vorbildliches Handeln und Fehlverhalten registriert werden, um ein übergreifendes Social Credit System zu erstellen. Trotz aller Kritik – gibt es auch Vorteile? Werden wir durch richtiges "Nudging" zu besseren BürgerInnen? Welche Dienste können wir demnächst noch nutzen, wenn wir uns einem Belohnungssystem entziehen wollen? Und ganz plakativ gefragt: Welche Freundschaften können wir uns auf Instagram und Co. demnächst noch leisten?
Die Moderatorin Katja Weber (radioeins, Deutschlandfunk Nova) diskutiert mit:
Die Einführung in das Thema übernahm Amélie Heldt, Rechtswissenschaftlerin am Leibniz-Institut für Medienforschung | Hans-Bredow-Institut und assoziierte Forscherin am HIIG.
Der Digitale Salon öffnet ab 18:30 Uhr seine Türen. Ab 19:00 Uhr wird die Sendung live auf hiig.de übertragen. Dann heißt es mitmachen – vor Ort und per Twitter via #DigSal. Der Digitale Salon findet jeden letzten Mittwoch im Monat unter einer anderen Fragestellung statt. Aufzeichnungen vergangener Digitaler Salons und mehr Informationen finden Sie hier.
Für den Digitalen Salon ist keine Registrierung erforderlich.

Event Newsletter
Sign up for our newsletters and be the first to learn about new events and exciting research results.
This high-profile lecture series thrives to develop a European perspective on the processes of transformation that our societies are currently undergoing.
Once a month we publicly discuss the impact of digitalisation on the society. Therefore we invite special guests and engage in a dialogue with the audience