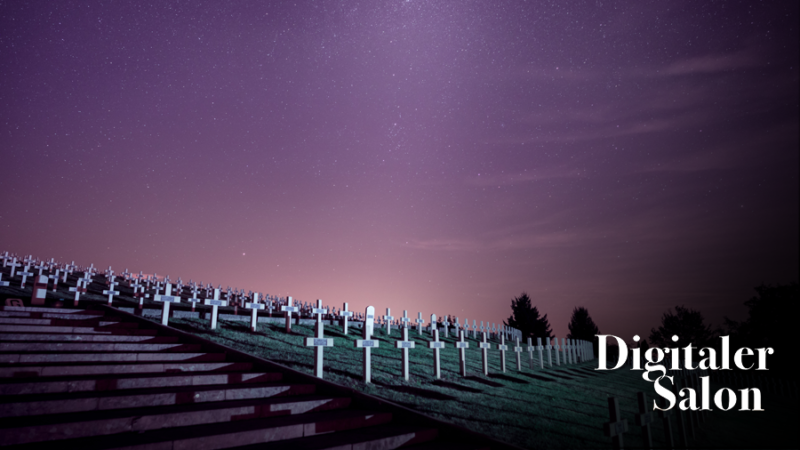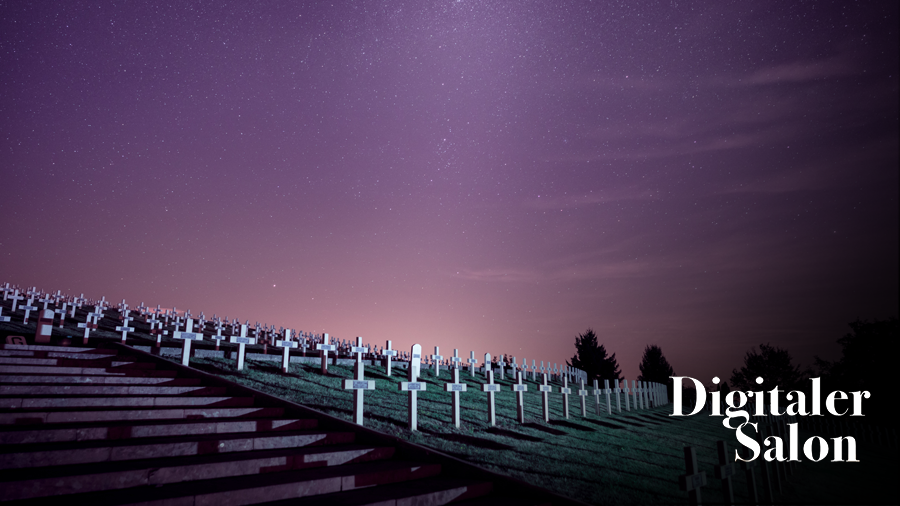 Digitaler Salon: Rest in Pixels | Talk
Once a month, we publicly discuss the impact of digitalization on society at Digitaler Salon. We invite special guests, engage in a dialogue with the audience and the Twitter community and broadcast it on YouTube. The subject of the #DigSal in July is digital death. Chatbots, holograms, digital clones: Dead and forever in cyberspace? How do we want to be remembered and who possesses our digital heritage?Below you will find more detailed information in German.
Rest in Pixels. – Chatbots, Hologramme, digitale Klone: Gestorben und für immer im Cyberspace? Wie wollen wir erinnert werden und wer verfügt über unser digitales Erbe?
Digitaler Salon – Rest in Pixels
25.07.2018 | 19.00 Uhr | HIIG | Französische Straße 9 | 10117 Berlin
Avatare toter Freunde treffen oder Selfies mit der verstorbenen Oma machen: Wer heute stirbt, ist längst nicht tot. Die Toten von Morgen sind besser vernetzt als je zuvor. In Form von Chatbots, Hologrammen oder digitalen Klonen verspricht die Digitalisierung ewiges Leben. Doch helfen uns diese Technologien bei der Trauer? Können wir noch Abschied nehmen, wenn die Verbindung zu den Verstorbenen nie abbricht? Ob Social Media-Profil, digitale Tagebücher oder Sprachnachrichten – Spuren unserer Identität bleiben im Netz. Wer verfügt am Ende über unser digitales Erbe und wer verwaltet die Datenflut der digitalen Geister?
Die Moderatorin Teresa Sickert diskutierte mit:
Die Einführung in das Thema übernahm Martin J. Riedl, Fellow im Projekt "Die Entwicklung der digitalen Gesellschaft" am HIIG.
Der Digitale Salon öffnet ab 18:30 Uhr seine Türen. Ab 19:00 Uhr wird die Sendung live auf hiig.de übertragen. Dann heißt es mitmachen – vor Ort und per Twitter via #DigSal. Der Digitale Salon findet jeden letzten Mittwoch im Monat unter einer anderen Fragestellung statt. Aufzeichnungen vergangener Digitaler Salons und mehr Informationen finden Sie hier.
Für den Digitalen Salon ist keine Registrierung erforderlich.

This high-profile lecture series thrives to develop a European perspective on the processes of transformation that our societies are currently undergoing.
Once a month we publicly discuss the impact of digitalisation on the society. Therefore we invite special guests and engage in a dialogue with the audience.