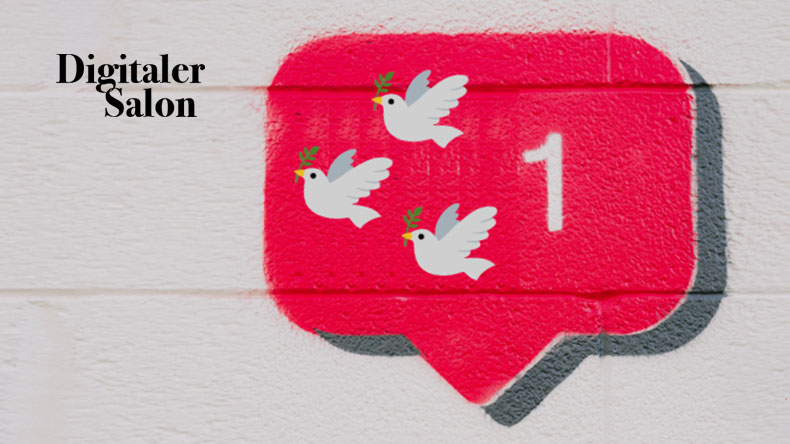 Digitaler Salon: Plattformen im Konflikt
Once a month, we publicly discuss the impact of digitisation on society at Digitaler Salon. We invite special guests, engage in a dialogue with the audience and the Twitter community and broadcast it on YouTube. In July, we will talk about politics, society and social media platforms. Below you will find more detailed information in German.
Soziale Medien spielen eine große Rolle in der Kommunikation zwischen politischen Akteur*innen und Bürger*innen. Sie öffnen Räume für zivilgesellschaftliches Engagement und Protestbewegungen, aber sie sind auch Schauplatz für nationalistischen und menschenfeindlichen Hass und Nährboden für ethnische Gewalt. Zugleich schauen Aktivist*innen und NGOs nicht tatenlos zu, sondern versuchen über Soziale Medien Vertrauen aufzubauen und schlichtend in Konflikte einzugreifen. Wie zum Beispiel in der multidimensionalen Krise im Libanon. Hier helfen Influencer*innen, Spannungen zwischen verschiedenen Gruppen zu lösen. Nur was tun, wenn Staaten den Zugang zu sozialen Plattformen verbieten? Und welche Verantwortung kommt Facebook & Co. zu, wenn Fake News und Hate Speech die Gesellschaft polarisieren? Gibt es Hoffnung für ein friedlicheres Miteinander online?
Digitaler Salon – Plattformen im Konflikt
28.07.2021 | Livestream auf www.hiig.de | 19.00 Uhr
This high-profile lecture series thrives to develop a European perspective on the processes of transformation that our societies are currently undergoing.
Once a month we publicly discuss the impact of digitalisation on the society. Therefore we invite special guests and engage in a dialogue with the audience.