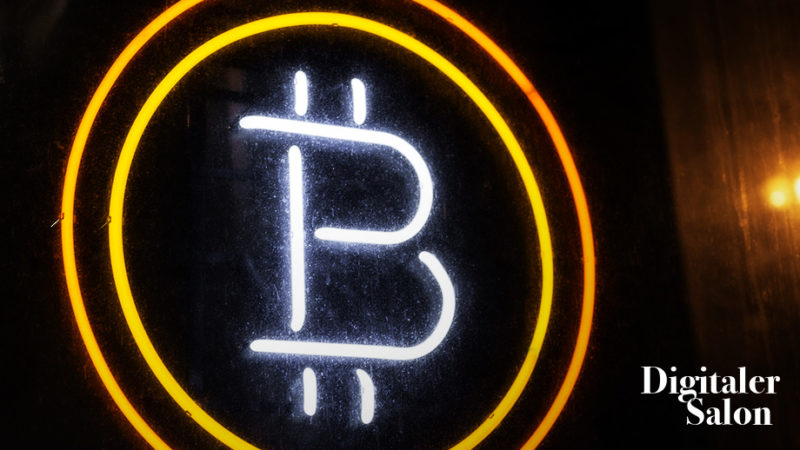 Digitaler Salon: Million Bitcoin Baby! | Talk
Once a month we publicly discuss the impact of digitalisation on the society. Therefore we invite special guests, engage in a dialogue with the audience and the Twitter-community and finally broadcast it in cooperation with the German broadcasting agency DRadio Wissen. The subject of the third #DigSal in 2017 will be «Million Bitcoin Baby!». Blockchain instead of financial institutions and bitcoins instead of loose coins? Is the internet going to be tomorrow's money bin, and FinTech our new savings bank? And who is going to take regulatory measures? Below you will find more detailed information on Digitaler Salon in German.
Million Bitcoin Baby! Blockchain statt Banken und Bitcoins statt Münzen? Wird das Internet zum Geldspeicher von morgen und ein Fintech zur neuen Sparkasse? Und wer reguliert die eigentlich?
Im Café per App bezahlen, Schulden zwischen Freunden mit einem Klick begleichen. Unsere Scheine und Münzen scheinen sich bald komplett in Bits und Bytes aufzulösen. Länder wie Kenia oder Schweden schreiten hier bereits weit voran. Wird das Portemonnaie ein Fall fürs Museum? Das große Versprechen der digitalisierten Finanzwelt ist, individuelle Finanzprodukte leichter und schneller in Anspruch nehmen zu können. Doch wie gestalten wir das neue Zahlungssystem? Wenn immer mehr Menschen zu Kryptowährungen greifen, könnte die Blockchain-Technologie die Bankenwelt transformieren. Dies würde mehr Transparenz für die VerbraucherInnen bedeuten. Wie steht es jedoch um die Sicherheit unserer Daten, wenn das Internet zum Geldspeicher von morgen und ein Fintech zur neuen Sparkasse wird? Und wer reguliert die eigentlich? Am Ende stellt sich die Frage: Wollen wir überhaupt eine bargeldlose Welt?

Digitaler Salon – Million Bitcoin Baby!
29.03.2017 | 19.00 Uhr | HIIG | Französische Straße 9 | 10117 Berlin
Katja Weber von DRadio Wissen diskutierte mit:
Katarina Adam (Hochschuldozentin, HTW Berlin)
Meinhard Benn (Gründer, SatoshiPay)
Susanne Krehl (Leitung Marketing/PR, Barzahlen.de)
Frank-Christian Pauli (Finanzexperte, Verbraucherzentrale Bundesverband)
Die Einführung gab Julian Hölzel, wissenschaftlicher Mitarbeiter im Bereich globaler Konstitutionalismus und das Internet am HIIG.
Der Digitale Salon öffnet ab 18:30 Uhr seine Türen. Ab 19:00 Uhr wird die Sendung live auf hiig.de übertragen. Dann heißt es mitmachen – vor Ort und per Twitter via #DigSal. Der Digitale Salon findet jeden letzten Mittwoch im Monat unter einer anderen Fragestellung statt. Aufzeichnungen vergangener Digitaler Salons und mehr Informationen finden Sie hier.
Tweets about #DigSal

Photo: CC BY-NC 2.0 – thelastminute/flickr
Event Newsletter
Sign up for our newsletters and be the first to learn about new events and exciting research results.
This high-profile lecture series thrives to develop a European perspective on the processes of transformation that our societies are currently undergoing.
Once a month we publicly discuss the impact of digitalisation on the society. Therefore we invite special guests and engage in a dialogue with the audience