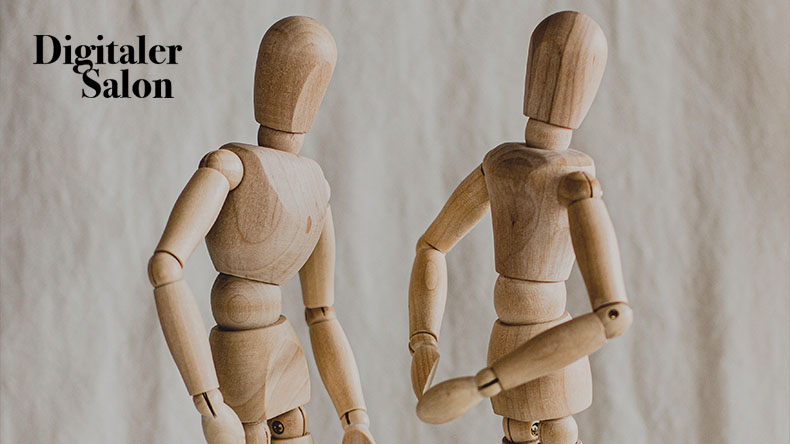 Digitaler Salon: KI – Die Letzte räumt das Internet auf
Once a month, we publicly discuss the impact of digitisation on society at Digitaler Salon. We invite special guests, engage in a dialogue with the audience and the Twitter community and broadcast it on YouTube. In March, we will talk about AI and its implements on our society. The talk will be held in German. Below you will find more detailed information in German.
Einerseits nehmen wir Künstliche Intelligenz (KI) als Zukunftsmusik wahr: als Wegbereiter für autonome Fahrzeuge, als virtuelle Shopping-Assistenten oder präzise medizinische Diagnostikinstrumente. Andererseits begegnet sie uns bereits jetzt im Alltag, Algorithmen schlagen uns passgenau vor, was wir auf Netflix schauen sollen oder übersetzen beinahe selbstständig Texte in verschiedene Sprachen. Als Teilgebiet der Informatik gilt KI als ein wichtiger Entwicklungsschritt der Digitalisierung. Neben den Fragen "Was ist dran an dem Hype um KI, was sind berechtigte Sorgen?", wollen wir darüber sprechen, wie in unserer Gesellschaft eigentlich über KI verhandelt wird und ob wir mehr Aufklärungsarbeit für den Einsatz und Umgang mit KI benötigen.
Digitaler Salon – KI – Die Letzte räumt das Internet auf 
31.03.2021 | Livestream | 19.00 Uhr
Die Moderatorin Katja Weber (radioeins, Deutschlandfunk Nova) diskutiert unter anderem mit:
Helena Mihaljević

 ist Mathematikerin mit Forschungsschwerpunkten unter anderem auf statistischer Datenanalyse und angewandtem maschinellen Lernen und Professorin für

Data Science an der HTW Berlin.

Leonie Beining

ist Projektleiterin bei der

Stiftung Neue Verantwortung

, arbeitet am Projekt

KI Testing & Auditing

und setzte sich zuvor im Projekt "Algorithmen fürs Gemeinwohl" mit dem Aspekt der Nachvollziehbarkeit von algorithmischen Entscheidungsprozessen auseinander.

Christian Kellermann

ist Geschäftsführer des

Denkwerk Demokratie e.V.

, lehrt an der HTW Berlin (Schwerpunkt Digitalisierung und Wirtschaft) und war zuvor Geschäftsführer des Instituts für die Geschichte und Zukunft der Arbeit. Er ist Co-Autor des

Papers

: Künstliche Intelligenz und die Zukunft der Arbeitsgesellschaft.
Die Einführung übernimmt Philip Meier, er ist wissenschaftlicher Mitarbeiter in der Forschungsgruppe Innovation, Entrepreneurship & Gesellschaft und KI-Trainer im Projekt Gemeinsam Digital am HIIG.
From 7 pm the talk will be broadcasted live on hiig.de. Then join in – via Twitter or Slido using #DigSal. Digitaler Salon takes place every last Wednesday of the month under a different question. Records of past events and more information can be found here. 
This high-profile lecture series thrives to develop a European perspective on the processes of transformation that our societies are currently undergoing.
Once a month we publicly discuss the impact of digitalisation on the society. Therefore we invite special guests and engage in a dialogue with the audience.