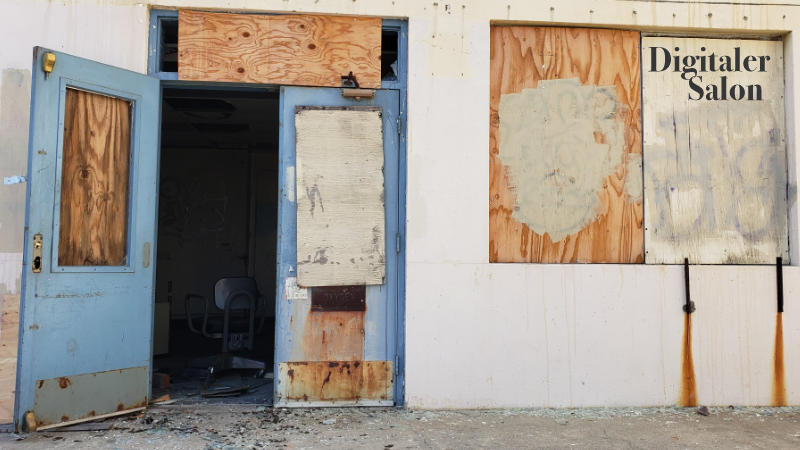 Digitaler Salon: Keeping up with the Gatekeepers
Once a month, we publicly discuss the impact of digitisation on society at Digitaler Salon. We invite special guests, engage in a dialogue with the audience and the Twitter community and broadcast it on YouTube. In May, we address whether legally regulated sharing of data is compatible with further control mechanisms, such as data protection law and copyright. Below you will find more detailed information. The event will be held in German.
Seit dem Inkrafttreten der EU-Datenschutzgrundverordnung (DSGVO) vor vier Jahren legen die EU-Regulator*innen neue gesetzliche Rahmenbedingungen für die Organisation des digitalen Zeitalters fest. Aktuelle Beispiele sind der Data Act (Februar 2022), der Data Governance Act (November 2020) und der Digital Markets Act (März 2022): Sie sollen das "Teilen" von Daten zwischen privaten und öffentlichen Akteur*innen zum Wohle der Gesellschaft erleichtern und die Marktmacht der bisherigen Gatekeeper eingrenzen. Doch wie innovativ sind diese Regulierungen wirklich, wenn sie mit anderen Kontrollmechanismen, wie dem Datenschutzrecht, dem Wettbewerbsrecht oder dem Urheberrecht, zusammentreffen? Kritiker*innen bezweifeln die Wirksamkeit der Gesetze und nennen konzeptionelle Schwächen oder weisen auf die ineffizienten Prozesse zur europaweiten und einheitlichen Koordination der Aufsichtsbehörden hin. Solche Probleme zeigen sich besonders an der schleppenden Umsetzung der DSGVO. Vor welchen Herausforderungen stehen die Behörden und Anwender*innen also, wenn der bürokratische Dschungel mit weiteren Verordnungen immer dichter wird? Wie wirken sich die Entwicklungen auf große und kleinere Akteur*innen aus? Und welche möglichen Veränderungen kann die digitale Gesellschaft bei Einhaltung der Verordnungen erwarten?
Digitaler Salon: Keeping up with the Gatekeepers
25. Mai 2022 | HIIG & Livestream | 19:00 Uhr
Einlass: 18:30 Uhr
Die Moderatorin Katja Weber (radioeins, Deutschlandfunk Nova) diskutiert unter anderem mit:
Aline Blankertz, angewandte Ökonomin mit einem Schwerpunkt auf Daten und digitalen Märkten. Aktuell ist sie Co-Chair der SINE Foundation, eines gemeinnützigen Think-and-Do-Tank für Datenkollaborationen; davor war sie u.a. bei der Sitftung Neue Verantwortung und in der wirtschaftswissenschaftlichen Beratung tätig.
Bart de Witte, Befürworter einer Demokratisierung des Gesundheitssystems. Als Gründer der gemeinnützigen Hippo AI Foundation verfolgt er das Ziel, die Gesundheitsbranche auf offene Technologien, offene Daten und KI-Standards sowie Interoperabilität umzustellen. Zuvor war er 20 Jahre lang bei globalen Tech-Unternehmen wie SAP und IBM im Bereich des digitalen Gesundheitswesens tätig.
Max von Grafenstein, Professor im Rahmen des Einstein Center Digital Future (ECDF) für "Digitale Selbstbestimmung" am Berlin Career College der Universität der Künste (UdK) und Ko-Leiter des Forschungsprogramms "Daten, Akteure, Infrastrukturen: Governance datengetriebener Innovation und Cybersicherheit" am HIIG. Sein Forschungsschwerpunkt liegt im Bereich der Regulierung datengetriebener Innovation mit Schwerpunkt auf "Data Protection and Security by Design".
Die Einführung übernimmt Vincent Hofmann. Er ist als wissenschaftlicher Mitarbeiter im AI & Society Lab am HIIG und beim Leibniz-Institut für Medienforschung tätig. In seiner Arbeit befasst er sich mit dem Themenfeld der Plattform Governance.
Wir freuen uns eine begrenzte Anzahl an Gästen vor Ort begrüßen zu können. Ab 19.00 Uhr wird die Sendung zusätzlich live auf hiig.de übertragen. Dann heißt es mitmachen – per Twitter oder Slido via #DigSal. Der Digitale Salon findet jeden letzten Mittwoch im Monat unter einer anderen Fragestellung statt. Aufzeichnungen vergangener Digitaler Salons und mehr Informationen finden Sie hier.
Hygienehinweis
Für die Veranstaltung gilt die 3G-Regel. Der Einlass erfolgt nur für angemeldete Personen, die geimpft, genesen oder tagesaktuell getestet sind. Der 3G-Status wird auf Grundlage von Art. 6 Abs. 1 Buchstabe c DSGVO in Verbindung mit Art. 9 Abs. 2 Buchstabe b DSGVO erfasst. Es werden keinerlei Daten gespeichert.
In den Räumen des Instituts ist eine FFP2-Maske zu tragen. Es gilt ein Mindestabstand von 1,5 Metern für alle Besucher*innen. Besucher*innen mit Krankheitssymptomen bitten wir die Veranstaltung digital zu verfolgen.
Medienpartner:

Wer an der Veranstaltung in Berlin teilnehmen möchten, kann sich über das Formular anmelden.  Sie können die Veranstaltung auch hier auf dieser Website im Livestream verfolgen.
Bookings
Eine Anmeldung ist für diese Veranstaltung aktuell nicht möglich.
This high-profile lecture series thrives to develop a European perspective on the processes of transformation that our societies are currently undergoing.
Once a month we publicly discuss the impact of digitalisation on the society. Therefore we invite special guests and engage in a dialogue with the audience.