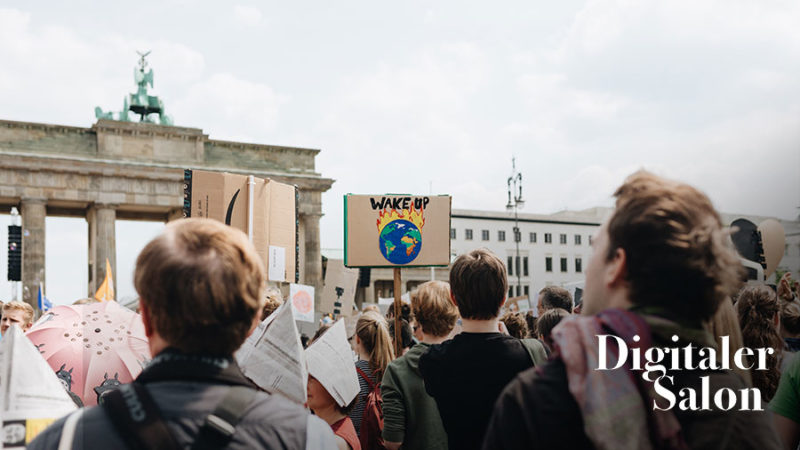 Talk | Digitaler Salon: Hashtag e.V.
Once a month, we publicly discuss the impact of digitisation on society at Digitaler Salon. We invite special guests, engage in a dialogue with the audience and the Twitter community and broadcast it on YouTube. On 29 August, we will discuss whether civil engagement has become outdated or transforms itself while becoming digitalised. Below you will find more detailed information in German.
Engagement findet heute auch online statt – mit #Hashtags und Posts macht es sich bemerkbar und einzelne Bewegungen breiten sich mit rasanter Geschwindigkeit teils über den ganzen Globus aus.
Digitaler Salon – Hashtag e.V.
Donnerstag, 29.08.2019 | 19.00 Uhr | HIIG | Französische Straße 9 | 10117 Berlin
Die #Fridaysforfuture-Bewegung, #ichbinhier oder Jugend hackt zeigen aktuell, wie die Neuauflage des Engagements aussieht. Online-Petitionen und soziale Medien eröffnen neue Möglichkeiten und scheinen Barrieren zu vermindern. Wird die junge Generation mit ihren Meinungen und ihrem Aufbegehren gesehen und von politischen Akteuren ernst genommen? Woher kommt eigentlich die Motivation der digital Engagierten? Was unterscheidet sie von den Generationen vor ihnen sowie von etablierten Formen des Engagements? 

Die Moderatorin Katja Weber (radioeins, Deutschlandfunk Nova) diskutierte u.a. mit:
Die Einführung in das Thema übernahm Julia Tiemann-Kollipost, Referentin der Geschäftsstelle Dritter Engagementbericht.
Der Digitale Salon öffnet um 18:30 Uhr seine Türen. Ab 19:00 Uhr wird die Sendung live auf hiig.de übertragen. Dann heißt es mitmachen – vor Ort und per Twitter via #DigSal. Der Digitale Salon findet jeden letzten Mittwoch im Monat unter einer anderen Fragestellung statt. Aufzeichnungen vergangener Digitaler Salons und mehr Informationen finden Sie
hier
.
Für den Digitalen Salon ist keine Registrierung erforderlich.

This high-profile lecture series thrives to develop a European perspective on the processes of transformation that our societies are currently undergoing.
Once a month we publicly discuss the impact of digitalisation on the society. Therefore we invite special guests and engage in a dialogue with the audience.