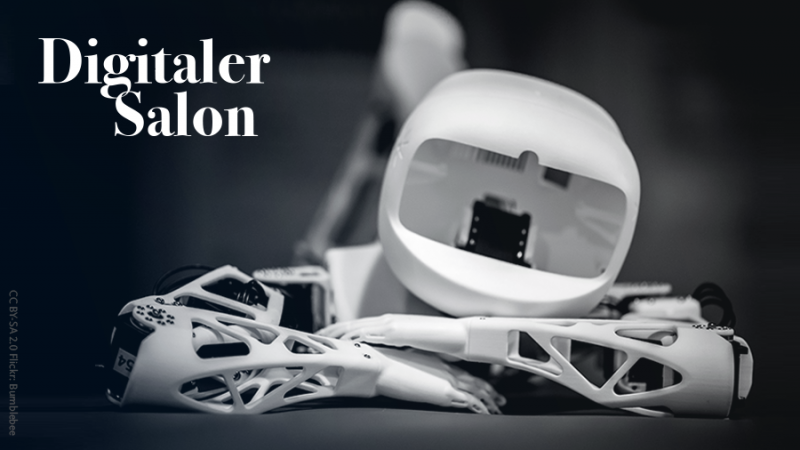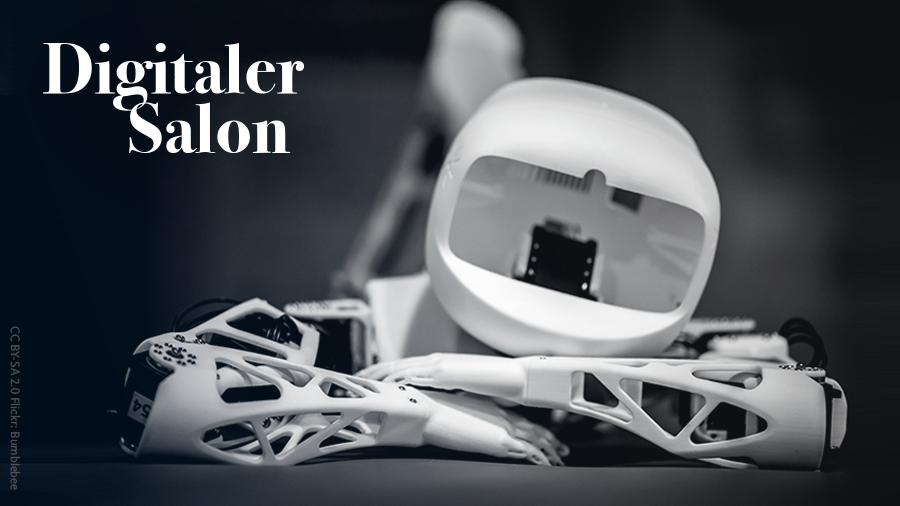 Digitaler Salon: iCare for you | Talk
Once a month we publicly discuss the impact of digitalisation on the society. Therefore we invite special guests, engage in a dialogue with the audience and the Twitter-community and finally broadcast it on YouTube. The subject of this #DigSal will be «iCare for you». Plush robots, smart walking aids and digital conversation partners: Could machines possibly relieve the nursing sector and simulate feelings? And should they do so? Below you will find more detailed information on Digitaler Salon in German.
iCare for you – Plüschroboter, smarte Gehhilfen und digitale Gesprächspartner: Können Maschinen den Pflegesektor entlasten und Gefühle simulieren? Und sollen sie das?
Digitaler Salon – iCare for you
25.10.2017 | 19.00 Uhr | HIIG | Französische Straße 9 | 10117 Berlin
In unserer Gesellschaft müssen immer weniger Junge für immer mehr Alte sorgen. In Pflegeeinrichtungen herrscht bereits heute Notstand. Sind Roboter die Lösung für überbelastete Familien und Pfleger*innen? In Japan wird bereits seit einigen Jahren damit experimentiert, wie Automatisierung den Gesundheitssektor entlasten könnte. Plüschroboter, smarte Gehhilfen und digitale Gesprächspartner sollen nicht nur die Qualität der Pflege verbessern, sondern auch als soziale Hilfestellung dienen. Doch wie sieht ein gesunder Umgang mit künstlicher Intelligenz am Krankenbett aus? Was macht der intime Umgang mit Maschinen aus der Gefühlswelt und unseren realen Beziehungen – und wollen wir echte menschliche Nähe überhaupt durch simulierte Emotionen ersetzen?
Katja Weber diskutierte mit:
Christian Marks, studentischer Mitarbeiter im Bereich Globaler Konstitutionalismus und Internet, führte in das Thema ein.
Der Digitale Salon öffnet ab 18:30 Uhr seine Türen. Ab 19:00 Uhr wird die Sendung live auf hiig.de übertragen. Dann heißt es mitmachen – vor Ort und per Twitter via #DigSal. Der Digitale Salon findet jeden letzten Mittwoch im Monat unter einer anderen Fragestellung statt. Aufzeichnungen vergangener Digitaler Salons und mehr Informationen finden Sie hier.
Mit Unterstützung der Schering Stiftung veranstaltet das HIIG vier Sondersendungen zum Thema "Die Gesundheit des Menschen im Digitalen Zeitalter". Denn die Digitalisierung betrifft auch die Gesundheit: Auf den Patienten durch Genanalyse zugeschnittene Medikamente, individuelle medizinische Prothesen aus dem 3D-Drucker, Pflegeroboter für hilfebedürftige Menschen sind nur drei Beispiele. Diese Entwicklungen und ihre ethischen und gesellschaftlichen Auswirkungen werden beim Digitalen Salon diskutiert.

Event Newsletter
Sign up for our newsletters and be the first to learn about new events and exciting research results.
This high-profile lecture series thrives to develop a European perspective on the processes of transformation that our societies are currently undergoing.
Once a month we publicly discuss the impact of digitalisation on the society. Therefore we invite special guests and engage in a dialogue with the audience